Pergolas
Enjoy outdoor living all year round with an aluminum pergola
The rainy autumn and cold winter months are not exactly the nicest periods to spend time outside. Or are they? With a pergola, you can enjoy your own garden all year round. Nature gives you space to breathe and energizes you, and the best way to maximize that — whatever the weather — is with an aluminum pergola. Integrated heating, speakers and lighting help create the ultimate outdoor experience: the comfort of the indoors, surrounded by nature.
Endless combinations with our side elements
Fully customize your pergola to your taste using our unique side elements. Glass sliding panels allow you to create extra living space in no time and the sun can be kept out (or let in) using our effective sun protection fabric.
A list of the options: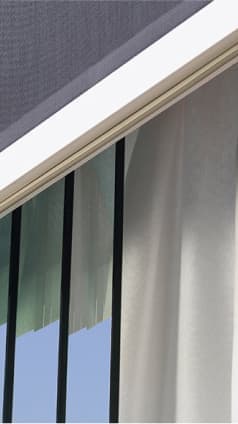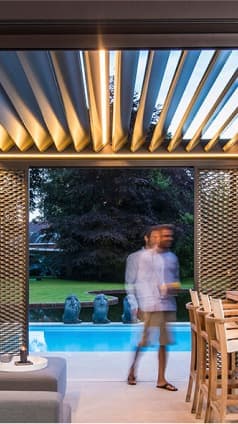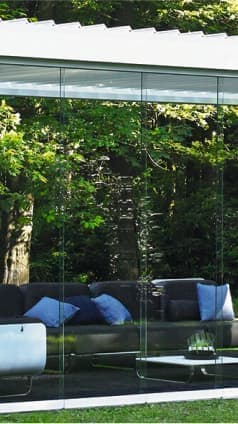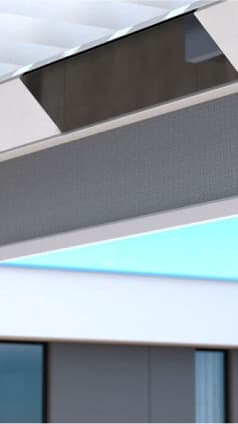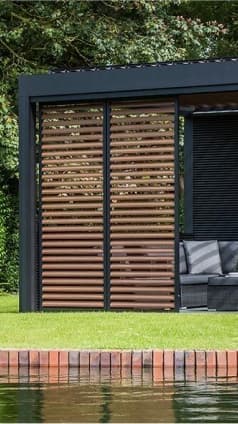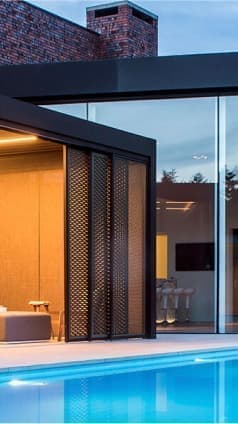 Accessories for an exclusive outdoor experience
With the right accessories you can create a unique experience underneath your pergola. Enjoy the outdoors all year round with integrated heating and relax to the max with your favorite tracks blasting out of the integrated speakers. Alternatively, create a romantic mood using our LED lighting. Configure your own outdoor paradise using these accessories:
Need inspiration?
Cannot see the wood for the trees when it comes to picking options for your very own aluminum pergola? Renson® has developed six design styles to help you create the ultimate outdoor experience. Together with trendwatcher Hilde Francq, we combined colors, materials and textures into concepts that offer perfect harmony. That way, you can effortlessly pick the overall ambience that perfectly matches your home and personal style. The possibilities are endless.
What can a pergola be used for?
You might be wondering why you should invest in a custom pergola. The answer is simple: you are not just investing in your living environment, you are investing in yourself too. Your pergola serves as extra living space where you can fully unwind. You can use it as a space to exercise, work or relax in nature.
We are spending even more time indoors, even though nature is what we need to recharge our batteries. A Renson® pergola enables you to combine the benefits of outdoor living with indoor comforts. In other words: you get the best of both worlds.
Camp in your own garden under your luxury pergola
Love camping, but don't love the lack of luxury? Don't fancy lugging about tents and a whole host of other stuff? Your own pergola is all you need for spontaneous, comfortable and luxury joy without any need to plan months in advance or stress out over whether you have forgotten anything. Simply head out together or alone for a delightful mini holiday in your own garden.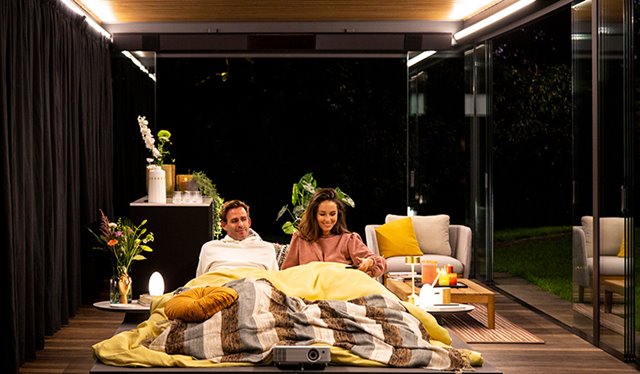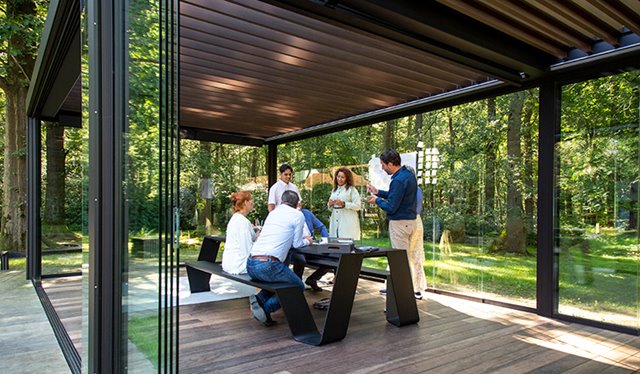 Work in a garden room for extra inspiration
Staring at the same walls, day in, day out... It won't be long before you feel like climbing them! Use your pergola as a garden room to work in. An adjoining garden room is the perfect place to transform your home working atmosphere. Enjoy fresh air and find inspiration in your surroundings. Whether you are working alone or brainstorming with colleagues, with your favorite coffee or tea by your side, you are all set to face the working day.
Outdoor exercise around your pergola
Loud music, sweaty people and unpleasant odors in the gym. Sure, you want to work out but are you really looking forward to wiping someone else's sweat off the treadmill again? We didn't think so. Transform your pergola into an outdoor exercise location. Whether you are working out by yourself or with others, doing so outdoors offers unrivalled joy. And it's much healthier too! Running, yoga or strength training? It's all much more fun outdoors. Create your own gym seconds away from your home — just don't forget to fill up your drinks bottle with your favorite thirst quencher for afterwards!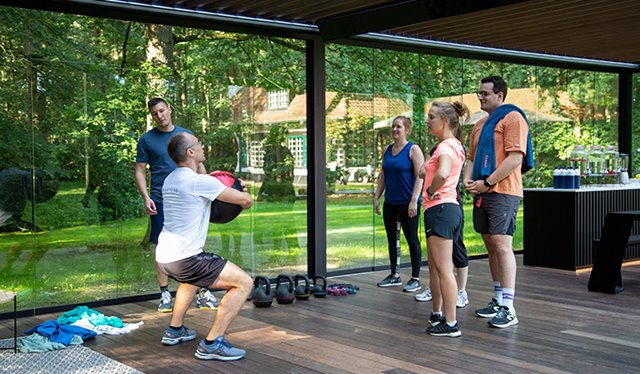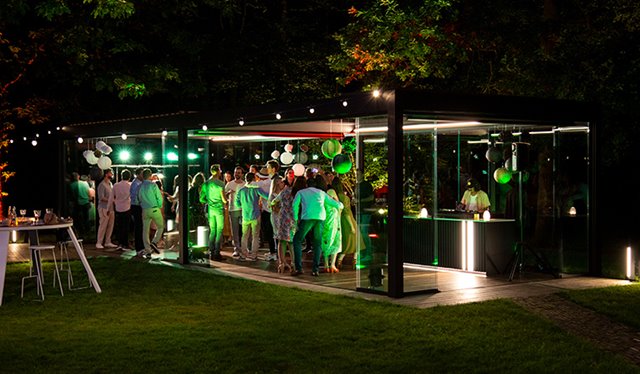 A pergola for the best garden parties
We all crave a big old party from time to time, and there is no better place to get the corks popping than underneath a Renson® pergola. The best tracks, the finest company and, of course, the most stunning of surroundings: your own garden. Instantly set the mood using your integrated lighting and put on your favorite playlist using the integrated speakers. The possibilities are endless.
Masterchef in the home, masterchef in the garden
A true foodie doesn't last the day without sampling delicious fare. Whether you oversee the kitchen or relying on someone else to work their magic: a good cooking and eating spot is a must. And of course, everything tastes better surrounded by the greenery of your garden. Transform your pergola with a louvered or retractable roof into a barbecue station or go full gourmet dining experience: there is ample room for a complete mobile kitchen. Simply slide out the louvres to create extra shade during your meal. After all, aside from hunger, fresh air is the best seasoning.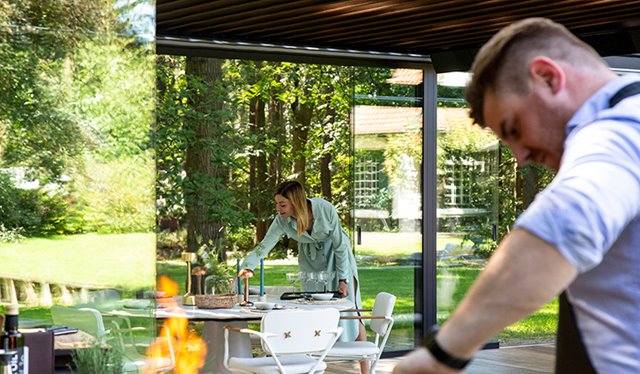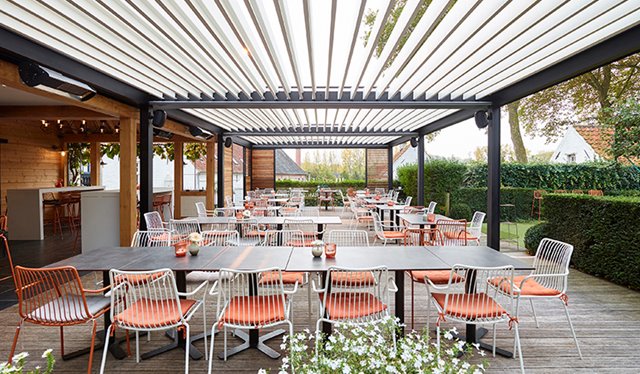 For individuals and for the hospitality sector
Are you a master foodie and do you have your own restaurant or hospitality business? A pergola is guaranteed to be a valuable addition to your outdoor space. Even when the weather cannot make up its mind, your outdoor seating area is bound to fill up nicely. A closed pergola guarantees comfort for your guests at any time and glass sliding panels add in an enjoyable view too. Integrated speakers allow you to set the mood exactly right and heating elements keep your guests nice and warm, especially in winter.
The durable character of a
Renson®
pergola
Renson® pergolas have an aluminum structure that combines strength with allure and ease of maintenance. On top of that, there is an endless number of optional elements to help you design your ideal pergola. Integrate glass sliding panels for a closed space with a magnificent view or add in Loggia® panels to let the sun and wind in whenever you wish. The choice is yours!
How to maintain your pergola
Wind and weather will undoubtedly put your aluminum pergola to the test. Proper maintenance is essential to keep enjoying your outdoor space for years to come. Effortlessly clean your pergola and screen fabrics clean using the Renson® Maintenance Set. What's more, if you perform maintenance every year, we will offer you an extended warranty on the coating.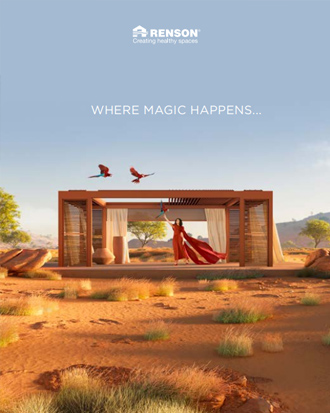 Request your inspiration brochure
Allow yourself to be inspired by the projects we have completed and explore the different models and all their possibilities.
Download your brochure ›
A professional installer for your pergola
Your installation process is in safe hands here at Renson®. Depending on your location and the configuration of your pergola, installation often only takes a single day. If the underground surface is unsuitable, we will need to do some digging first. What's more, our service does not stop when we have delivered your project. We offer a ten-year warranty on the structure, and, if applicable, an extended fifteen-year warranty on the coating. That way you get to enjoy your pergola without a care in the world.
Frequently asked questions
For separate structures such as a freestanding garden room, shed or carport, you do not need a permit, as long as the surface area remains below 40 m². Additional conditions stipulate that the structure should be no more than 3.5 m tall, built within a radius of 30 m from your home, 3 m away from your plot boundary in a side garden and 1 m away from your plot boundary in a rear garden.
Often, regional permit conditions also apply, so make sure you refer to the specific regulations for your freestanding pergola in Flanders, Wallonia or Brussels.
The minimum dimensions of your pergola depend on what you want to use the canopy cover for. This includes the furniture you wish to place underneath it, how much free space you want around the furniture, the inserts and accessories you want, etc. All our patio covers are customised and can be ordered down to the mm. For larger dimensions, you can couple different canopy covers.
The structure is made using powder coated aluminium. Annual cleaning with Renson Maintenance Set products will ensure the intense colour is maintained for years, as well as providing extra protection from acid rain, sea air, and UV radiation. The Renson Maintenance Set consists of 2 products; Renson "Clean" is a concentrated product with strong cleaning and degreasing properties for the most common natural pollution such as dust, greasy deposits, grease stains, moss, insect spores, etc. This product is not comparable to most cleaning products. It penetrates deeply and 'lifts out' the dirt. After cleaning, protect the aluminium structure using Renson "Protect". This product leaves a protective film behind that makes it very easy to clean the surface with a minimum of Renson "Clean". It also protects the aluminium from acid rain, sea air and UV radiation, and ensures the colour remains just as intense.
Your patio cover will always be exposed to the elements outside. If you want to get the best out of your Renson canopy cover and enjoy it all year round, the recommendation is to clean it once or twice a year. Regular maintenance will extend the lifespan of your cover. In coastal areas and wooded areas, carrying out maintenance twice a year is a must.
Renson pergolas are (almost) always custom-made. Prices are therefore strongly dependent on the required dimensions, accessories, roof types, etc. You can contact our recognised distributor network for a quote.
Our pergolas are weather resistant. Integrated heating elements, sun protection, glass walls or sliding panels, a tiltable bladed roof, etc. we pull out all the stops so you can have a great time outside, all year round.
Pergolas with louvred roofs (Camargue line and Algarve line) can be installed as either freestanding or against the construction. The patio covers under the incline, with screen or fabric roof, can only be built against a house or other construction. The Aero roofs are specially designed to be built into a new or existing support structure.
The installation of a Renson pergola requires the necessary experience and knowledge, which is why this will only be done by an authorised Renson distributor who has been expertly trained. This is the only way you will be able to take advantage of the warranty period.
A veranda is an extension of the living space, they are normally enclosed in glass to create an enclosed space that is completely wind and waterproof. A pergola on the other hand is an open aluminium structure with a roof made of aluminium rotatable blades that may be closed in on the sides with side wall inserts such as screens, (glass) sliding panels or a fixed wall to offer protection against sun, wind and rain. The outdoors permeates the space under a pergola so the users can enjoy the ambiance, scents, colours, and sounds of the garden. The best place to set up your weather-resistant garden furniture is under a pergola.
Enjoy your pergola or patio cover all year round with integrated heating, and relax with your favourite tracks coming through the built-in speakers. Alternatively, create a romantic mood in no time at all using our LED lighting. Screens, loggia panels, glass sliding panels and perhaps Linarte walls can also complete your patio cover. With the right accessories, you can create a unique experience underneath your patio cover.
For every supporting column, you should lay a concrete foundation suitable for the type of surface the cover will be placed on. In the first place, the surface should be able to support the weight of the structure. It must be possible to securely install the structure so that it doesn't blow over in a storm, for example. If you have an existing patio with concrete foundations, you can fit the mounting bases to that.
The amount of noise depends largely on the intensity of the rain and cannot easily be quantified. In covers with a screen roof or folding roof, the amount of noise is comparable to rain falling on a tent. In covers with a louvered roof, you'll hear a muffled metallic sound. As we use double-walled blades, the noise is less sharp than with singlewalled blades.

In covers with a fixed roof (Algarve Canvas and Aero Canvas), rain falls directly on the steel roof. The anti-condensation layer on the roof slightly dampens the sound of rainfall, so it doesn't sound too sharp. The noise level on a fixed roof can be compared to that of a louvered roof in the same amount of rain.
A pergola can usually be installed in just one day. Depending on the number of options and infills, the installation process may take two days. This does not include any foundation works.
Suitable assembly brackets are supplied for wall-mounting. Fixings (screws) are not supplied, as these need to be suitable for the exact circumstances of the installation, which differ from place to place.
First of all, the wall against which the pergola is to be installed should have enough load-bearing capacity to bear the weight of the structure. The wall on which the pergola is to be mounted should also be free from any obstacles.
Yes, if the pergola has a solid concrete foundation. It must be possible to fit the mounting bases of the pergola cover securely in your concrete foundation.
We recommend that patio covers are always earthed. Even though not strictly necessary as our lighting is double-insulated, earthing your patio cover provides extra security if any fault should occur with the wiring in your home. If your cover is earthed, your electricity will be switched off instantly in case of a fault.
Columns are cut to the right length in our factory, depending on the dimensions you've provided with your order. It is best not to carry out any adaptations on site: if the columns are shortened any further, certain holes (e.g. the fixing holes in the mounting bases) may no longer be in the right place.
In Camargue Line, Algarve Line and Lagune, water is drained through a PVC pipe in the columns (50 mm diameter). This pipe can be connected to a sewer system. In Lapure, water is drained directly through the columns and ejected onto your patio at the bottom. As such, Lapure cannot be connected to a sewer system.
We provide pergolas in any colour or finish you require, but an additional cost may be charged in some cases. If an existing colour needs to be matched as closely as possible, please ask the supplier of your woodwork for the powder colour code they used. Please note that we cannot guarantee the exact same colour. Due to the base material, powder-coating parameters and differences between production batches of the powder, small differences in colour always remain a possibility.
If the blades are not fully closed, you can continue to operate them in frost. If the blades are fully closed, condensation between the blades may cause them to freeze shut. In this case, the roof should not be operated.
In theory, snow weighs between 6.2 and 12.5 lb/ft³. In practice, this means a 0.3 ft layer of snow can weigh up to 4.1 lb/ft². Wet snow can weigh as much as 31.2 to 37.4 lb/ft³, so the wetter the snow, the heavier the load your roof will be subjected to. Snow that has been there for a while starts to compress under its own weight and will also get heavier. This is why the load-bearing capacity of our patio covers is always expressed in lb/ft² instead of inches of snow.
A barbecue will produce soot and dirt. If you're using a barbecue under your cover, make sure the rotatable blades are not fully closed or the screen roof is fully opened to ensure the space under the roof is properly ventilated. The smoke produced by a barbecue may also cause the blades to become dirty, meaning you will need to clean them afterwards. Make sure that any barbecue or open flames are always at least one metre away from any screens or other walls fitted to your patio cover. If not, you could cause permanent damage to the powder coating or fabric.
The fabric used in Zipshades is waterproof, so you can leave them rolled down in rain. We recommend that you do not roll up the screen when wet, as this will prevent the fabric from drying properly, which may result in staining. Wet screens will stretch slightly and won't roll up as neatly. The fabric is rot-proof and mould-proof, but any substances deposited and allowed to remain on the fabric (pollen, bird droppings, leaves) can rot or mould. As such, we recommend wet screens are rolled down again as soon as possible to allow them to dry.
Renson pergolas are carefully developed, tested and custom-made from aluminium. The warranty on the canopy cover starts after installation by a recognised distributor. The exact warranty you get depends on the type of canopy cover. Carrying out annual maintenance on your patio cover means you can take advantage of the extended paint warranty of 15 years.