Ventilation louvres
Ventilation louvres for a better indoor climate
Ventilation louvres help you keep your house healthy. In a well-insulated house, they are the perfect way out for polluted indoor air, while also allowing fresh outdoor air to enter. Ventilation louvres guarantee proper air circulation and can help prevent damp problems — and their consequences — in your home.
What is a ventilation louvre?
A ventilation louvre is a louvre in a window, door or wall that allows fresh air to enter and polluted air to exit.
Louvres are an indispensable part of every ventilation system. In a well-insulated, airtight home, ventilation louvres are the only way for fresh air to enter the home.

Durable top quality

Control over airflow

Easy maintenance

Invisibly integrated

Endless customisation options
Ventilation louvres for natural ventilation
Natural ventilation does not use mechanical fans, so fresh outdoor air needs to be able to enter the home via ventilation louvres.
To make sure it can do so, you can choose between inconspicuous window vents or wall louvres. That way, your living space is 'flushed' by fresh outdoor air all day long.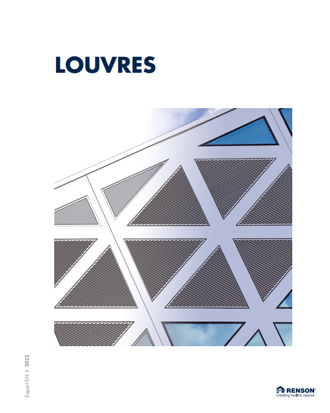 What are the benefits of ventilation louvres?
Polluted indoor air often struggles to find its way out of modern, well-insulated homes. Fresh outdoor air, on the other hand, struggles to get in. Ventilation louvres form the connection between the inside and the outside — and in doing so, they help improve the air quality indoors. That instantly offers several practical benefits:
Damp issues or

mold

in the home can cause serious damage to both your property and your health.




Ventilation louvres help extract humid air and allow dry air to flow in.

Ventilation louvres enable a natural flow of air, meaning you don't have to put up with the noise of fans spinning all day.




If you live in a noisy environment, we also offer ventilation louvres with acoustic damping.

No spinning fans also means no energy consumption. As such, natural ventilation is an energy-efficient solution for healthy indoor air.
Are there any downsides to ventilation louvres?
When you open a window, you invite in draughts, insects and noise. You might think the same applies with a ventilation louvre — but that's not the case with Renson®.
Insect-proof, acoustic damping or other features — our wide range of ventilation louvres is bound to contain a suitable model for you.
Possible features of ventilation louvres
Renson®'s ventilation story starts more than 50 years ago with its first ventilation louvres. Even back then, Renson® was a true pioneer, offering an exceptionally wide range of solutions for every application. The R&D team sought — and continues to seek — answers to the most complex customer needs. Wall louvres, surface-mounted louvres, window, door or floor louvres: they are all available in a wide range of dimensions, colors and shapes. Their technical features are pretty impressive too. Here's a selection of what's possible:

Acoustic damping

High airflow

Water-repellent

Burglar-resistant

available in a wide range of materials and colors
Maintaining your ventilation louvres
Over time, dust and dirt might accumulate on and in your ventilation louvres. This can prevent the air from flowing through freely, resulting in less effective ventilation. Fortunately, cleaning your louvres is easy. Simply vacuum them and wipe them clean with a damp cloth once a year.
Renson®

: more than 50 years of experience in ventilation
Good ventilation has become an increasingly hot topic over the past few years — and that's also reflected in the specific regulations and obligations when you build or renovate a home. Renson® has been putting its insights and dedicated knowhow in to practice for decades. For over 50 years, our team has been committed to healthy indoor air in your home. Breathe freely and without a care with a Renson® ventilation solution.