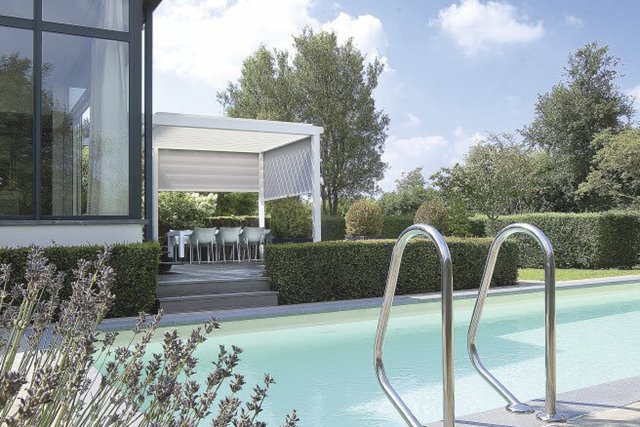 Surface-mounted Fixscreen®
Can be retrofitted
High wind resistance
Fabric always stays taut thanks to Fixscreen® technology
Wide choice of fiberglass solar shading fabrics
Screens for your pergola or carport
Looking to fit screens that can open and close to the side of your carport or pergola? No problem! Surface-mounted Fixscreen®s are installed perfectly flush with the frame profiles of your pergola. As such, they can easily be retrofitted. Screens for your pergola are not just ideal to protect yourself from weather and wind while you're out on your patio, or to enjoy the outdoors later into the evening in combination with heating. They also add value to your carport by keeping your car in optimal condition. On top of that, the fabric always stays perfectly taut thanks to our Fixscreen® technology!
Design screens for your pergola or carport fully in line with your own requirements. Choose one of our 50 colors and various weave patterns to ensure your open-and-close pergola perfectly matches your façade. You can also integrate a full-width crystal window into the screens to retain a view of the outside. Alternatively, how about having a screen on your pergola printed with a stunning photograph or your company logo?
Surface-mounted Fixscreen®s are possible for Lapure® and Algarve® pergolas and for the Algarve® Canvas carport.
Integrate surface mounted Fixscreen®
s

into: