Camargue
All accessories are beautifully integrated
Customised down to the last inch
Multi-part coupling, can also be retrofitted
Widest range of side elements
Stylish pergola with louvres
Renson® Camargue® is for those who appreciate a beautiful and sleek finish. All options and side elements are seamlessly integrated. How about elegant sliding panels to serve as walls or lighting to set a cozy mood later at night? Renson® Camargue® protects you from the weather and wind, so you can spend the entire day enjoying the outdoors, as though you were in the south of France.
The roof of this pergola consists of aluminum louvres with various functions. Keep out the sun, let in a breeze or stay one step ahead of the rain? With the Somfy remote control, rotating the louvres in your pergola has never been so easy. Alternatively, for the ultimate in easy controls, go for the Renson® Connect app. After a rain shower, the roof can be opened again quickly and easily, while the water is drained in a controlled manner. What is more: the patented shape of the louvres prevents you from getting an unexpected shower yourself when you open the louvres after a period of rain! Curious about the cost? Find out more about our pergola prices.
Technical specifications
Roof dimensions:
Width
Depth


4,5 m maximum
7 m maximum (with an extra column)
2.8 m maximum
Expandable

multiple parts

Rotation of slats

Maximum 150°
Wind guarantee with closed roof

up to 160 km/h

Water drainage

150 l/m2 u
Load-bearing capacity

200 kg/m2


BE INSPIRED
Numerous realizations with Renson® pergolas have bubbled up from the fount of inspiration. Be inspired by the gems on the opposite page.
Endless combinations with our side elements
Fully customize your pergola to your taste using our unique side elements. Glass sliding panels allow you to create extra living space in no time and the sun can be kept out (or let in) using our effective sun protection fabric.
A list of the options: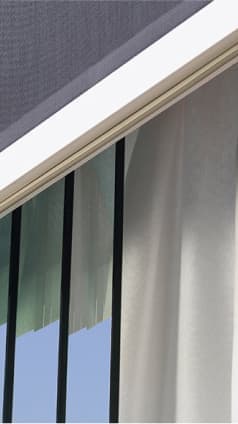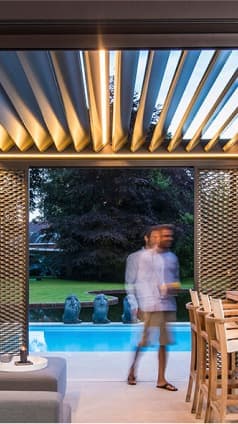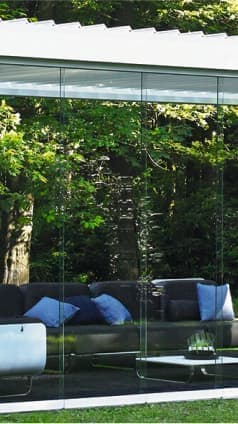 Extra accessories for your outdoor experience
Pleasant temperatures, your favourite music in the background and LED lighting to set just the right mood. These are just a few of the possibilities for your freestanding pergola. Simply add the right accessories to help realise your plans for your new outdoor space. The vast range of available options includes: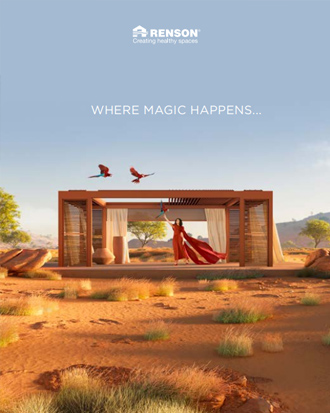 Request your inspiration brochure
Allow yourself to be inspired by the projects we have completed and explore the different models and all their possibilities.
Download your brochure ›
How to maintain your pergola
Wind and weather will undoubtedly put your pergola to the test. Proper maintenance is essential to keep enjoying your outdoor space for years to come. Effortlessly clean your pergola and screen fabrics clean using the Renson® Maintenance Set. What's more, if you perform maintenance every year, we will offer you an extended warranty on the coating.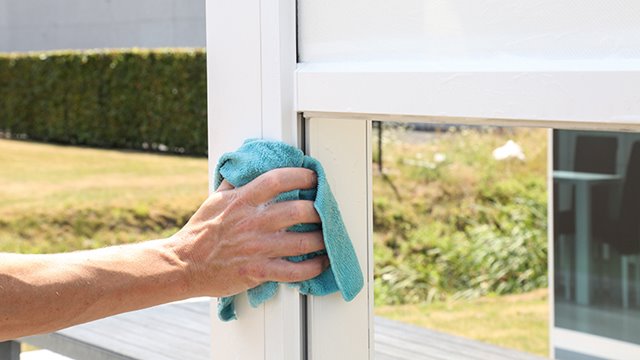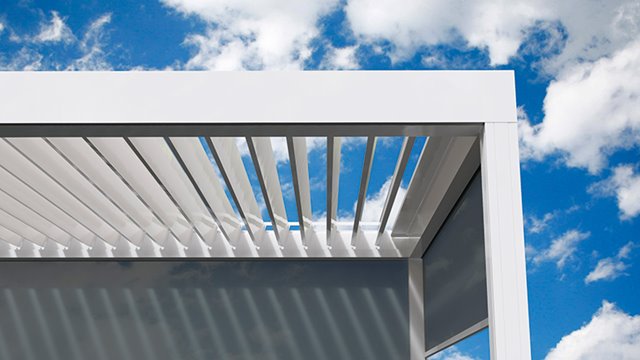 Extended warranty up to 15 years
Register your aluminum pergola to enjoy our extended warranty. The only thing you need to do is demonstrate that you clean and protect it every year using the Renson® Maintenance Set. If you do, we will give you a 15-year coating guarantee on the color and shine of your pergola. More about the extended coating warranty.