Lapure
Minimalist design
Panoramic view with open roof
High wind resistance
Does not sag in the rain thanks to Fixscreen technology
Design pergola with a fabric roof
Renson® Lapure® is synonymous with a minimalist design pergola mounted to your home. This concept, with its discrete aluminum columns, really works wonders. This pergola with a fabric roof is the perfect match for a contemporary home, but in a Classic Line finish with cornices and ornaments, it certainly does not look out of place when paired with more traditional architectural styles either. On top of that, Lapure® can easily be joined together — handy for anyone looking to extend their pergola with a fabric ceiling in the future. The screen roof shelters you from water, wind and sun. If you would like a panoramic view of the blue sky or stars at night, the roof can quickly and easily be fully retracted.
Your design pergola can be mounted to your façade in one of two ways. Go for end columns with integrated water drainage to outsmart the rain. If you prefer a little more shade, opt for Renson® Lapure® with shifted columns, meaning the fabric roof or your pergola extends a little further. Renson® Lapure® can be sealed off on the sides by adding a Triangle insert starting from your façade first, before fitting surface-mounted Fixscreens in the remaining spaces. Finish the structure with stylish LED lighting, so that you can continue to enjoy your stylish pergola with a fabric roof in the evening. 
Technical specifications
Roof dimensions:
Width
Depth


6 m maximum
5 m maximum
2,9 m maximum
Expandable

three parts, up to 18 m width

Inclination angle

10° - 35°
Wind guarantee with closed roof

up to 100 km/h

Water drainage

80 l/m2 u


BE INSPIRED
Numerous realizations with Renson® pergolas have bubbled up from the fount of inspiration. Be inspired by the gems on the opposite page.
Endless combinations with our side elements
Fully customize your pergola to your taste using our unique side elements. You can create extra living space in no time and the sun can be kept out (or let in) using our effective sun protection fabric.
A list of the options: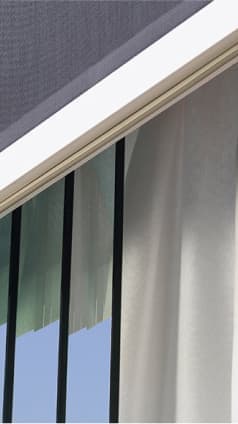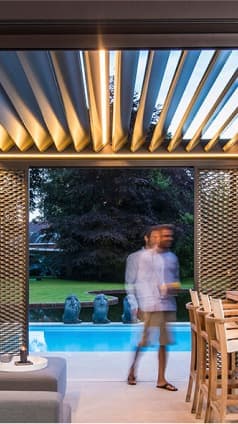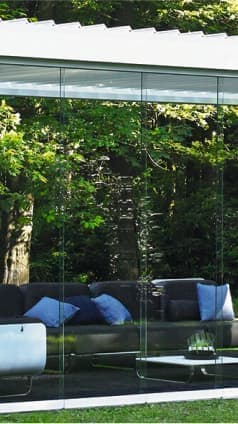 Extra accessories for your outdoor experience
Pleasant temperatures, your favourite music in the background and LED lighting to set just the right mood. These are just a few of the possibilities for your freestanding pergola. Simply add the right accessories to help realise your plans for your new outdoor space. The vast range of available options includes: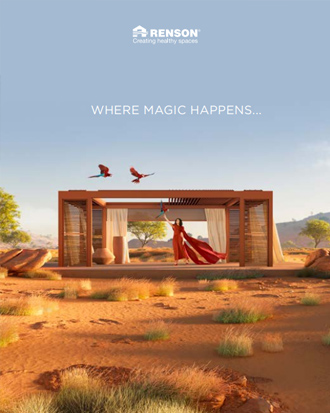 Request your inspiration brochure
Allow yourself to be inspired by the projects we have completed and explore the different models and all their possibilities.
Download your brochure ›
How to maintain your pergola
Wind and weather will undoubtedly put your pergola to the test. Proper maintenance is essential to keep enjoying your outdoor space for years to come. Effortlessly clean your pergola and screen fabrics clean using the Renson® Maintenance Set. What's more, if you perform maintenance every year, we will offer you an extended warranty on the coating.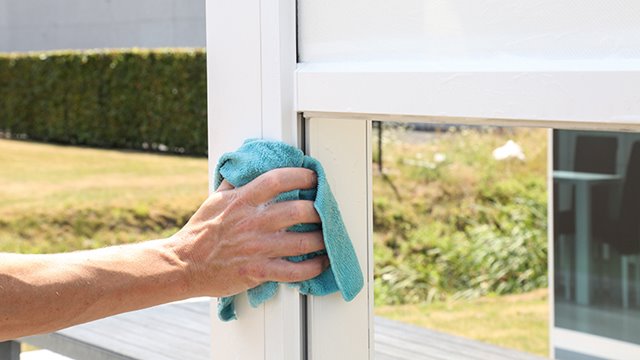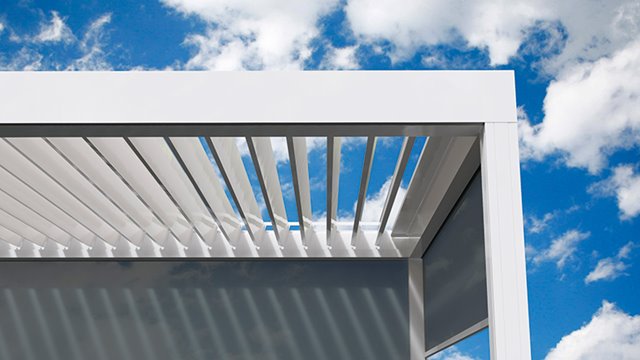 Extended warranty up to 15 years
Register your aluminum pergola to enjoy our extended warranty. The only thing you need to do is demonstrate that you clean and protect it every year using the Renson® Maintenance Set. If you do, we will give you a 15-year coating guarantee on the color and shine of your pergola. More about the extended coating warranty.