Ventilation
Breathing freely indoors
We spend 90% of our time indoors. So it is better to keep the indoor quality of life optimal by ventilating on a continuous basis. That's the only way you'll be able to breathe as if you were in the middle of pure nature. Indoor air remains healthy and odour-free, and you avoid condensation problems and mould. Discover our ventilation solutions.
What is ventilation?
Ventilation is an increasingly hot topic during newbuild or renovation projects. And rightly so, once you realize that on average we spend about 90% of our time indoors in our homes, offices, schools, healthcare facilities and so on. These structures are built with ever better insulation and using ever more airtight methods, so having a ventilation system that ensures polluted indoor air is constantly replaced by fresh outdoor air is an absolute must. That way, excess CO2, dust particles, odors and moisture that can't find a way out by themselves are easily dealt with.
With a reliable ventilation system by Renson®, you can rest assured that your indoor air quality is as it should be at all times. Whether you are working, relaxing or having a quick shower, your ventilation system automatically makes short work of harmful substances, moisture and CO2. And that makes things more comfortable, more sustainable and more healthy: you, your family and your home all stand to benefit from having good-quality ventilation.
Our ventilation solutions

Air humidity is too high in up to half of all buildings. Excess humidity in the air increases the chance of damp issues around the home, including mold, which can lead to damage and health problems.

We breathe in and out around 22,000 times every day. As such, poor air quality has a major impact on our health and can lead to asthma or allergies.

Cooking, showering and cleaning — and even breathing out and sweating — add around ten extra liters of humidity to our indoor air every day. Excess air humidity can cause mold in your home and dust mites. In turn, the spores of that mold or the excrement of those dust mites can trigger allergic reactions.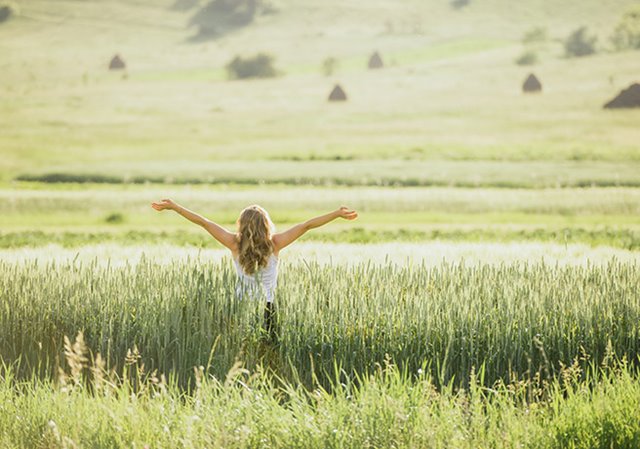 On average, the indoor air quality in our homes is ten times worse than the air quality outside. Cooking, showering, cleaning, sweating, and even breathing all pollute the indoor air in our homes, and as these homes become ever better insulated and more airtight, this dirty indoor air struggles to find a way out. The result is a poor indoor climate, without us realizing what's happening right under our noses. A ventilation system extracts this polluted air and replaces it with fresh and healthy outdoor air, effortlessly and without a care.
On average, we spend 90% of our time indoors, where the air quality is often significantly poorer than it is outdoors. Unhealthy air causes unpleasant odors, mold and ailments such as headache or sleeping problems. For that reason, investing in reliable ventilation means investing in your future — you'll soon see the benefits for your health, the health of your family, and the lifespan of your home. The positive impact of ventilation is remarkable, even in the short term.
What are the benefits?
Ventilation is the most effective way to keep the air quality in your home as it should be. You'll be astonished at the difference healthy indoor air can make: you'll fall ill less quickly, you'll be able to concentrate better, you'll sleep better and you'll feel full of energy.
Renson®'s demand-driven ventilation guarantees healthy air at all times by constantly providing ventilation only and exactly where required, with minimal maintenance and maximal ease of use. Renson®'s ventilation is tailored to your home, living pattern and needs, whether you're installing it as part of a newbuild project or a renovation.
Renson®

's

extremely

silent ventilation systems

allow you to enjoy fresh indoor air in complete peace and quiet, thanks to their energy-efficient fan and control valves on the central unit.

The control app provides insight into the current indoor air quality at any time and enables you to take the necessary action if required.

Demand-driven ventilation enables you to save on heating (exhaust system) or energy (balanced system) through heat recovery.

When developing efficient ventilation systems, we focus on ease of installation and

effective maintenance

, among other things. That way, the quality of the air inside your home remains guaranteed in the long term.
Ventilation for every home
Which ventilation system is the best choice for your home depends on various factors. Are you building a new home or carrying out a renovation? Do you spend a lot of time at home, or do you mainly work on location? What level of living comfort are you looking to achieve? Do you live in the city or out in the countryside? In other words, ventilation is all about your personal situation. That said, however and wherever you live, Renson® always has a suitable solution for you. A Renson® distributor near you will be happy to help you explore the options.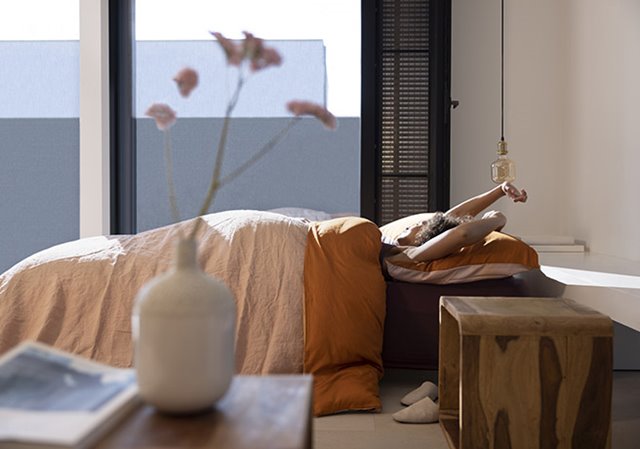 How do you ventilate your home?
While ventilating your home by briefly opening the windows and doors only has a short-term effect on air quality, a ventilation system constantly refreshes your indoor air in a controlled manner. In other words: it's the only way to breathe healthy air in your home 24/7. The basic principle of controlled ventilation is that polluted air is extracted in humid rooms and that fresh air is supplied in dry rooms. That way, your home is constantly being 'flushed' with fresh air, without the heat escaping through windows and doors, and without you having to lift a finger.
Centralised or decentralised system
Are you looking to ventilate several rooms via one central appliance, or would you be better off fitting a fan in the specific room you are looking to ventilate? Depending on your needs and wishes, you can choose between a centralised or decentralised system.
If your home is completely finished or you are only looking to tackle the bathroom or kitchen, our decentralized Waves system is the smart choice. Renson® Waves is the first fully automated local ventilation unit with a humidity, VOC and (optional) CO2 sensor. Waves is the ideal solution if, for practical reasons, a centralized ventilation system is not possible. With Waves, you get to enjoy all the benefits of demand-driven ventilation, without major renovation works.
Centralised system = entire home
Ideal for newbuild or full renovation projects

A single ventilation system for your entire

home:

automatically keeps indoor air quality at optimal levels in every connected room

Lower energy consumption and quieter operation thanks to central controls based on constant monitoring of indoor air quality
Decentralised system = single room
Ideal for kitchen, bathroom or

bathroom

renovations

or home extensions

Budget friendly

No ventilation ducts to fit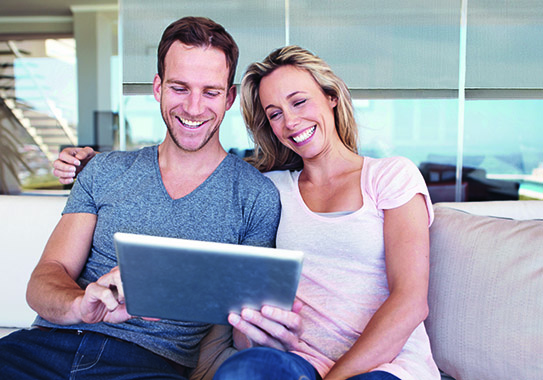 Natural and mechanical ventilation
Allow your home to breathe fresh indoor air through ventilation louvres and only extract air in those rooms where you are active to save on heating costs? Or constantly supply and extract air mechanically, with a heat recovery system to save on energy costs?

You're bound to find a system that's the perfect match for your everyday activities among our wide range of combinations of natural and/or mechanical ventilation. An exhaust system combines natural supply with mechanical extraction, while in a balanced system, both the supply of fresh air and the extraction of polluted air are handled mechanically. Whichever system you go for: with Renson®, you can rest assured you are getting an effective and energy-efficient solution for healthy indoor air.
Why opening a window is no longer sufficient
Letting some fresh air in by opening your windows and doors for a little while: it might seem like the logical thing to do, but it rarely results in effective circulation of the air inside your home. In contrast to a ventilation system, natural ventilation is rarely enough to sufficiently replace the indoor air at all times of the day with fresh outdoor air. The same applies to older homes, which let air in through gaps and cracks. On top of that, from an energy perspective, there's no justification at all these days for ventilating your home by opening the windows. Instead, the time has come to consider a controlled and energy-efficient ventilation system tailored to your everyday life.


Different ventilation systems
To enable you to ventilate effectively, in a controlled manner and with one eye on the future, Renson® offers a range of demand-driven ventilation systems. All of these ventilation systems enable you to live healthily and comfortably, all year round. Which system is the best fit for you depends on your home and your wishes and needs.
The types of ventilation system we offer are as follows:
Exhaust system
Our exhaust ventilation system monitors the air quality in every individual room and automatically provides more ventilation only when required. Fresh air is supplied via natural methods. This ventilation unit extracts the exact amount of air required to be extracted in each room, all at the same time. If no one is home or the air quality is perfect, the system operates at its basic setting with a low airflow rate.
If someone has a shower or bath, the ventilation system kicks in for the bathroom only, without you needing to lift a finger. If the CO2 level starts to rise in the bedroom at night, the central unit will extract extra polluted indoor air there to make space for fresh outdoor air. As no one is active in the kitchen or bathroom at that time, the system will simply operate at its basic setting in those rooms. In doing so, it uses energy efficiently, with optimal results. What's more: using the app, you can keep an eye on how the ventilation system is operating to keep the air quality at optimal levels in each room.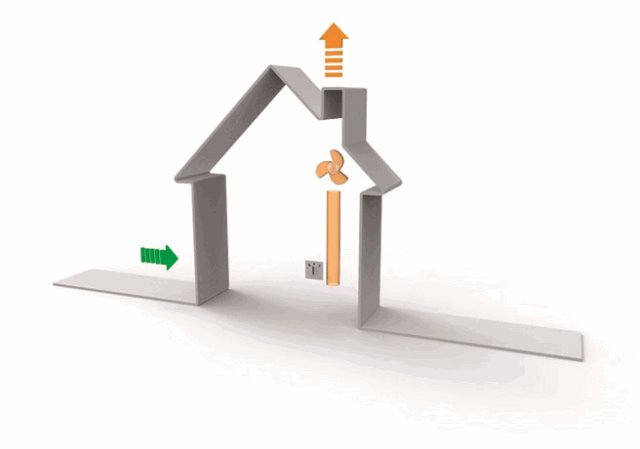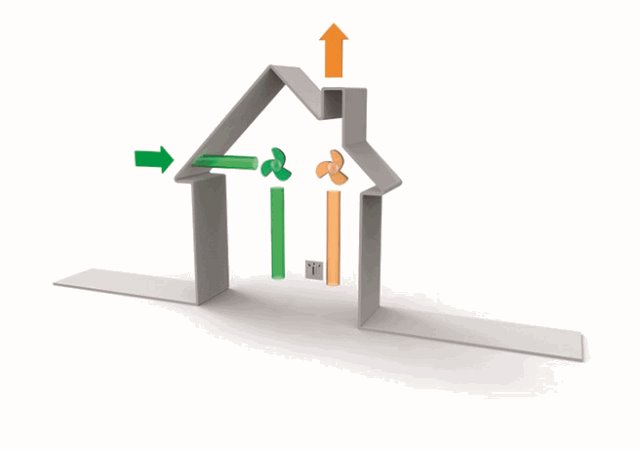 Balanced system
Renson®'s balanced system adds demand control to a fully mechanical ventilation system with heat recovery. In practice, this means a double fan both supplies fresh outdoor air and extracts polluted indoor air. This type of mechanical ventilation system is also referred to as a 'balanced' ventilation system and is based on heat recovery. The supply of fresh air is preheated before being blown into your home. To do so, the system uses heat from the polluted indoor air it extracts.


The quality of your indoor air determines the ventilation airflow for your entire home. At its basic setting, the system operates at a low airflow, which is automatically increased as soon as the integrated sensors detect poor air quality. When this happens, every room is temporarily ventilated more intensively, and any heat extracted is recovered. That way, you can breathe healthy air indoors 24/7, without every having to give it a second thought yourself. That said, it is important that this type of mechanical ventilation system is correctly maintained by cleaning the filters and replacing them in good time, having the ducts cleaned and so on.


Decentralised solution
If you are looking to tackle air quality in just a single room, a decentralized solution is your best option. This type of system does not have a central appliance with air ducts reaching into each separate room; instead, it consists of a single extraction fan fitted in a duct that leads straight outside through the roof or a wall. Decentralized ventilation systems are ideal for smaller renovation projects, such as bathrooms, for home extensions or as a replacement for existing bathroom or bathroom fans.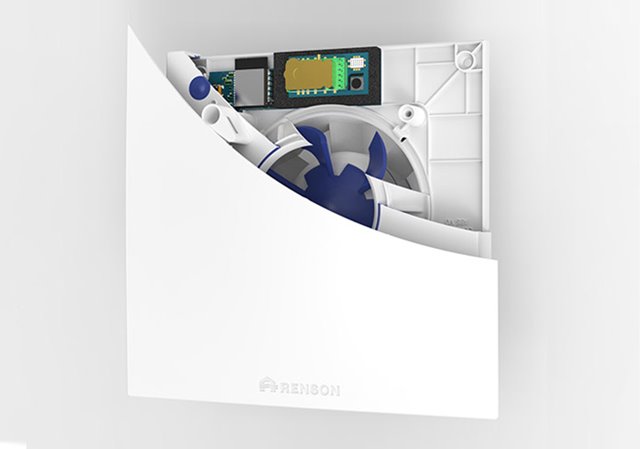 To measure is to know
CO2 is one of the main culprits when it comes to poor air quality. Worse still, we are unable to detect CO2 using our senses alone. Here's the good news though: you can use a CO2 sensor, such as Renson® Sense, to measure the level of CO2 in the air. The CO2 level is a good indicator of the volume of air that has been breathed out in a room, meaning it's a great way to figure out when to ventilate or let fresh air in.
Maintaining your ventilation system
People often forget to perform maintenance on their ventilation system. That said, maintenance is essential for the proper functioning of your system. In other words: it's a precondition for continuing to be able to breathe healthy air in the long term. A balanced system requires a little more maintenance than an exhaust system. For example, you'll regularly need to clean and replace the filters.
Frequency

Exhaust ventilation system

Balanced ventilation system

Every month

/
Inspect filters

Every three months

Inspect window vents (supply) and extraction louvres


Inspect supply and extraction louvres/vents
Clean filters

Every year

Clean window vents (supply) and extraction louvres yourself


Inspect heat exchanger and fans

Clean supply and extraction louvres/vents

Have filters replaced recommended to be done by a professional

Every three years

Inspect air ducts

Inspect air ducts
Clean heat exchanger
Every nine years

Clean air ducts

Clean air ducts

* More details about the maintenance of your system can be found in the manual for your appliance.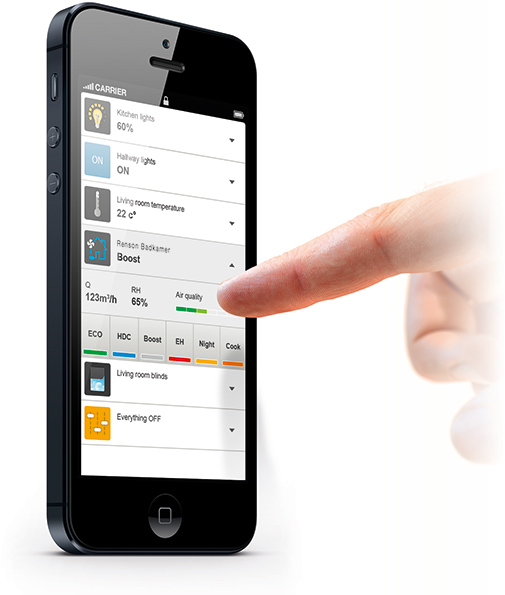 A good night's sleep with night cooling
A good night's sleep is the basis for a life well lived. At the peak of summer, overheating is the main thing that stops you from relaxing and sleeping. With night cooling vents, you can bring fresh, and most importantly, cool outdoor air into your home at night. By 'flushing' your living spaces using this cooler air, you can bring the temperature down by a few degrees by the time dawn next comes round. Renson® has perfected this centuries-old method into a comfortable and stylish solution.


The night cooling vents are integrated into the window and circulate the indoor air throughout the entire night. The effect is the same as sleeping with the window open, but without being bothered by insects (thanks to the insect mesh) and without laying awake worrying about unwanted intruders (thanks to the burglar-resistant louvres). Combined with high-quality solar shading, night cooling serves to keep the temperature at a comfortable level indoors, even during extended periods of hot weather. It's just like sleeping under the wide open sky, but with the comfort of your soft bed as an unmistakable bonus.
Which rooms should you ventilate?
On average, we spend 90% of our time indoors, so healthy indoor air is extremely important. In some rooms, the need for a good ventilation system is greater than in others. This includes your bathroom, where humid air can cause a range of issues. A less obvious example is your bedroom, where the air quality has a major impact on your sleep, and where CO2 levels can rise pretty quickly due to the air you breathe out at night. It's also a good idea to fit an extraction system for humidity, CO2 and odors in other wet rooms such as the bathroom (odors), the kitchen (odors, humidity, CO2) and basement (humidity). On the other hand, you'll need to ensure a supply of fresh air from outside in so-called 'dry' rooms, such as your living room and bedrooms, to replace the polluted indoor air that is extracted via the wet rooms.
Why choose Renson ventilation?
A properly insulated home stops the heat from getting out — but in doing so, it also stops polluted air from getting out. For that reason, proper ventilation is more important than ever before to create a healthy indoor climate. Renson® is going one step further by offering demand-driven solutions. These systems constantly monitor the air quality via built in sensors and automatically spring into action only where and when needed. From your breakfast and morning shower to your evening watching TV and a healthy night's sleep: Renson® is your partner for healthy and comfortable living.