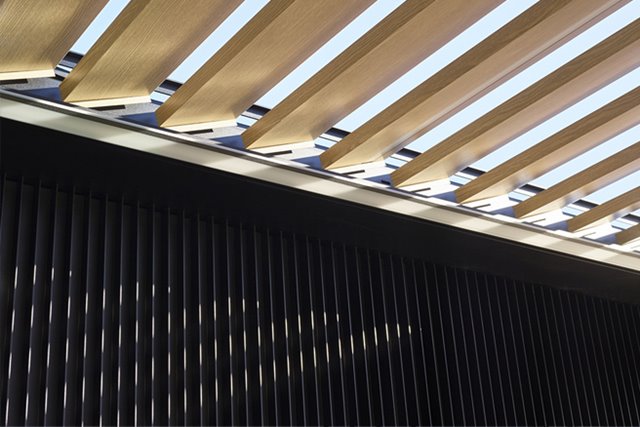 Fixed wall with vertical line structure
Protection from rain and wind
Privacy
Can be perfectly combined with the Linarte® cladding system and garden elements
Aesthetic finish can be extended along a background wall
Room for additional sound insulation
Linarte wall: design side walls for your pergola
Looking to enclose your pergola using a fixed wall with a vertical design? No problem! The vertical interplay of lines on our Linarte® walls adds a unique touch to your pergola, which can be consistently extended in the cladding system or garden elements around your home. Linarte® can be used to add one or more walls to completely seal off your pergola — but you can just as easily add use it to create a railing at a height of your choice. Ideal as a stylish surround for your patio! Whichever option you go for, the side walls will always be seamlessly integrated into your pergola.
Combine with LED lighting or even strips of wood
A Linarte® wall consists of aluminum cladding on one side and a solid screen fabric on the other. It is up to you which side faces inwards. That way, you can finish off your pergola with a wall that fully matches your home and style. On top of that, you can easily integrate stylish LED lighting or even strips of wood into the louvres of these Linarte® side walls.