Is your house too hot?
Follow these tips to keep your home cool.
We bet you love the summer but are afraid to start puffing and blowing in your own home? You're not alone. We are increasingly being confronted with heat waves, and these are only expected to increase in the coming decades. Keeping your home cool is one of the biggest challenges in these scenarios. But don't worry: there are many ways to protect your home and yourself against overheating.
Why is it getting so hot in your house?
Sustainable living means economical heating, and the best solution for that is insulating your home well. An airtight building is the best way to keep the heat inside. But there is a downside to this advantage: during the summer – and increasingly during the spring and autumn – heat that gets into the house through large windows remains trapped in the house. And this is only exacerbated by the urge to get lots of daylight into the house and the accompanying large glass sections. When a heat wave lasts several days, the heat builds up indoors and the house becomes overheated.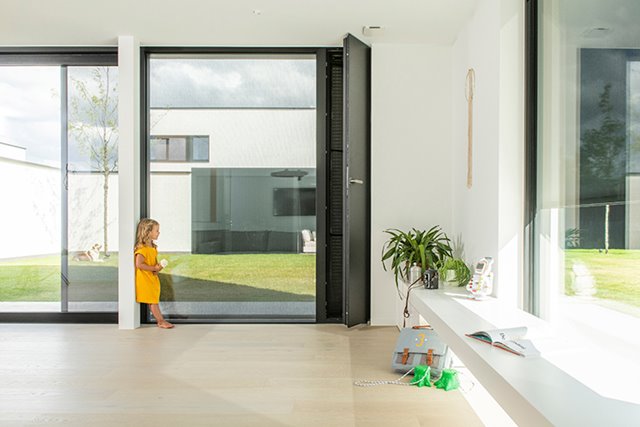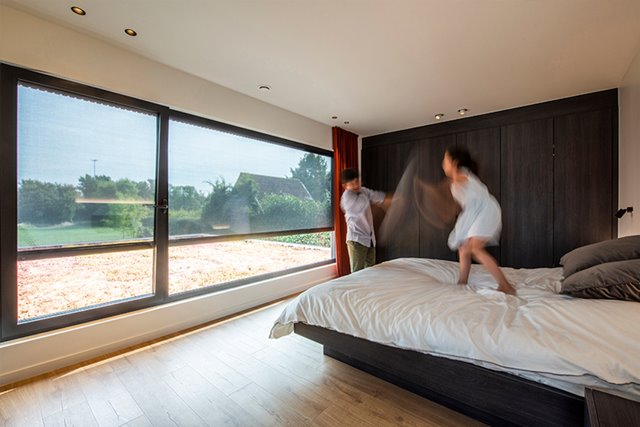 What is a healthy room temperature?
Most people prefer the interior temperature to be around 19–22°C, although this can differ from person to person of course. The bedroom can always be a bit cooler. Here, the ideal temperature fluctuates between 14–16°C. It is always best for bedrooms to be cooler, especially a child's room. Young children are sensitive to overheating. The ideal room temperature for babies up to 2 months is 20°C. From 3 months, a temperature between 15–18°C is recommended.
How do you keep your house cool during a heat wave?
Once the heat has gained a foothold in your home, it is difficult to get it out again, especially in a well-insulated and airtight house. So the message is: prevention is better than cure. This can be achieved by preventing the sunrays from shining directly on the windows, and there are several options for this. Outdoor blinds or roller shutters? Sun protection glass or curtains? The various possibilities can be found below.
Outdoor blinds
Outdoor sun protection fabric can be stylish, dynamic, effective and wind resistant. Renson® has developed sustainable and high-quality solutions for every project. Are you busy with a new construction, renovation or residential extension? Add outdoor blinds and choose a pleasant indoor climate.
For which applications are there outdoor blinds
Roller shutters


Like outdoor blinds, roller shutters block the sun before it reaches the glass. Leave them down all day when the sun is out and it will stay nice and cool inside. The only downside is you won't have any natural light coming into the house. Outdoor blinds can keep up to 90% of the heat outside, especially when used in combination with well-insulated double glazing, and they still allow daylight in and let you enjoy the view outside.
Structural brise soleil shading or sliding panels
Another solution to stop the sun is structural brise soleil shading. This is an integral part of your home and is a sun screen above or in front of a window. It is less dynamic than outdoor blinds, but this system also blocks the sunrays before they reach the glass. Architectural considerations often play a decisive role in choosing structural brise soleil shading or sliding panels. They can give your home a unique look.
Sun protection glass
Sun protection glass resembles normal glass but is slightly less transparent thanks to the coloring by a special coating of metal oxide. It keeps out some of the heat from the sun, but allows daylight to pass through. The incoming light can be slightly discolored due to the coating, and this is not always the best experience. Sun protection glass is much less effective compared to outdoor blinds. Outdoor blinds keep out 4 to 5 times more solar heat.
Sun protection foil
Sun protection foil is usually affixed to the inside of the window to block out the sun's infra-red rays. Unfortunately, it is not a very efficient system because once the heat is already inside, the damage is often already done. In addition, solar control film is not suitable for high-efficiency glass, which is increasingly being used in modern homes.
Curtains
Do you like many people, use curtains as solar shading? They undoubtedly have an effect on indoor warming, but it is rather limited. Again, once the heat is already inside the house, blocked between glass and curtain, the damage is often already done. It is better to block the sun before it gets into the house on the outside of the glass with outdoor blinds or roller shutters.
Air conditioning
Is your house too hot? A simple solution is to just turn on the air conditioning right? But make no mistake: air conditioning is far from the holy grail it may seem at first glance. It is a real energy guzzler, costs a pretty penny and contributes to global warming. In addition, the large temperature shocks between the heat outside and the very cool air-conditioned air inside is unhealthy, as is the draft that the appliances often cause. Fortunately, there are also natural and effective ways to cool the house without air conditioning. Prevention is better than cure, as they always say.
Dehydration


When it is very hot, the body sweats to cool down. This means the body loses lots of fluid, possibly resulting in dehydration. Young, old, and those in poor

health in particular, often

notice this too late or find it difficult to explain what is wrong to those around them. Dehydration can lead to heat stress, nausea, headaches, and in extreme cases, stroke, heart failure, and even death. 




Shortness of breath

Severe heat can make you feel stuffy and make breathing difficult. Those in good health usually have little trouble with this. People with asthma, other lung diseases, or a severe allergy can have a hard time breathing. Breathing in through the mouth, which can give the illusion of cooling, can result in hyperventilation. There is less oxygen intake, which can make the sufferer dizzy and nauseous.



Headache
When it's hot, blood vessels dilate. This is so the body finds it easier to get rid of the excess heat. Unfortunately, this can also cause headaches. This risk is best limited by avoiding major exertions at the hottest moments of the day. And by keeping your home pleasantly cool of course.
Poor sleep and fatigue

It is difficult to fall asleep in a bedroom that is too warm. While you're lying in your bed, sweating, rest and relaxation often seem far away. Of course, you can always open a window for a light breeze? But nobody wants to deal with the annoying flies and mosquitoes (unless you've got night cooling louvres). Poor sleep and fatigue are the most frequently heard complaints during the summer.



Damage to your interior
It's not just your body that suffers from overheating. Your home also suffers during hot periods. The UV rays from the sun can have a negative effect on your interior furnishing and can affect the color of furniture and accessories. Direct sunlight also puts your house plants to the test.
Why is outdoor solar shading more effective than internal solar shading?
Exterior solar shading on the outside of the window reflects a large part of the solar heat and absorbs most of the remaining heat. As a result, the space behind the outdoor solar shading remains pleasantly cool, even during hot periods. Internal blinds block the heat as well, but only behind the glass. Once the heat is inside, the damage is already done.
Measuring the temperature in your home
Would you like to always know how warm it is in your home, wherever you are? The Renson® Sense monitors the indoor temperature, 24/7. Icons and color codes let you quickly see when it gets too hot at home. Maybe you want to keep an eye on the temperature from work and remotely lower the outdoor blinds when required. This will help ensure you always come home to a pleasantly cool home.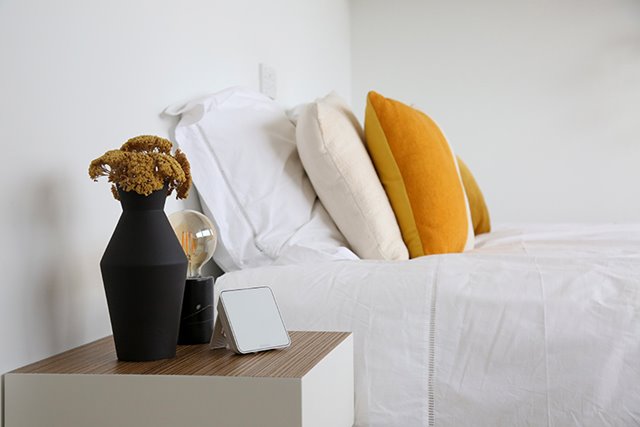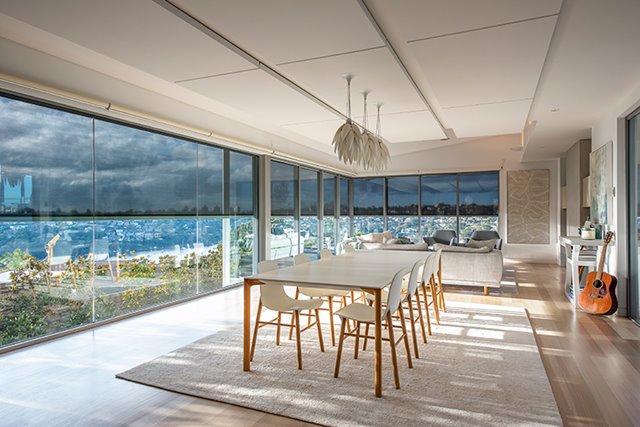 The impact of solar shading to your energy bill
With rising energy prices, saving on energy consumption is a very interesting prospect. Solar shading helps you reduce your energy bill in 2 ways. In winter, you can get the most of the sun for free heating of your home be leaving the outdoor blinds up. And in the summer, you can avoid having an air conditioner actively cool your home.