Algarve Canvas
Multi-purpose use as patio cover or carport
Rigid upper roof made from sheet metal with an anti-condensation layer
Tautly stretched ceiling using Fixscreen technology
Matches all architectural styles
Fixed roof pergola
Renson® Algarve® Canvas is a stylish pergola with a fixed roof that consists of two ingenious layers for an extra strong result. The top layer is a powder coated steel plate with anti-condensation coating. An aesthetic stretch screen ceiling is fitted below. This elegant screen fabric with a soft appearance is available in eight shades to match your home. On top of that, you can join several Algarve® pergolas together to create a truly vast covered space. 
You are always protected from the elements underneath this fixed roof pergola. To create even more of a cocoon, simply add side elements. Choose stylish sliding panels, a fixed horizontal aluminum louvre wall or glass sliding panels to retain a view of your garden. Finish your pergola with Fixscreen® solar shading to block out the bright sunlight or add in LED lighting to continue enjoying your fixed roof pergola in the evenings.  
Technical specifications
Roof dimensions:
Width
Depth


4,5m maximum
6m maximum
2.8m maximum
Expandable

two parts, up to 6 meters

Wind guarantee

Tot 120 km/u
Water drainage

120 l/m2 u
Draagkracht
100 kg/m2


BE INSPIRED
Numerous realizations with Renson® pergolas have bubbled up from the fount of inspiration. Be inspired by the gems on the opposite page.
Endless combinations with our side elements
Fully customize your pergola to your taste using our unique side elements. Glass sliding panels allow you to create extra living space in no time and the sun can be kept out (or let in) using our effective sun protection fabric.
A list of the options: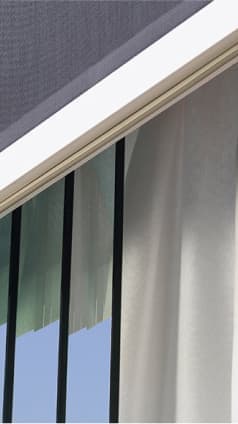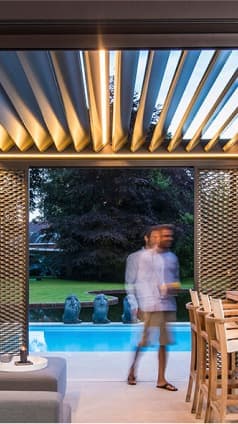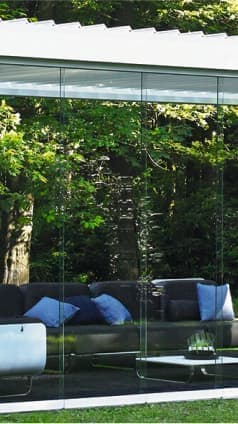 Extra accessories for your outdoor experience
Pleasant temperatures, your favourite music in the background and LED lighting to set just the right mood. These are just a few of the possibilities for your freestanding pergola. Simply add the right accessories to help realise your plans for your new outdoor space. The vast range of available options includes: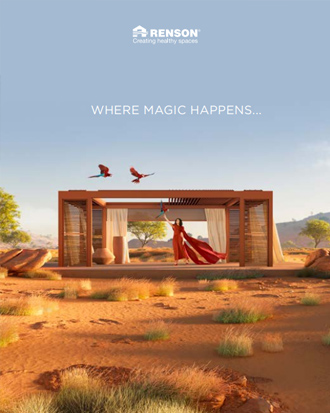 Request your inspiration brochure
Allow yourself to be inspired by the projects we have completed and explore the different models and all their possibilities.
Download your brochure ›
How to maintain your pergola
Wind and weather will undoubtedly put your pergola to the test. Proper maintenance is essential to keep enjoying your outdoor space for years to come. Effortlessly clean your pergola and screen fabrics clean using the Renson® Maintenance Set. What's more, if you perform maintenance every year, we will offer you an extended warranty on the coating.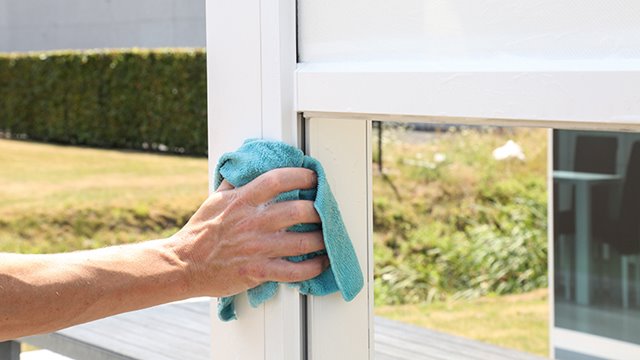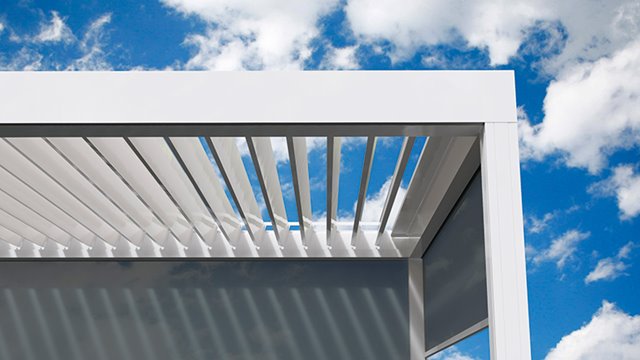 Extended warranty up to 15 years
Register your aluminum pergola to enjoy our extended warranty. The only thing you need to do is demonstrate that you clean and protect it every year using the Renson® Maintenance Set. If you do, we will give you a 15-year coating guarantee on the color and shine of your pergola. More about the extended coating warranty.