Pergolas
Enjoy outdoor living all year round with a pergola
The rainy autumn and cold winter months are not exactly the nicest periods to spend time outside. Or are they? With a pergola, you can enjoy your own garden all year round. Nature gives you space to breathe and energises you, and the best way to maximise that — whatever the weather — is with an aluminium pergola. Integrated heating, speakers and lighting help create the ultimate outdoor experience: the comfort of the indoors, surrounded by nature.
Endless combinations with our side elements
Fully customise your pergola to your taste using our unique side elements. Glass sliding panels allow you to create extra living space in no time and the sun can be kept out (or let in) using our effective sun protection fabric.
A list of the options: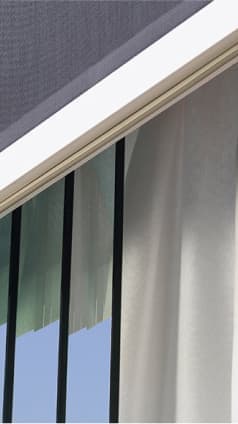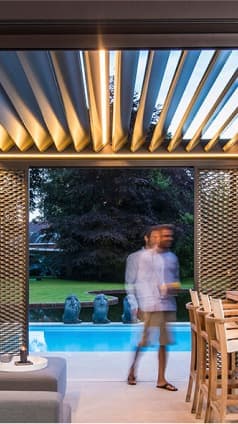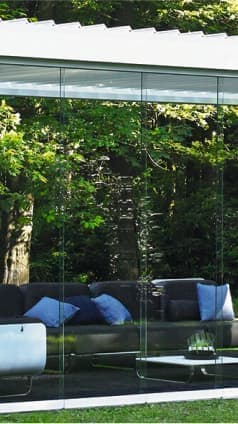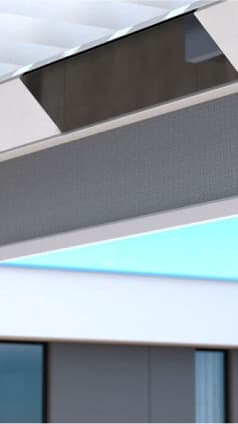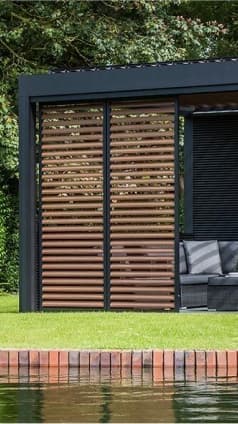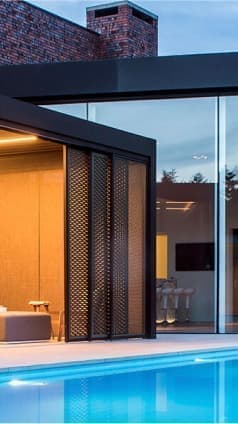 Accessories for an exclusive outdoor experience
With the right accessories you can create a unique experience underneath your pergola. Enjoy the outdoors all year round with integrated heating and relax to the max with your favourite tracks blasting out of the integrated speakers. Alternatively, create a romantic mood using our LED lighting. Configure your own outdoor paradise using these accessories:
Need inspiration?
Cannot see the wood for the trees when it comes to picking options for your very own pergola? Renson has developed six design styles to help you create the ultimate outdoor experience. Together with trendwatcher Hilde Francq, we combined colours, materials and textures into concepts that offer perfect harmony. That way, you can effortlessly pick the overall ambience that perfectly matches your home and personal style. The possibilities are endless.
What can a pergola be used for?
You might be wondering why you should invest in a custom pergola. The answer is simple: you are not just investing in your living environment, you are investing in yourself too. Your pergola serves as extra living space where you can fully unwind. You can use it as a space to exercise, work or relax in nature.
We are spending even more time indoors, even though nature is what we need to recharge our batteries. A Renson pergola enables you to combine the benefits of outdoor living with indoor comforts. In other words: you get the best of both worlds.
Camp in your own garden under your luxury pergola
Love camping, but don't love the lack of luxury? Don't fancy lugging about tents and a whole host of other stuff? Your own pergola is all you need for spontaneous, comfortable and luxury joy without any need to plan months in advance or stress out over whether you have forgotten anything. Simply head out together or alone for a delightful mini holiday in your own garden.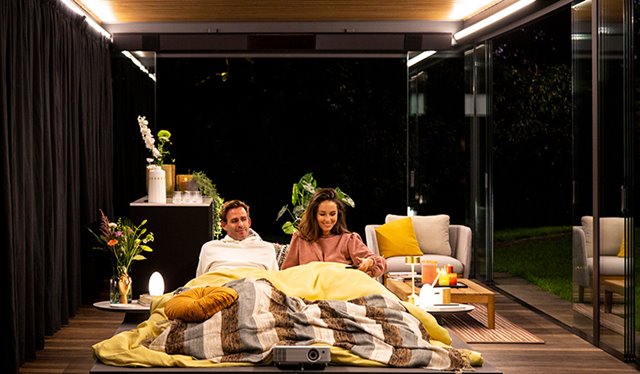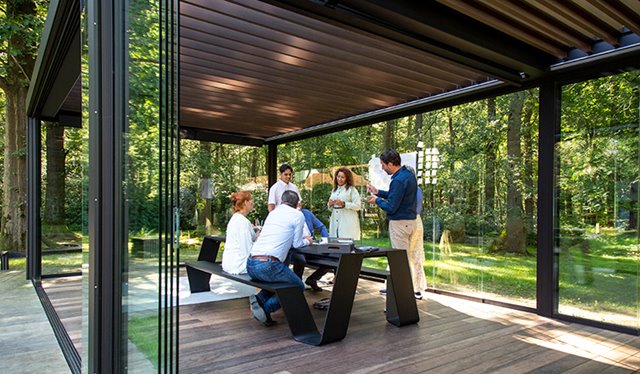 Work in a garden room for extra inspiration
Staring at the same walls, day in, day out... It won't be long before you feel like climbing them! Use your pergola as a garden room to work in. A lean-to pergola is the perfect place to transform your home working atmosphere. Enjoy fresh air and find inspiration in your surroundings. Whether you are working alone or brainstorming with colleagues, with your favourite coffee or tea by your side, you are all set to face the working day.
Outdoor exercise around your pergola
Loud music, sweaty people and unpleasant odours in the gym. Sure, you want to work out but are you really looking forward to wiping someone else's sweat off the treadmill again? We didn't think so. Transform your pergola into an outdoor exercise location. Whether you are working out by yourself or with others, doing so outdoors offers unrivalled joy. And it's much healthier too! Running, yoga or strength training? It's all much more fun outdoors. Create your own gym seconds away from your home — just don't forget to fill up your drinks bottle with your favourite thirst quencher for afterwards!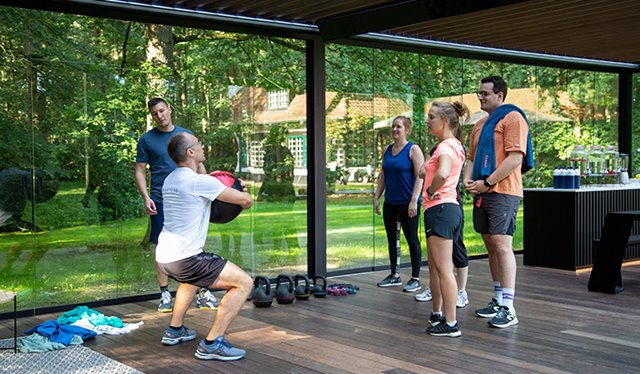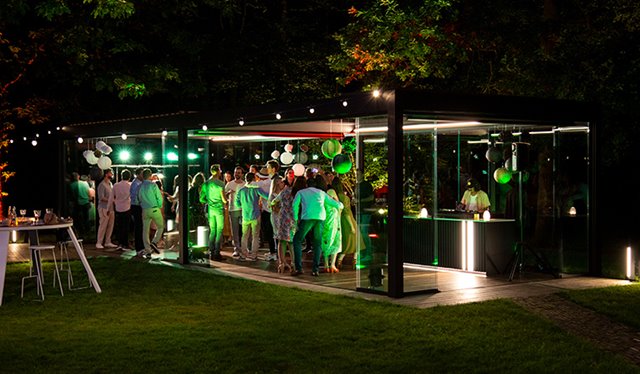 A pergola for the best garden parties
We all crave a big old party from time to time, and there is no better place to get the corks popping than underneath a freestanding pergola. The best tracks, the finest company and, of course, the most stunning of surroundings: your own garden. Instantly set the mood using your integrated lighting and put on your favourite playlist using the integrated speakers. The possibilities are endless.
Masterchef in the home, masterchef in the garden
A true foodie doesn't last the day without sampling delicious fare. Whether you oversee the kitchen or relying on someone else to work their magic: a good cooking and eating spot is a must. And of course, everything tastes better surrounded by the greenery of your garden. Transform your pergola with a louvered roof or retractable roof into a barbecue station or go full gourmet dining experience: there is ample room for a complete mobile kitchen. Simply slide out the louvres to create extra shade during your meal. After all, aside from hunger, fresh air is the best seasoning.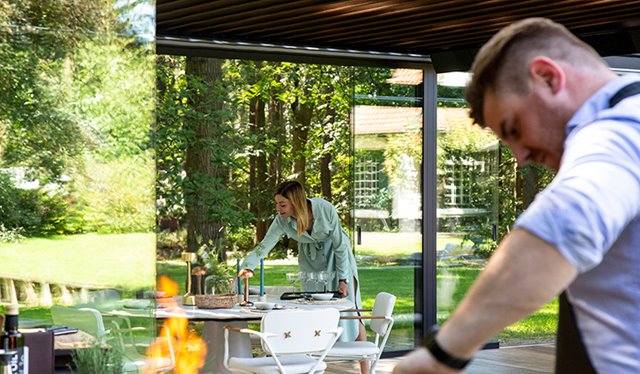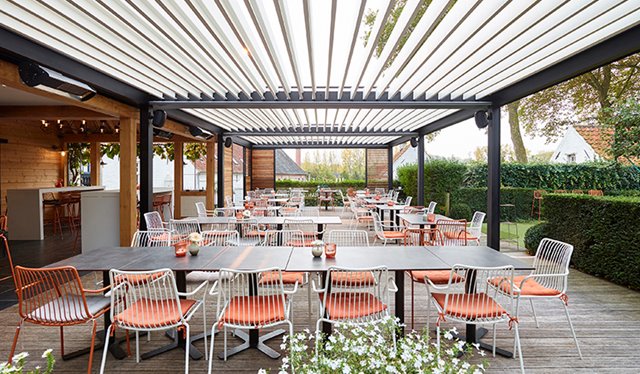 For individuals and for the hospitality sector
Are you a master foodie and do you have your own restaurant or hospitality business? A pergola is guaranteed to be a valuable addition to your outdoor space. Even when the weather cannot make up its mind, your outdoor seating area is bound to fill up nicely. A closed pergola guarantees comfort for your guests at any time and glass sliding panels add in an enjoyable view too. Integrated speakers allow you to set the mood exactly right and heating elements keep your guests nice and warm, especially in winter.
The durable character of a Renson® pergola
Renson pergolas have an aluminium structure that combines strength with allure and ease of maintenance. On top of that, there is an endless number of optional elements to help you design your ideal pergola. Integrate glass sliding panels for a closed space with a magnificent view or add in Loggia panels to let the sun and wind in whenever you wish. The choice is yours!
How to maintain your pergola
Wind and weather will undoubtedly put your pergola to the test. Proper maintenance of your pergola is essential to keep enjoying your outdoor space for years to come. Effortlessly clean your pergola and screen fabrics clean using the Renson Maintenance Set. What's more, if you perform maintenance every year, we will offer you an extended warranty on the coating.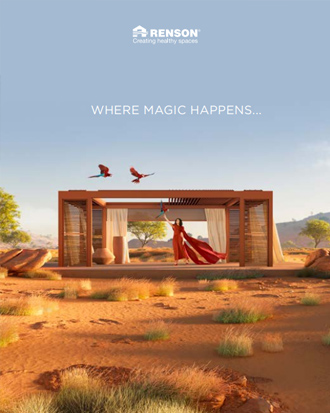 Request your inspiration brochure
Allow yourself to be inspired by the projects we have completed and explore the different models and all their possibilities.
Download your brochure ›
A professional installer for your pergola
Your installation process is in safe hands here at Renson. Depending on your location and the configuration of your pergola, installation often only takes a single day. If the underground surface is unsuitable, we will need to do some digging first. What's more, our service does not stop when we have delivered your project. We offer a ten-year warranty on the structure, and, if applicable, an extended fifteen-year warranty on the coating. That way you get to enjoy your pergola without a care in the world.