Louvered (roof) pergola
Custom louvered pergola
Among other things, your exact pergola experience depends on the type of roof you go for. A louvered roof pergola consists of motorised aluminium louvres that you can open or close as you wish. This allows you to draw in the maximum amount of sunlight or create shade. On top of that, when the louvres are closed, you are perfectly protected from the rain. Enough reasons to consider a louvered pergola!
Why choose a louvered pergola?
A pergola with louvres gives you complete control of the amount of light you let in through the roof. And that is before we mention the sleek design and assorted styles we offer. What your louvered roof looks like and how you use it is entirely up to you.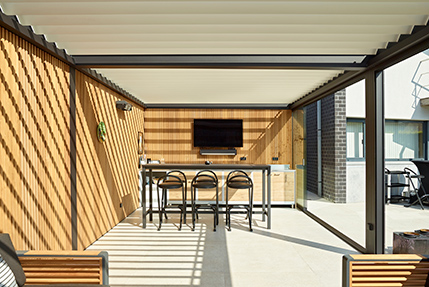 Control natural light
Fully closed, fully open or somewhere in between: by playing around with the position of the louvres, you are in control of the exact amount of light you let in. One press of a button on your remote control is all it takes.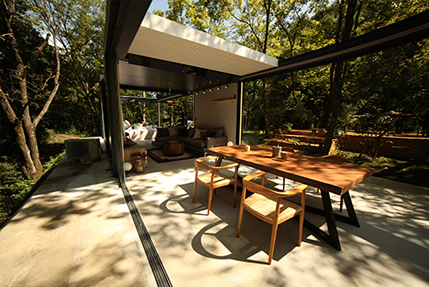 Retractable louvres
Want to make the most of the beautiful weather by spending time under the wide-open sky? Fully retract the louvered roof and feel utterly at one with your outdoor environment, in complete peace and comfort.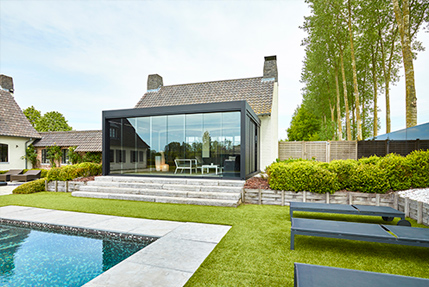 Modern design that exudes tranquillity
Adding architectural value is top of the agenda during every phase of the design process. The result: modern design that can be optimally integrated into your living environment.

Superior quality
Our products are developed with an eye for design, durability and quality.

Minimalist design
Visual simplicity adorns and retains the focus on the architectural feats of your design.

Extensive customisation options
Modular product design and a wide range of options serve as the building blocks for your unique pergola.

Ease of use and maintenance
Minimal maintenance and maximum enjoyment of your garden room, year after year.
What is a louvered roof?
A louvered roof is a series of connected and motorised aluminium louvres that can be rotated up to a 150° angle. Changing the position of the louvres allows you to control the amount of light that comes in to your pergola. In other words, you have the ultimate level of control over the indoor climate of your outdoor space.
Endless combinations with our side elements
Transparent glass, warm wood or homely curtains: with our wide range of side elements, you can quickly and easily add style and functionality to your pergola. Fixed panels, sliding walls or louvres? Go for a uniform overall appearance or mix and max as you wish with: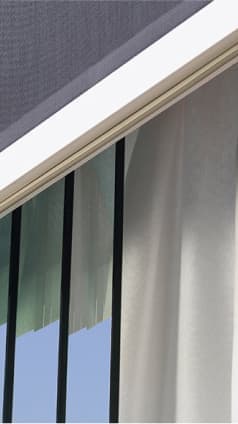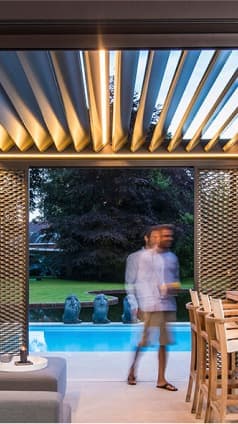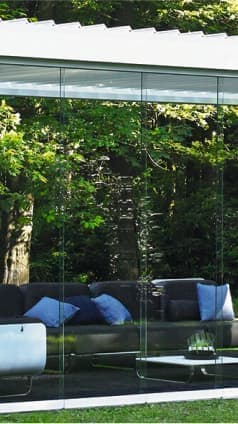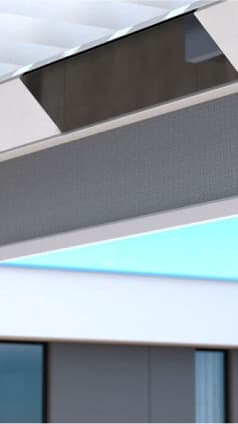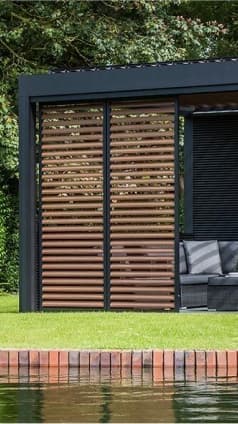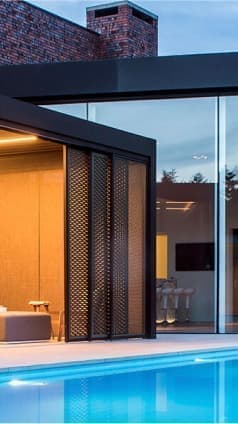 Extra accessories for your outdoor experience
Pleasant temperatures, your favourite music in the background and LED lighting to set just the right mood. These are just a few of the possibilities for your freestanding pergola. Simply add the right accessories to help realise your plans for your new outdoor space. The vast range of available options includes:

The benefits of a louvered pergola
The flexible nature of this type of roof for your pergola is undoubtedly the biggest benefit a louvered pergola offers. You decide how much sun and wind enters your pergola in an effortless way. But there is more too:
Continue to enjoy the pleasant warmth of the day in the evenings. By rotating the louvres in the right direction, you can trap the warm air underneath your pergola for extended periods of time. Prefer to cool down quickly, just like the outdoor air? Either way, it takes no time at all.
No surprises when your louvres are open, and it suddenly starts to drizzle. The integrated rain sensors slide your louvered roof to its closed position when they detect rain.


Are there any downsides to a louvered pergola?
With the louvres fully open, you can draw in the maximum amount of sunlight. That said, each individual louvre will cast a small strip of shadow. If you have a retractable roof, this is no longer an issue: simply fully retract your roof to enjoy that glorious sunshine to the full.
Need inspiration for your louvered pergola?
Our six complete Design Styles allow you to pick the total package that best suits your style and home.
A pergola with a retractable fabric roof, or with a louvered roof?
Aside from a louvered roof, you can also finish your pergola with a retractable fabric roof. Which roof to go for depends on your wishes and needs. To help you get some way towards making a choice, we have drawn up a comparison for you below.
Louvered roof
Horizontal roof structure

Lean-to, integrated or freestanding

Natural light adjustable via louvres

Roof louvres rotate or slide open but never 'disappear'

No natural light from the top with the louvres closed (except with translucent louvres)

Can be sealed off using a wide range of side elements

Windproof up to 160 km/h

Drainage flow up to 150 l/m².h

Resistant against snow loads > 100 kg/m² with louvres closed

All possible RAL colours available for the roof
Retractable fabric roof
Sloped roof structure

Lean-to against a wall only

Natural light adjustable by opening and closing the screen roof

Roof completely 'disappears'

The fabric lets through filtered light when closed

Sides can be sealed off using surface-mounted screens

Windproof up to 100 km/h

More limited water drainage flow up to 50 l/m².h

No snow resistance with screen roof closed

Limited choice of colours for the screen roof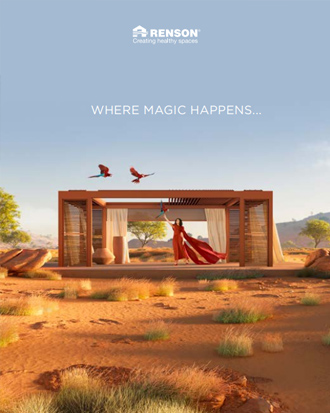 Download the inspiration brochure
Allow yourself to be inspired by the wide range of projects we have completed in our digital brochure. Find out more about the different models and accessories.
Request your brochure ›
A custom louvered pergola
Want to experience the benefits of a louvered pergola for yourself day after day? Renson offers several pergola models with aluminium louvres. Whether you are opting for a freestanding pergola or for a lean-to pergola adjoining your home: a louvered roof will always prove to be an excellent choice.