Carport
Tailor-made carport
A modern aluminium carport that perfectly matches the architecture of your home. That's the Renson Algarve Canvas. Protect your car against wind and weather under the sturdy metal roof. The underlying sun-resistant fabric also shuts out UV radiation and solar heat. A free-standing carport, an extension to your façade or even extended to over the front door? Take your pick.
What are the possible applications of a carport?
Just like your car and home, a carport is very personal. Choices of colour and finish, accessories and so on make the Algarve Canvas a carport tailored to your wishes and needs. Together with the most suitable application.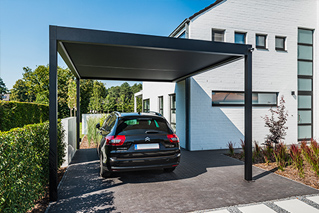 To the house
A carport fitted to your façade for optimal use of space and a strong aesthetic whole.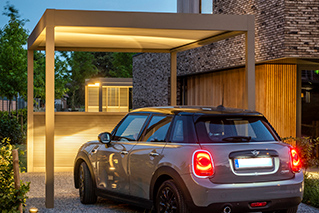 Free-standing
In front of, next to, or behind your house? A detached carport gives your car a safe shelter.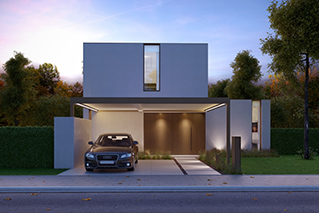 Luxury carport
Fancy a little bit extra? Add accessories such as LED lighting to your luxury carport.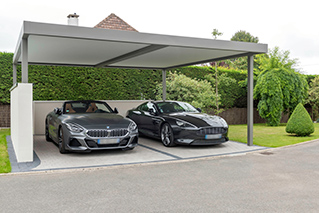 Double carport
Double the space for your car and/or storage with a double Algarve Canvas.

Durable quality
High-quality aluminium and modern technology go hand in hand for a high-quality result.

Customised solution
Every project and every resident has their own preferences. This is why every Algarve Canvas is customised.

Extensive customisation options
Colour, layout, accessories and dimensions: you can personalise your Renson carport in every way.

Minimal maintenance
The construction and materials of your carport require hardly any maintenance. You can therefore house your car easily.
What are the advantages of a carport?
More and more people are opting for a carport, there is no surprise there.
This type of construction offers many advantages and therefore great added value. The main advantages of a carport:
Your car gets dirty less quickly because it remains dry and protected under your carport. This saves a few washes and time annually.
The bodywork is protected against the sun's UV rays and against moisture. This helps prevent rust or paint damage due to heat or UV rays.
Winter icing on windows or problems with a frozen lock is very rare. Only during severe winters will this possibly be a problem.
A carport takes up much less space than a full garage construction. Moreover, installation is quick and easy. This means you can combine optimal use of the space with minimal installation time.
An aluminium carport requires no maintenance. This means cleaning 2 times per year is sufficient for a lifespan of about 25 years.
What are the dimensions of a carport?
Renson offers customisation, and this applies to the Algarve Canvas carport as well. However, there are a few maximum lengths to take into account.
With these limitations, we can still guarantee wind resistance up to 120 km/h and a load-bearing capacity of 100 kg/m².

The dimensions of your aluminium carport are:
Max width: 4.5 m (up to 6 m if joined)
Max length: 6 m
Max passage height: 2.8 m
Where can I place a carport?
You can build a carport onto your home or have it free-standing in an outdoor area.
The placement of a carport may have an impact on your notification requirement or building permit.
Is the free-standing carport less than 40 m² and no more than 30 m from your home? Then you do not need to apply for a permit or report its construction. This is true if the height is below 3.5 m and it is built at least 3 m from the plot boundary.
You must report the construction of a carport at your home to the municipality at least 20 days before the work starts.
Is the attached carport more than 4 m high, or is it less than 2 m (in the backyard) or 3 m (in the side yard) from the plot boundary? Then you need to apply for a building permit.
A custom-made modern carport from Renson®
Renson stands for quality with a long service life.
We achieve this by combining high-quality materials with the latest techniques for your custom carport.
Choosing Renson means choosing ease of use and elegance that matches your existing architecture. For a harmonious overall picture with added value.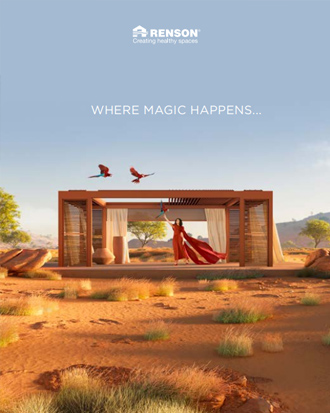 Request your brochure
Would you like to know more about our modern aluminium carport? Familiarise yourself with the Algarve Canvas in our inspiration brochure.
Download the digital brochure ›