Freestanding pergola
A custom freestanding pergola
A patio adjoins your home, right? That is no longer guaranteed to be the case, more and more people are opting for a freestanding pergola. A spot a little deeper into your garden offers complete tranquillity, avoids any issues with shadow from your home and allows you to be literally surrounded by greenery. Nothing comes close to feeling connected with your garden wherever you turn. And when you add in an outdoor kitchen you never even have to run in anymore to grab a drink or snack.
A freestanding pergola for every application
What is a garden room actually good for?
The answer is simple: it is entirely up to you. A freestanding pergola creates the space you need to live life to the full, to work, and above all to enjoy yourself to the rhythm of your own wishes and requirements.
Extra living space
Read the paper or enjoy a drink with friends in your new outdoor living space.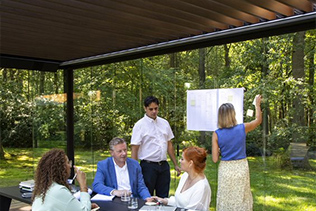 Garden office
Organise a brainstorming session, meet with colleagues or finish of your project in your garden office.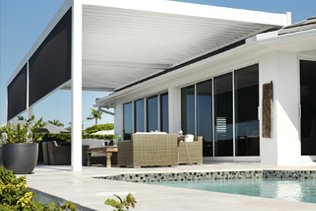 Pool house
Enjoy a revitalising drink after a dip in the pool in your modern pool house.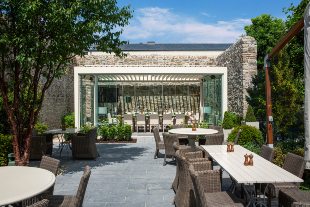 Hospitality sector
An extra outdoor seating area for your guests to lounge in complete comfort with a sense of freedom as an added bonus.

Superior quality
Our products are developed with an eye for design, durability and quality.

Minimalist design
Visual simplicity adorns and retains the focus on the architectural feats of your design.

Extensive customisation options
Modular product design and a wide range of options serve as the building blocks for your unique pergola.

Ease of use and maintenance
Minimal maintenance and maximum enjoyment of your garden room, year after year.
What is a freestanding pergola?
A freestanding pergola or garden room is a pergola that stands in your garden, without being directly connected to your home. In contrast with a lean-to pergola, a freestanding pergola does not serve as an extension to your home; instead, it is an extra, separate and multifunctional space. Host friends, work out, organise a party or have breakfast with your family, it is all possible in complete comfort underneath a freestanding pergola.
Endless combinations with our side elements
Transparent glass, warm wood or homely curtains: with our wide range of side elements, you can quickly and easily add style and functionality to your pergola.
Fixed panels, sliding walls or louvres? Go for a uniform overall appearance or mix and match as you wish: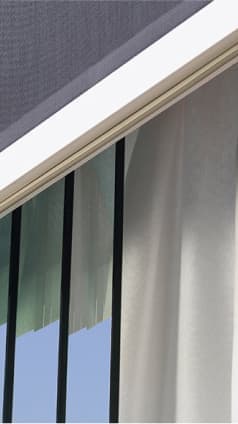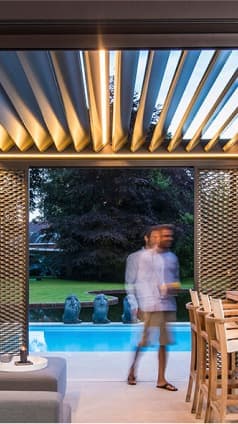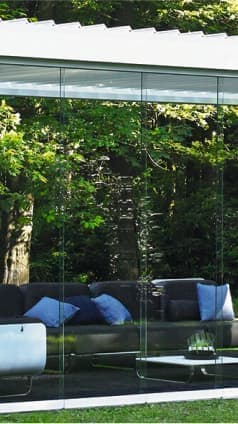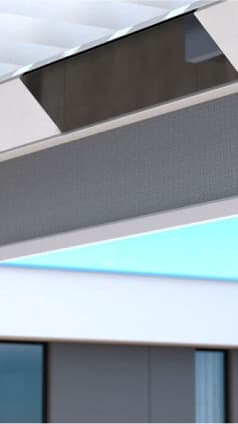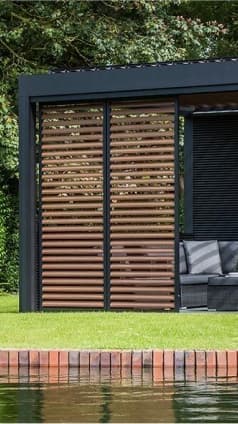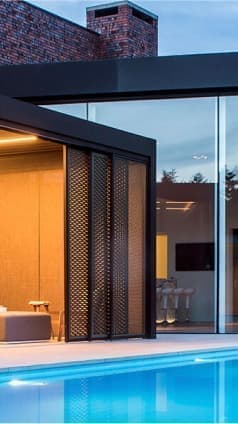 Extra accessories for your outdoor experience
Pleasant temperatures, your favourite music in the background and LED lighting to set just the right mood. These are just a few of the possibilities for your freestanding pergola. Simply add the right accessories to help realise your plans for your new outdoor space. The vast range of available options includes:

The benefits of a freestanding pergola
A lean-to or freestanding pergola: which one is the best match for you? We will gladly help you make progress towards deciding with this clear overview of the benefits of a freestanding pergola:
Your pergola does not block any daylight coming into your home, so you get to enjoy maximum natural light indoors.
Want to keep the party going long after the kids have gone to bed? A garden room a little further away from your home causes less noise inside the home.
You are surrounded by greenery — and you can always sense it. By going for greenery all round, you are going for the optimal outdoor experience for all your senses.
A freestanding pergola adds value to your home. Potential buyers are likely to be impressed by your outdoor space and that will be reflected in the overall price.


Need inspiration for your freestanding pergola?
Our six complete Design Styles allow you to pick the total package that best suits your style and home.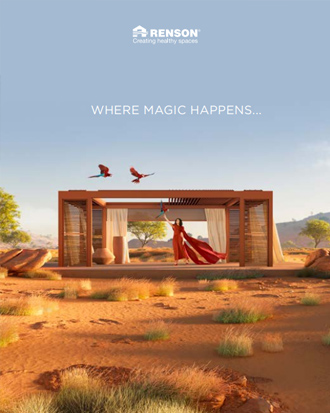 Download the inspiration brochure
Allow yourself to be inspired by the wide range of projects we have completed in our digital brochure. Find out more about the different models and accessories.
Request your brochure ›
Durable and stylish freestanding pergola by Renson®
Has the time come to add a freestanding pergola to your home? By choosing Renson, you are choosing durable quality, modern comfort and extensive customisation. All elements of our pergolas are carefully developed and produced with an eye for aesthetics and functionality — and with your ideal outdoor experience as the ultimate goal.