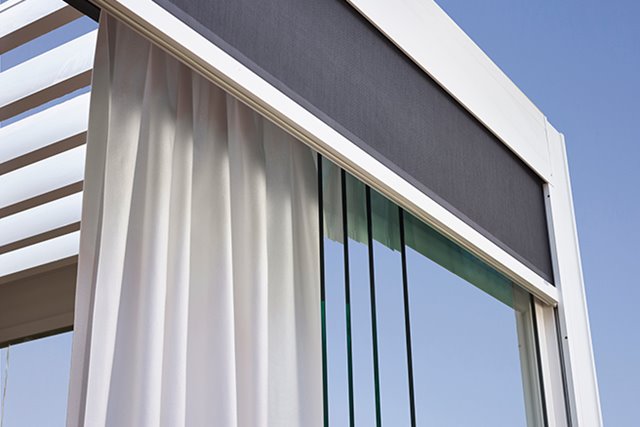 Outdoor curtains
Aesthetic, enchanting finish
Water repellent, mould resistant, dirt resistant and colourfast
Can be combined with screens and/or glass sliding panels
Choice of 10 colours
Outdoor curtains for pergolas
Looking for a homely accent for your pergola? Curtains instantly set the right tone. What's more these outdoor curtains can be combined as you wish with Fixscreen side elements and/or glass sliding panels. That way, you can ensure your pergola is secure and enclosed. For a little extra ambience underneath your curtained pergola, add in Updown LED lighting to create the ideal setting.
Waterproof outdoor curtains
Our curtains are made to measure for every patio. Simply choose from ten discrete shades that will retain their colour and shape after every wash. The durable and water-repellent polyester is specially treated for long-term outdoor use. Their dirt-repellent features ensure that your pergola with curtains always looks in tip-top condition.
Integrate outdoor curtains into: