Outdoor blinds for veranda
Optimal enjoyment of the outdoor life
Is it sometimes unbearably hot in your veranda during the summer months? Veranda outdoor blinds keep the heat out. You can then enjoy a pleasant indoor climate in your veranda, even during the summer. Whether you are on your own with a good book or with a group of friends for a nice dinner.
High-quality solar shading
Durable design and modern technology for long-lasting comfort.
Customized solution
Effective solar shading to match your veranda or glass residential extension.
Minimalist design
Our outdoor blinds do not detract from the architectural appearance of your veranda.
Flexible in use
Blissfully cool in the summer or the warmth of the winter sun: the best of both worlds.
Horizontal and vertical veranda screens
Veranda screens can be installed horizontally on the roof or skylight, as well as vertically in front of the windows. The sun protection fabric rolls through the aluminum side guiding channels and is kept under constant tension. The ingenious zip system guarantees a sturdy, windproof fabric in every position.
Fixscreen® and Fixscreen® Minimal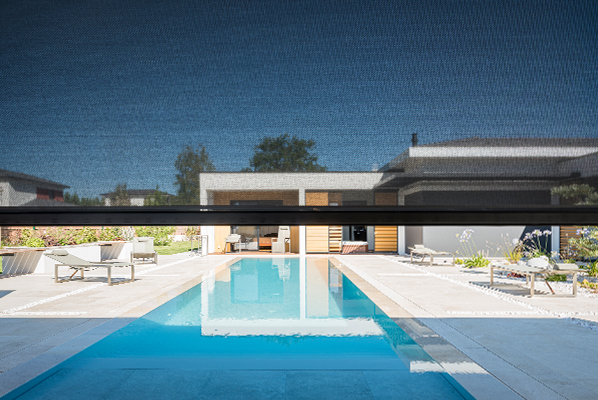 Vertical solar shading with elegant design and innovative Smooth technology for smooth operation.
Topfix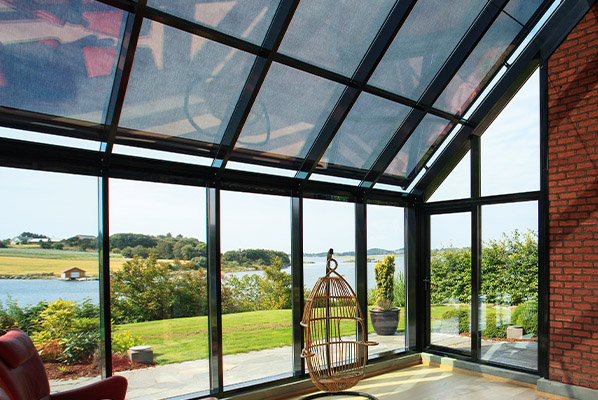 Inclined solar shading with revolutionary tensioning technology and compact head box dimensions for optimal integration.
Veranda outdoor blinds offer many advantages
Do you want to use your veranda to work, relax and receive people all year round? Adding outdoor blinds allows you to keep the temperature pleasant in your veranda. And you get extra benefits on top of that:
You retain maximum view to the outside and therefore feel completely connected to the garden. At the same time, your outdoor blinds prevent people viewing in from the outside. Privacy in all openness, in other words.

The smooth

technology guarantees smooth, silent and long-lasting operation when the outdoor blinds are raised or lowered. You can then easily prevent it from

getting too hot in the house.

The outdoor blinds can be designed to fit perfectly with your veranda thanks to a wide choice of outdoor blind types and fabrics.
Transparency or blackout veranda outdoor blinds?
The choice between transparency or blackout outdoor blinds for your veranda depends on your wishes and needs. Do you want to keep the view of your garden when the outdoor blinds are down? Then opt for transparency outdoor blinds. Do you want to make your house completely dark in the evening? Then choose blackout outdoor blinds.
How do you maintain veranda outdoor blinds?
Sun protection fabric on your veranda requires little maintenance. Occasional cleaning with a mild cleaning product – such as in the Renson® Maintenance Set – is sufficient. Before using mild soapy water, it is best to remove the dirt with a brush. Let your outdoor blinds dry thoroughly after cleaning before rolling them up again.
The best quality conservatory roller blinds
Do you want to protect large glass veranda sections against the heat of the sun? That is the sort of challenge Renson® enjoys. Extensive experience in solar shading and outdoor living lays the solid foundation for efficient, weather-resistant and aesthetic outdoor blind solutions. The result is you are sure of the best quality outdoor blinds for your veranda.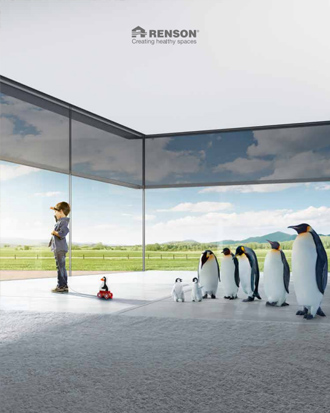 Request your brochure
What can outdoor blinds do for your veranda and what would that look like? You can find out more in our digital inspiration brochure.
Request your brochure ›