Turn your backyard into the ultimate outdoor venue thanks to your bespoke Renson pergola
Life's a party! From weddings, to birthdays, communions or other religious celebrations, there is always a good reason to throw a party. But have you ever thought of bringing the party to your own backyard? With a bespoke Renson® aluminum pergola, you can turn your very own backyard into the ultimate outdoor venue.

Whether you want to use it to host family dinners in all luxury or comfort, or whether you want to organize a party that will turn you into the talk of the town for months to come, we've got you 'covered'! Below you'll discover three smashing outdoor party ideas to spark your inspiration.
Outdoor Graduation Party, Sukkot or Sweet Sixteen: celebrate life's milestones in style
A Renson® pergola is the perfect venue for a Graduation Party, Sukkot, Quinceañera, 4th of July party, Sweet Sixteen… With a Renson® pergola you celebrate life's milestones in all luxury and comfort. Create lasting memories that you'll cherish for the rest of your life.
Choosing for a Renson® pergola, is choosing for a weatherproof solution
During summer, you can open, close and retract the blades from the louvered roof to create the perfect cool and refreshing atmosphere for your guests. The blades provide shelter from the blistering sun and create a delightful cool breeze.
You can also use your pergola in colder seasons. Wind, cold, rain or shine, by adding optional Renson® Zipshades or glass walls and the Renson® heat & sound beam you can create the ideal environment. With a Renson® pergola you don't have to choose between indoor or outdoor. You get the best of both worlds.
"Hey Mr. DJ" : Outdoor party ideas
You do not always need an occasion or event to throw a party. Sometimes it's enough to celebrate life itself. Book a DJ (or bring out your inner Avicii), install his gear under your Renson® patio cover and invite your best friends. Turn on the atmospheric and colorful LED lights (you even have a stroboscopic, party mode included) and let the DJ play the biggest smash hits through your pergola sound system. Believe us, you'll be the talk of the town for months to come.
The perfect place to watch Super Bowl
Wouldn't it be amazing to watch Super Bowl on your TV under a Renson® pergola in your very own beautiful backyard? Just imagine having a barbecue with your friends and watching Super Bowl from the first row under your louvered pergola…

It's a great opportunity to show your friends why you (and only you) have a "license to grill" and a "license to show Super Bowl". A moment your friends will never forget.

Interested? Talk to one of our Renson® dealers in your region or request our inspirational brochure now!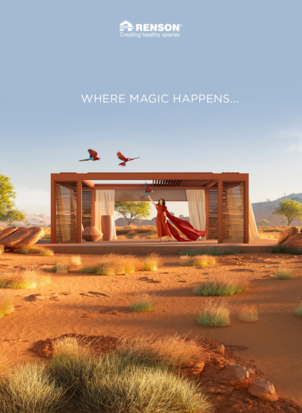 Request your inspiration brochure
Be inspired by our numerous successful projects and discover the various models and all the options. Download the digital brochure here!
request brochure