How to Turn Your Pergola Into the Ultimate Outdoor Office
With so many working from home over the past year and a half, it is no surprise that some creative home office solutions have come about. Between makeshift card tables and countertop desks, it should come as no surprise that the creative implementation of outdoor home office ideas is our favorite. After all, when given the opportunity to work from anywhere, you might as well make the best of it. If you are wondering how to build your own outdoor office to create the ultimate at home work space, continue reading.
Whether you intend to build a temporary outdoor office to become a versatile outdoor space or you want to continue to work there indefinitely, the obvious place to start when building an office outdoors is a structure. If you do not already have a covered porch of some kind, then providing some mild to serious cover from the elements is a good place to start.

A pergola, a shade/cover providing archway (click here for a more detailed explanation of what makes a pergola a pergola), is ideal for an outdoor office due to its versatility and minimalist design.

For moderate climates, a standard backyard can provide adequate shade for the occasional zoom meeting or email session outside. In order to create a true outdoor office space, however, you will want some enhancements to ensure proper protection from the sun and other elements.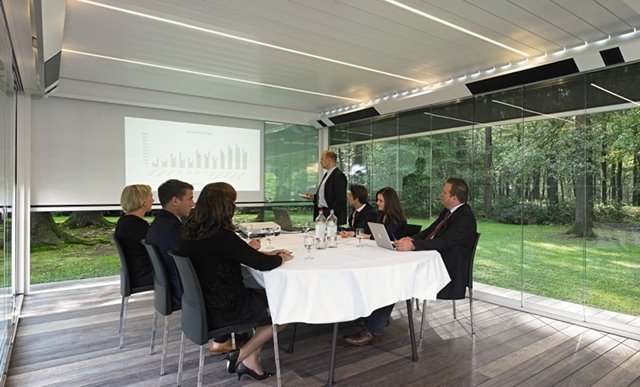 A soft, retractable roof or a roof with louvers can add additional shade for comfort during long days at the office and adding side elements such as sliding doors or a side screen can help to keep the glare off of your laptop screen. You might also consider glass walls or other siding for additional climate control or protection from light wind, bugs or precipitation.
You may have already thought about creating an outdoor room under your pergola or porch, so an outdoor home office should be easy to imagine. A large dining room table can act as a large conference table as long as you've got the right chair to go with it.

Just make sure that your outdoor office furniture is comfortable and ergonomic for use over the length of a typical work day. Although a makeshift desk and chair might work in the short term, over extended periods of time, your body will feel the effects of inefficient office furniture.

In addition to outdoor durability throughout the seasons, desk to chair height is an important factor (to provide the right angle for wrists typing on a computer) along with a seat that allows for proper posture and adequate back support.

(Remember that you are at a convenient home office, so regular breaks to stroll through the garden should complement your outdoor office routine and keep you comfortable and healthy.)
Your outdoor office plans are incomplete if it does not include finishing touches to turn a good outdoor office into the best outdoor office.

If the sun sets early in your part of the world (or you are prone to late nights at the office) having proper lighting can be an important addition to make sure that your exterior office is functional in the wee hours of early morning or late into the evening.
If your location is less than tropical, you might also need additional heat during certain times of the day or year to make your office space comfortable. Built in heat or standing heaters that can be stored during off seasons are both great options.

If your natural ambiance isn't up to par, adding a sound system can make it easy to set the tone of your day. Play classical music, nature sounds, or lo-fi beats for focus through an integrated sound system for your pergola. As you can see there are a lot of accessories for a customized pergola or outdoor office.customized pergola
Not Your Father's Office Decor
For a successful home office space, there is a balance between feeling comfortable and remembering that you are at work with a purpose. While you do not need to raid the dentist's office down the street for their artwork or their abstract origami sculptures, it is good to create some subconscious reminders for yourself that you are in fact at work. At the same time, being able to put these items away creates some mental space so that you can still enjoy a meal or relaxing evening or weekend under your pergola.

Placing a small potted plant, using a certain coffee cup, or any small items that you want to brand as a part of your office are great ways to help you create this mental and physical space. You might enjoy fidget toys or objects that are nice to look at, whatever works best for you.

For a visual cue with the added benefit of a unique smell to trigger your physiological work mode, bringing out a certain candle for work hours decor can be a handy trick. Make sure that it is a distinct smell that isn't used elsewhere, and you will enjoy the added focus as you breathe in deep at your outdoor desk.