8 Benefits Of Having A Pergola
A pergola is an excellent investment for properties of all types. Aside from naturally raising the value and adding an inviting aesthetic to a space, pergolas are versatile and durable structures. Transform a workspace or undefined area with a pergola idea outfitted with shades or doors. Expand dining space for restaurants or carve out an open lounge and bar for guests at a hotel or spa. There are so many exciting ways to interact with a pergola and use its potential to the fullest. Read on to discover the benefits of having a pergola.
1. An Alternative Gathering Space
Think beyond living life behind four walls, and bring the fun outdoors. A charming patio pergola or pergola deck makes a beautiful addition to a restaurant. Create a more inviting rooftop garden with a bar under a pergola.

Bring work outdoors. Increase productivity and innovation with a meeting held under a well-designed pergola complete with sliding doors. Reimagine how a pergola can be used other than gardens, walkways and fit seamlessly into modern life.
Milestone events like weddings, graduations, baby showers, and other celebrations deserve a dynamic and beautiful recreational space to entertain and wow guests. Hotels, restaurants, and other properties would benefit highly from installing a pergola. Outfit a pergola with luxurious lounge seating, a bar, grill, jacuzzi, or small fire pit.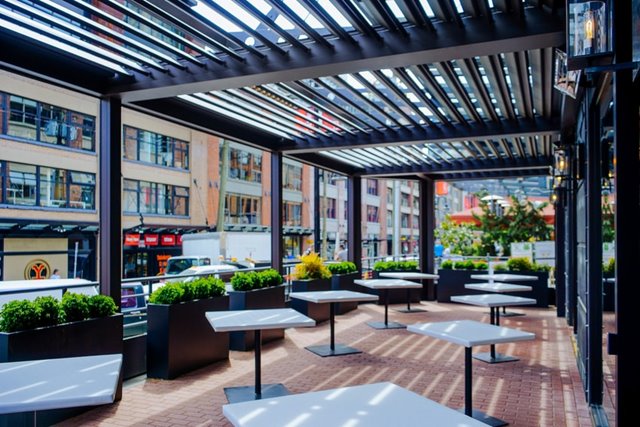 Easily change the ambiance of a pergola for an event by adding lighting, plants, and tasteful accessories. Think about how a year-round pergola outfitted with heaters, an enclosure, and a weather-resistant roof can make events exciting and memorable.
3. A Picturesque Recharging Station
Use a pergola as an extension of indoor spaces, leading someone to an inviting patio or landscaped area. Choose a modern pergola that is placed adjacent to an exterior wall of a building without upsetting the design and visual flow.

Create ways for people to recharge their batteries and feel refreshed after spending some much needed time outdoors. A pergola is a good fit poolside, works well at the entrance of a garden, or upgrades a deck or patio.
If you think a pergola is only functional when the weather is sunny and warm, think again. You can install attractive and practical pergola accessories to make a year-round pergola that is inviting and comfortable.

Use rolling shades, a slanted weather-resistant roof, and a heater to stave off the cold, rain, or wind. Make it easier to enjoy outdoor living under a pergola patio. Don't skip out on using shrubbery, trees, and other elements for an extra layer of protection from the elements and additional privacy.
5. Increase Value And Ambiance
Improving on your home or commercial property raises the property value. Adding a stylish, versatile pergola makes a property more visually attractive and creates more recreational space to come together and thrive.

Put a stop to underused greenspace or undeveloped outdoor spaces with a pergola designated for informal gatherings, eating, or relaxing. Build a pergola as an opportunity to get outdoors, enjoy some sun, air, and balance time spent in the natural world and indoors.

A pergola idea is a smart way to improve and beautify patios, decks, provide shade and visual interest.
Go beyond taking a short walk outside to feel refreshed and use a pergola to extend the time spent outdoors. A pergola provides a space for people to pause and revel in their surroundings. Consider using a pergola to host fitness classes like group aerobics or pilates. Regale guests at spas or hotels with an open-air massage or salon treatment under a majestic pergola.

Transform how people enjoy outdoor living. Add plants, lighting, and tie-off curtains to a pergola for a visually stunning environment. When needed, screens, rolling shades, or enclosures can increase privacy and protection against the elements.
7. Building An Outdoor Living Culture
It has been said, "If you build it, they will come." Do your part to support a culture that recognizes the benefits of outdoor living with a chic pergola.

Build desirable spaces that people flock to for pergola dining, lounging, meeting, and smelling the roses. A pergola design can accommodate needs for social distancing, provide air circulation, and can be climate controlled with a heater, roof, and enclosure if needed.

Shake things up in a good way. Use a pergola for a patio, deck, or impromptu place to gather, discuss ideas, and escape traditional buildings.
8. Boost Health And Connectivity
Spending too much time indoors can become taxing on one's mental and physical health. More people are learning about the benefits of spending more time outdoors and desire a more balanced lifestyle. In addition to rethinking how we use spaces and interact with our world, a pergola has never been more relevant to address these health concerns.

A pergola offers a modicum of respite from the sun, wind, and rain but still allows nature to be a part of our lives. Using a pergola for group exercise, meetings, dining, lounging, and connecting is good for morale, health, and supporting wellness. Consider the possibilities of a louvered pergola with a retracting roof or added sliding doors for an attractive space.
As more people look for ways to enjoy outdoor living, stay connected, and live more holistically, we can change how we work, play, dine, and live in the moment. Pergolas have remained popular for centuries because they are durable, have an open design, and are beautiful. Today, you can quickly develop a pergola idea using modern materials, classic or avant-garde styles, and create opportunities to gather outdoors.

Whether you desire to improve your commercial or residential property, trust a company with proven results. Choose Renson Outdoor for a wide selection of stylish, elegant pergolas, accessories, and an assortment of outdoor elements.