Lean-to pergola
Custom lean-to pergola
More space for living as a literal extension to your home. That's what a Renson lean-to pergola offers. Whether you are looking to fit a new kitchen, create a playroom for the kids or want a space where you can work or relax, configuring your ideal pergola is simple. Shadow in summer and protection in winter with maximum natural light and contemporary comfort, exactly what you need to enjoy your new living space to the full.
The possibilities for a lean-to pergola
In terms of style, materials and technical gadgets, the sky is the limit for your lean-to pergola. Each model offers its own benefits but a fantastic living experience is guaranteed with all of them. Based on your daily routines and the ways you use your space — with a particular focus on the space you are lacking today — we will suggest the model that best suits your needs and wishes.
Integrated louvered roof
Rotatable louvres that can be perfectly integrated into your architecture thanks to a slender roof structure. This pergola excels at helping you beat the rain and sun and it's easy for you to control.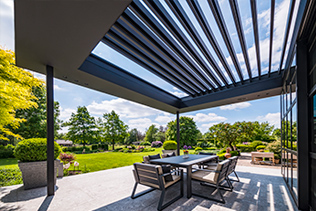 Pergola with retractable louvered roof
Louvres that not only rotate but can be fully retracted into the structure of your pergola when the sun comes out. Get to know our pergola with a retractable louvered roof.
Pergola with glass walls
Maximum contact with the greenery in your garden from underneath your lean-to pergola. Finish your pergola with glass sliding panels for a panoramic view and maximum natural light.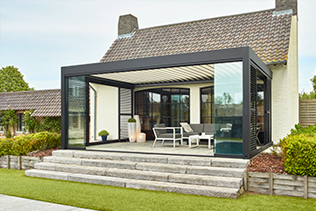 Garden room
An outdoor kitchen, a lounge or a pool house. With the right furniture and accessories you can turn your pergola into a fully-fledged modern garden room.
Superior quality
Our products are developed with an eye for design, durability and quality.
Minimalist design
Visual simplicity adorns and retains the focus on the architectural feats of your design.
Extensive customisation options
Modular product design and a wide range of options serve as the building blocks for your unique pergola.
Ease of use and maintenance
Minimal maintenance and maximum enjoyment of your garden room, year after year.
What is a lean-to pergola?
A lean-to pergola is an extension of your home. It allows you to add extra space that adjoins your existing living area. In other words, it offers more possibilities to enjoy life to the full. A moment of zen for yourself, a cosy afternoon with the family or a barbecue with your best friends, anything goes underneath your lean-to pergola.
Endless combinations with our side elements
Transparent glass, warm wood or homely curtains: with our wide range of side elements, you can quickly and easily add style and functionality to your pergola. Fixed panels, sliding walls or louvres? Go for a uniform overall appearance or mix and max as you wish with: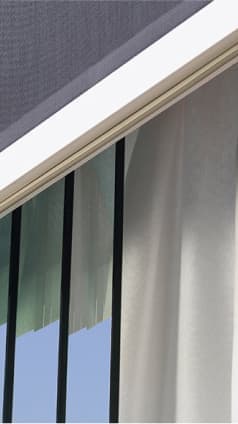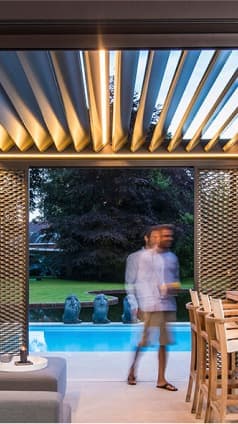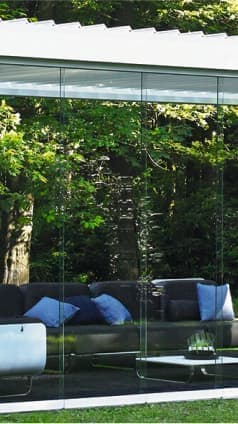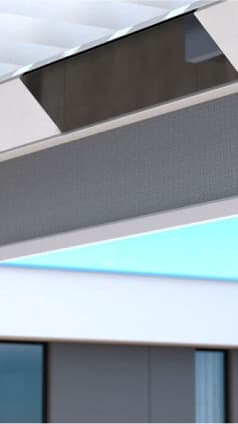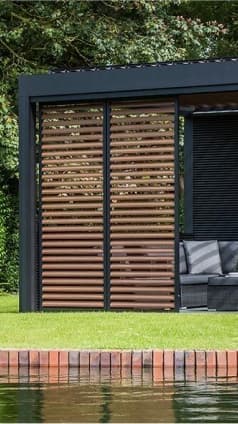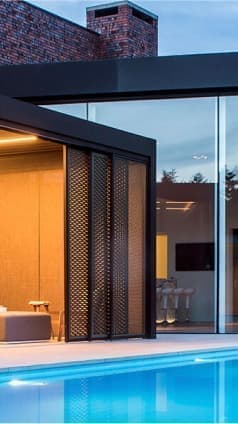 Extra accessories for your outdoor experience
Pleasant temperatures, your favourite music in the background and LED lighting to set just the right mood. These are just a few of the possibilities for your freestanding pergola. Simply add the right accessories to help realise your plans for your new outdoor space. The vast range of available options includes:

The benefits of an aluminium lean-to pergola
A lean-to pergola gives you more space to enjoy life to the full. That is a pretty convincing argument by itself, but the benefits of this type of pergola do not end there. We have listed them for you below:
When it's raining, there is no need to walk across the wet grass or through the drizzle to reach your pergola. You can simply step straight into it from your home, without getting soaked. This also comes in handy when you need to head back in to fetch extra drinks or snacks.
A lean-to pergola forms a buffer against the cold and serves as an extra layer of insulation for your façade. That way, you can save on heating costs.
Traditionally, your façade is completely exposed to the elements. Bright sunlight, heavy rain or hail: they all put the outer face of your building to the test. A lean-to pergola adds extra protection to at least one of your façades.
Investing in a lean-to pergola is bound to add value to your home. In other words, it is the smart choice to make for both today and tomorrow.


Are there any downsides to a lean-to pergola?
The answer to this question is simple: there is only one downside to a lean-to pergola. A lean-to structure like this may block some of the natural light falling into the rest of your home. That said, much depends on the materials. If you go for a pergola with lots of glass, you will continue to enjoy maximum natural daylight underneath your patio and in the rest of your home. If you would like to draw in even more light, simply opt for translucent roof louvres.
Need inspiration for your freestanding pergola?
Our six complete Design Styles allow you to pick the total package that best suits your style and home.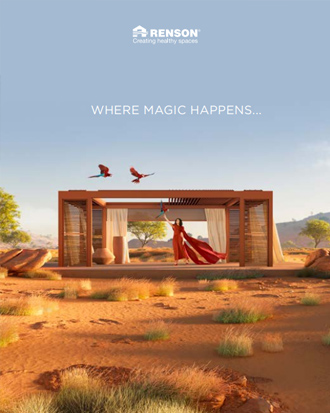 Download the inspiration brochure
Allow yourself to be inspired by the wide range of projects we have completed in our digital brochure. Find out more about the different models and accessories.
Request your brochure ›
Top-quality Renson® lean-to pergolas
Looking to add a pergola to your home? By choosing Renson, you are choosing durable quality, modern comfort and extensive customisation. All elements of our pergolas are carefully developed and produced with an eye for aesthetics and functionality — and with your ideal outdoor experience as the ultimate goal.
FREQUENTLY ASKED QUESTIONS
The ideal dimensions of your pergola depend on the purpose for which you want to use the canopy cover. This includes the furniture you wish to place underneath it, how much free space you want around the furniture, the inserts and accessories you want, etc. All our lean-to pergolas are customised and can be ordered down to the mm.
The installation of a Renson canopy cover requires the necessary experience and knowledge, which is why this will only be done by an authorised Renson distributor who has been expertly trained. This is the only way you will be able to take advantage of the warranty period.
Renson pergolas that are attached to the house are (almost) always custom-made. Prices are therefore strongly dependent on the required dimensions, accessories, roof types, etc. You can contact our recognised distributor network for a quote.
Enjoy your patio cover all year round with integrated heating, and relax with your favourite tracks coming through the built-in speakers. Alternatively, create a romantic mood in no time at all using our LED lighting. Screens, loggia panels, glass sliding panels and perhaps Linarte walls can also complete your patio cover. With the right accessories, you can create a unique experience underneath your patio cover.
Renson lean-to pergolas are carefully developed, tested and custom-made from aluminium. The warranty on the canopy cover starts after installation by a recognised distributor. The exact warranty you get depends on the type of canopy cover. Carrying out annual maintenance on your patio cover means you can take advantage of the extended paint warranty of 15 years.