Outdoor blinds
For a comfortable indoor climate
They can be subtly integrated into the façade, give you complete freedom of use and, above all, keep the indoor temperature under control. Custom outdoor blinds will play a significant role for your living comfort during hot summers. Add this efficient solar shading to your project and experience the difference for yourself.
Where can you put outdoor blinds?
There is outdoor blind for every type of window. This ensures you can protect every risk zone against overheating. Stylish, durable and practical.
High-quality solar shading
Every technique and material has been carefully tested for a durable result.
For every project
New construction or renovation, horizontal or vertical, built-in or surface-mounted: a screen for every application.
Minimalist design
The sleek design and slim profiles ensures the outdoor blinds integrate optimally into the façade.
Flexible in use
Blissfully cool in the summer while ensuring maximum benefit from low sun in winter: the best of both worlds.
What are the advantages of outdoor blinds?
Outdoor blinds prevent the house from getting too hot inside by blocking the sunrays before they reach the glass. Discover what you can add to your home with sun protection fabric.
With the outdoor blinds closed, you can still see outside while allowing daylight to enter. Unlike roller shutters, which keep out all the light. Unless you opt for blackout outdoor blinds of course, in the bedroom for example.

Renson outdoor blinds are durable and robust. They can withstand wind speeds of up to 130 km/h and stormy weather without any problems.

Small fabric boxes with narrow side guiding channels and a wide range of colours: this is what makes outdoor blinds an aesthetic choice for your home. And this is especially true if they are completely incorporated into the building envelope.

The dynamic character of outdoor blinds makes it possible to bring the best of the outside in during every season; unlike solar control glazing that blocks the sunrays all year round. So outdoor blinds prevent heat but allow in optimum daylight in the summer, and as much solar heat as possible in the winter, meaning you have control.
Take control of the incidence of light with outdoor blinds
Several factors play a role for a healthy indoor climate. You want to create a pleasant indoor temperature and bring in plenty of daylight. Outdoor blinds meet both needs. By playing with the position of your sun protection fabric, you can determine the exact incidence of light. In addition, a blackout screen fabric is also an option to make the bedroom dark and thus promote a good night's sleep.
Are you looking at outdoor blinds or air conditioning in the fight against the heat?
Would you rather cool your home quickly or avoid overheating? Outdoor blinds and air conditioning are completely different systems. However, they are very complimentary. Outdoor blinds provide a solid initial barrier against an indoor climate that is too warm. During lengthy periods of heat, air conditioning can quickly and briefly provide extra cooling. Do you want to get through the summer comfortably? It is best to start with solar shading. By adding night cooling, you use the cooler outside air to lower the indoor temperature by a few degrees.
Outdoor blinds
Prevents overheating
Pleasant and healthy indoor climate
Energy-efficient system
Quiet operation
Low maintenance
Airco
Actively cools once heat is inside
Large temperature differences not so healthy
Energy-consuming solution
Disturbing Sounds
Regular maintenance required
What kind of windows can you put outdoor blinds on?
Every glass section carries a risk of overheating, especially those facing south.
Therefore, Renson has a suitable sun protection fabric for every type of glazing.
Did you know that you can also have a freestanding Renson outdoor blind?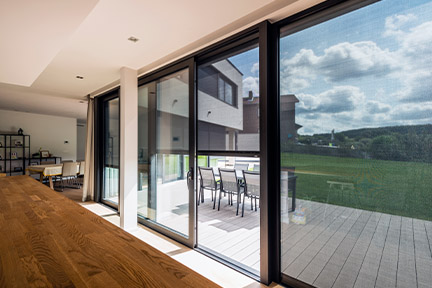 Standard fixed or sliding windows
Keep the sun out of fixed or sliding windows, you can do this efficiently and stylishly with the Fixscreen or Fixscreen Minimal.
Curtain walls
Fixscreen Minimal Curtain Wall 50 preserves the minimalist appearance of a curtain wall while limiting the risk of overheating.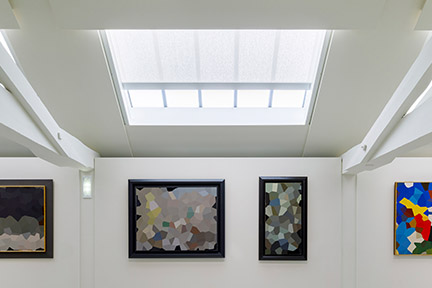 Roof windows
Do you want to effectively shield the angled glazing of your skylight from the sunrays? The Topfix helps keep the heat out.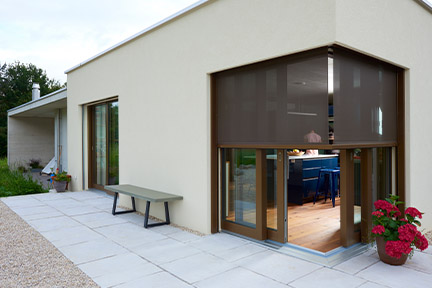 Corner windows
The Panovista (Max) answers the requirement for customised solar shading for glass-on-glass corner windows, as well as opening corner windows. Absolute minimalism.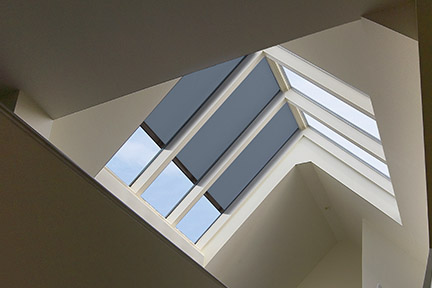 Skylight
The light-rich effect of a skylight without summer overheating thanks to the Topfix. With Topfix VMS, there is also a customised version for Velux modular skylights.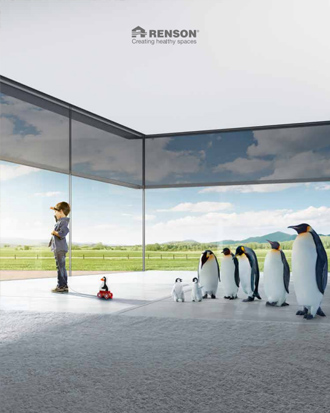 Request your inspiration brochure
Would you like to know more about what Renson solar shading can do for you? Request our digital brochure and get some inspiration from projects in a range of styles and environments.
Download the brochure ›
What are the differences between a windproof zip outdoor blind and a non-windproof outdoor blind?
A non-windproof outdoor blind is only held in the side guiding channel with the bottom bar. The sides of this outdoor blind are loose/open.
A windproof zip outdoor blind has a zip on the sides, from top to bottom. This makes this outdoor blind more resistant to gusts of wind.
Non-windproof outdoor blind
Only the bottom bar is fitted into the side guiding channel
Small gap between fabric and window
Do not use in wind, due to risk of damage
Windproof zip outdoor blind
Both bottom bar and fabric, over the full height, are fitted in the side guiding channel
No gap between fabric and side guiding channel, for a more beautiful aesthetic result
Safe to use even in wind (up to 130 km/h with Renson)
Why choose Renson® outdoor blinds?
RENSON regularly optimises its products to continuously improve upon the comfort level, appearance, and durability. Pressure tests, wind tunnel tests, climate tests and endurance tests guarantee the quality of a Renson outdoor blind. Thanks to our ingenious Fixscreen technology, the fabric is windproof in every position. The outdoor blinds can withstand wind speeds of up to 130 km/h when closed. This is equivalent to 12 on the Beaufort scale, namely, a hurricane.
Silent electrical outdoor blinds with easy control
The patented Smooth technology guarantees smooth, silent and durable guiding of the screen fabric in the inner rails and there is virtually no maintenance required. You can also roll the outdoor blinds up and down remotely with extreme ease. The Renson Connect app provides control over the position of the sun protection fabric anytime and anywhere.
More sustainable and healthier life with sun protection outdoor blinds
Get the most out of your outdoor blinds? Electrical outdoor blinds automatically respond to weather changes and thus help you save on your energy bill. If they detect strong sun, they will go down automatically to save you the large costs associated with active cooling. In winter, they let in the sun's heat as much as possible to help you save on heating costs. As a result, your outdoor blinds contribute to a healthy indoor climate and a favourable energy bill. Moreover, you can easily set your personal preferences and scenarios for the automated operation.
Are outdoor blinds blackout?
Standard fabrics retain maximum natural light and a view outside. They are not blackout, but you can opt for a blackout fabric for your outdoor blind. You will then have the ideal solution to make the bedroom wonderfully dark. The fabrics range from light blackout to complete blackout. What if you want to start with regular outdoor blinds and add a blackout effect later? It is always possible to exchange the screen fabric.
Choose outdoor blinds or roller shutters
Outdoor blinds or roller shutters? Weigh up the pros and cons carefully before choosing.
Aesthetically, outdoor blinds can be incorporated into the façade in a much more subtle way while still allowing daylight to enter and blocking out the sun.
In addition, outdoor blinds have broader application possibilities. The differences include:
Outdoor blinds
Up to 27.8 m² window area, in limited installation size
Also for corner windows or curtain wall
Preserved light and view outside
Less insulation needed
Wide choice for personalisation (fabric types, colours, etc.)
Roller shutters
Larger head boxes for smaller dimensions with a greater impact on installation
Only for standard windows
Connection between inside and outside is lost
Needs better insulation
Limited options in terms of personalisation
Order custom outdoor blinds from Renson®
The fact that a Renson outdoor blind fits nicely with the architecture of your home is the result of meticulous customisation.
After measuring your windows, your sun protection fabric is carefully made in our modern production facility.
High-quality materials and the utmost precision are used. This guarantees optimal integration.