Brise soleil shading
Stylish brise soleil
Are you looking to control the direct light and solar heat, or create more privacy, with aesthetic added value on top? With brise soleil shading, also known as brise soleil, you immediately add it all to your home. This type of solar shading is affixed to the exterior side of the house and becomes the perfect calling card for your exterior façade.
What types of brise soleil shading are there?
Whatever type of brise soleil shading you choose, it will be designed and installed to suit your home. From sun screens above your window to sliding or non-sliding panels in front of the window.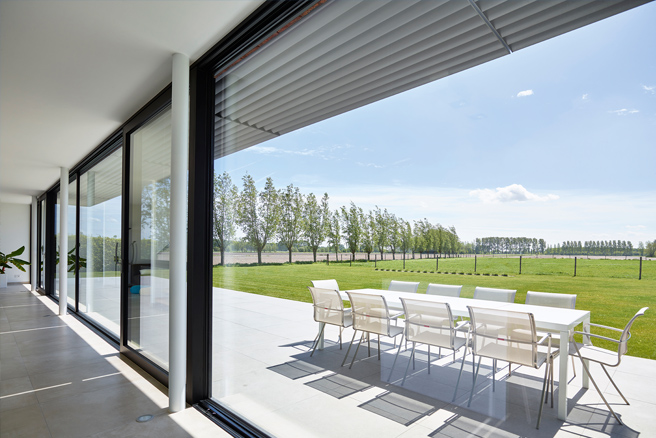 Fixed brise soleil
Horizontal structural solar shading above the window or vertical brise soleil shading, with or without tilting blades.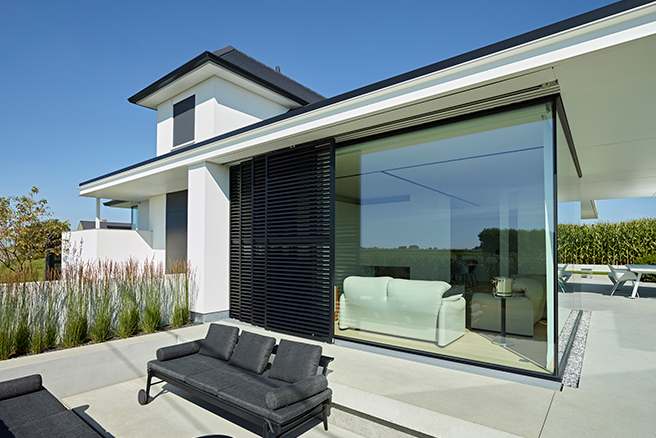 Sliding panels
Brise soleil shading with the flexibility of an outdoor blind: you can slide these panels open or closed as desired, and they can either be motorised or not.
What are the advantages of brise soleil shading?
This type of solar shading is installed on the exterior side of your home. This makes both the design and efficiency timeless. Sufficient advantages to opt for brise soleil shading:
Brise soleil shading gives your façade more character. The choice between different looks and installation methods guarantees a perfect match with your architecture.
By adjusting the position of your brise soleil shading, you determine how much of the sun's light and heat enters through the windows. That ensures it never gets too hot in the house.
A healthy indoor climate makes you more efficient, energetic and gives you a general better feeling, mentally and physically.
With a sun screen above the window, you always have a perfect view to the outside. Sliding panels with moveable blades contribute to privacy in the house.
Which applications is brise soleil shading suitable for?
Brise soleil shading is most efficient with south-facing windows. It adds aesthetic and practical added value to your building. A selection of the different options.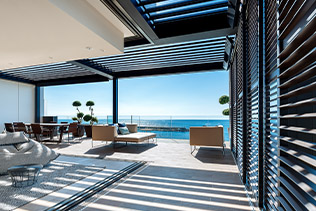 Homes
Solar shading that complements and enhances the architecture of your home.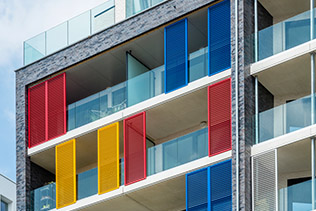 Apartments
A uniform and expressive façade image, enhanced by brise soleil shading.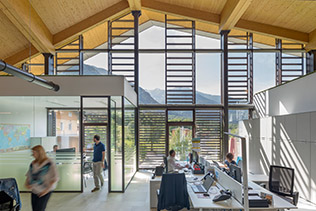 Office buildings
A pleasantly cool workplace and an architecturally strong building.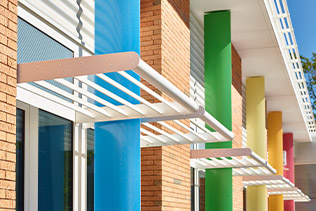 Schools
Stylishly maintain maximum concentration in the classroom at pleasant temperatures during the summer.
How do you maintain brise soleil shading?
Maintaining your solar shading is simple: cleaning it occasionally is enough. Remove the worst of the dirt with a soft brush and then clean the brise soleil shading with mild soapy water. Use the Renson Maintenance Set for a long-lasting result. If the wood is allowed to age, you do not have to take further maintenance into account.
Customised solar shading from Renson®
Taste, budget, the use of the space behind it, the dimensions of your window, etc. The most suitable solar shading depends on many factors. As a specialist in solar shading, Renson is guaranteed to offer the right match. Discover the possibilities for your project at a Renson dealer in your area.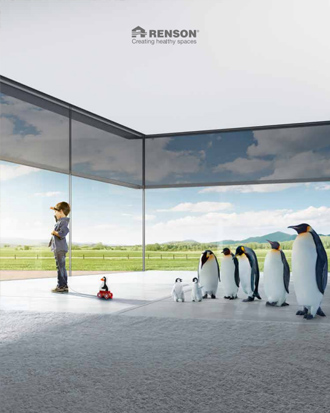 Request your brochure
What doe brise soleil shading look like and how does that translate into practice? Find out more by looking at our completed projects.
Download the inspiration brochure.