Keep your mind and body healthy with our solar shading, ventilation and outdoor tips
A lot of people have been working from home for weeks and months on end now, and that has a huge impact on our physical and mental well-being. Spring's often inclement, grey weather certainly doesn't make matters better. That raises the question: how exactly do you make sure you keep feeling well? Sure, you could gobble down one vitamin supplement after the other, spend an hour a day in front of a SAD light or hop into an ice-cold pool, but there are simpler solutions too. Read on to see our three lockdown tips below:
Get the outdoor time you need underneath your Renson® patio cover!
Lots of us have gone back to working from home or are spending more time doing so. That makes it even more important to take regular breaks: after several hours spent in your stuffy home office, you'll probably feel like you're ready to climb the walls, and tiredness will inevitably hit you like a brick at some point. Experts advise spending at least half an hour to an hour outdoors every day: getting out into nature calms your mind and offers the perfect escape from the stress of everyday life. However, the chilly spring weather tempts many people to stay indoors.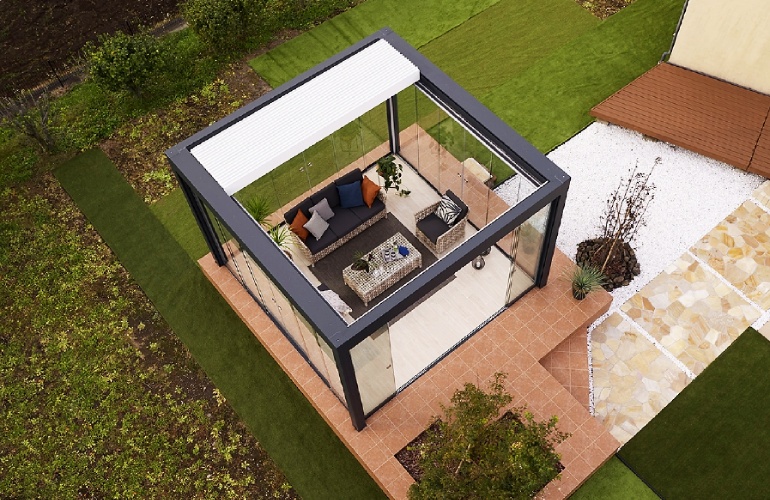 That's where a Renson® aluminium pergola comes in handy: it completely takes weather circumstances out of the equation! Simply keep the blades of your patio cover and your glass sliding panels or screens shut and put on your Heat & Sound Beam. Before you know it, the space under your cover will be warm and cosy and you can enjoy some fresh outdoor air in complete comfort and luxury. If you want, you could even convert your patio cover into a home office. You'll soon realize it's actually much easier to stay focused outdoors, and thanks to the built-in LEDs, you're guaranteed plenty of light even on the dullest of days.
Avoid 'quarantine migraines': don't forget to ventilate!
You probably guessed it: healthy air and plenty of oxygen play a major role in your wellbeing. However, many of us don't realize that the indoor air in our homes is often severely polluted: it is full of CO2 and hazardous substances, such as VOCs (volatile organic compounds). If you're exposed to polluted air for too long, you'll feel tired more quickly, you'll struggle to focus and you'll develop headaches or migraines.
In other words: proper ventilation in your office room and the rest of your home is essential. That said, you can't simply feel, see or smell the quality of the air around you. But don't worry! This is exactly why we've developed Renson® Sense. Sense monitors the indoor air around your home and visually indicates when that air quality is deteriorating, so you know when to open a few windows and doors.
A ventilation system with Healthbox 3.0 Smartzone measures indoor air quality in exactly the same way and automatically ensures your home is well ventilated at all times. It does so separately for every room, and it's highly energy efficient to boot. Dirty air is extracted directly outside and replaced by pure and fresh outdoor air.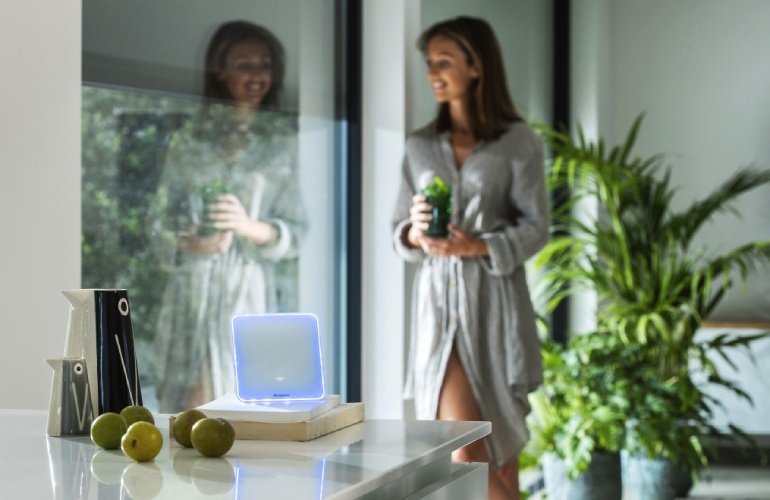 Dynamic sun protection: the flexibility your home office needs
Early spring is often a dreary time of the year, and that takes a significant toll on many of us  – especially if you're cooped up in a small home office for several hours a day. If you're yet to decide which room you'll be working in, we suggest you go for a space with one or more large windows. That way, you'll get plenty of daylight and a welcome view of the outside world.

There's one thing people tend to forget; if the room you're working in is on the south side of your home, you'll have sunlight coming in directly for most of the day. You might think that's not a problem, but even if it's freezing cold outside, sunlight can cause the temperature to rise too high inside. Our external sun protection fabric offers the perfect solution in these situations. Renson® screens are dynamic, meaning you're in complete control of when to let the sunlight flood in and when to keep it out. And that's not all: the other benefit of Renson® screens is that they do not block your outside view and allow plenty of daylight through. Even if your home office is exposed to the sun all day long and you need to keep your screens down, you'll still be able to take in the view!
Here's a tip: if you're planning to add sun protection to an existing home, Renson®'s Fixscreen® Solar is the ideal choice. With this renovation solution, there's no need to replace your windows or drill holes for cabling.