4 Pergola Privacy Wall Ideas
As more people embrace outdoor living, adding a pergola is increasingly popular. Pergolas provide a dynamic space to gather for celebrations, conduct productive meetings, work, exercise, and relax.

Because modern pergolas naturally attract attention, choosing pergola privacy wall ideas that fit your lifestyle and budget is essential. Shielding a pergola is vital when you want a more intimate outdoor space or want a greater level of comfort.
Why are Privacy Walls a Good Idea
Building a pergola is a good investment, as it increases the value and attractiveness of a property. The addition of a pergola privacy wall, fence, or thoughtfully placed plants heightens an outdoor space's ambiance while keeping prying eyes at bay.

Think beyond traditional wooden or metal fences and embrace stylish options like ornamental privacy panels or real plants. The careful placement of a privacy wall can increase shade and cooling around a pergola, provide visual interest, or stave off rain and wind. Even if you don't think it's necessary, it is a worthwhile investment to have a privacy wall for your pergola.
4 Pergola Privacy Wall Ideas
If you are unsure about the best privacy options for your pergola, you'll want to read our list of suggestions. We cover a range of quality choices that are visually pleasing, durable, and easy to install. When reviewing pergola privacy wall ideas, think about how they can function with your property layout and aesthetics.
Strategic Landscaping
Maximize the beauty of the outdoors and utilize natural plants, trees, hedges, or even rows of bamboo to surround a pergola. Choose from hanging plants to cover an open trellis or a lattice wall to create a new dimension to your outdoor space. Consider installing your pergola in an area where existing trees add a layer of shade and privacy.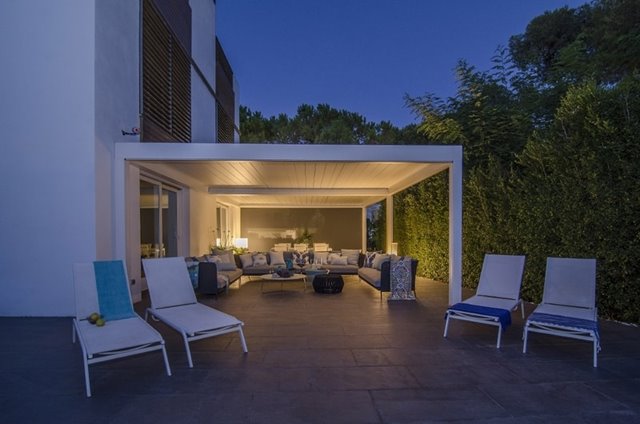 Another great option is to place artificial hedges or even rows of bamboo, so it creatively flanks a pergola. You don't have to settle for placing plants in straight lines similar to a fence. Take creative liberties, so any landscaping details don't immediately appear to be a privacy wall. If you are worried about getting a permit for a pergola or privacy wall, plants are a welcome privacy solution.
Rustic Wooden Panels
Spend more time focusing on breathing in the fresh air or being in the moment under a pergola. When you desire more privacy, and like a rustic or farmhouse style aesthetic, wooden panels are an appropriate option. You can easily slide Loggia doors or panels open or closed to reduce ambient noise or change the lighting.
For businesses that love outdoor offices, achieve more privacy for a pergola with a wooden slat privacy screen if doors are not your style. Panels made from fabric, wood, or even aluminum are sustainable materials that naturally fit with the chic style of modern pergolas.
Stylish Screens
Take charge of your pergola's look and feel with remotely operated screens or install a fixed screen. If you desire to use your pergola year-round, having an aluminum or a fabric privacy screen offers a bit more protection from the elements. A well-placed screen or two is perfect for a modern outdoor office, minimalist aesthetic, and keeps out insects, wind, and rain.
If you spend more time in your pergola more often in warmer weather, ornamental screens or a privacy lattice with climbing plants looks impressive. Imagine celebrating a small ceremony, private dinner party, or another event with a beautifully customized pergola with living plants intertwined with installed screens. And don't forget that rolling or fixed shades work as an alternative to screens as well.
Casual Curtains
Outdoor curtains are a low-key, dependable privacy option for a pergola. Instead of working with fixed fabric screens, sliding doors, or building a massive wall, curtains are perfect for a smaller aluminum pergola and property. Depending on the type of material, outdoor curtains can softly diffuse light while still allowing for air circulation.

When the occasion arises, tie back curtains creatively for festive events, wrap them in lights, or arrange them dramatically. Additionally, curtains can be easily changed out to suit your mood and may be used to emphasize any pergola lighting.
Conclusion

When spending time under a pergola, whether it functions as an outdoor living room, a poolside oasis, or for intimate gatherings, a level of privacy is necessary. Increase the desirability and value of your pergola by installing an attractive, durable privacy wall.

Integrate living plants with a lattice wall or place shrubbery and trees strategically. Enjoy the convenience of modern remote-controlled screens or sliding doors to close off a pergola or open it up to its surroundings.

Whatever you select, you'll need a trusted retailer of fine outdoor elements and pergolas. Choose Renson Outdoor to guide you on ensuring a level of privacy and comfort for your outdoor life.

Interested in more pergola ideas? Discover our article about brilliant pergola lighting ideas and our article about pergola roof ideas.