3 amazing advantages of aluminum patio covers
Did you know most patio covers are made of aluminum? And rightly so, because aluminum patio covers are sturdy, maintenance-friendly, and come in a wide variety of styles. Not sure whether an aluminum patio cover is the best choice for you? Read on to discover all the advantages. Prepare to be amazed!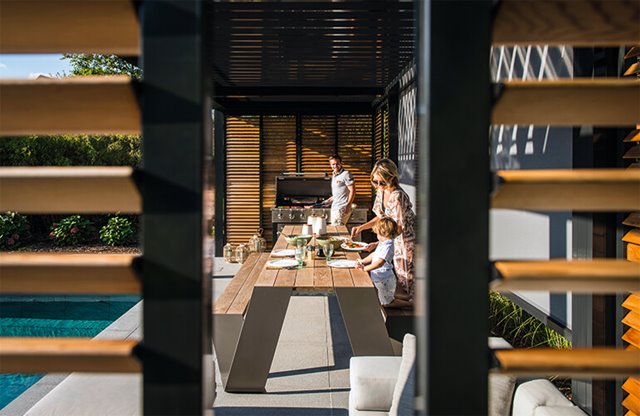 1.Resistant to all weather conditions
Aluminum is a particularly sturdy material. So sturdy that a patio cover made of aluminum can handle some of the toughest weather conditions. The Algarve, for example, resists winds of up to 120 kilometers per hour, while the Camargue® (a pergola with a louvered roof) can handle gusts of up to 160 kilometers per hour with the louvres closed. That's something, considering most storms only reach 100 kilometers per hour. Aluminum patio covers can even handle heavy torrents with the greatest of ease.
Cleaning a Renson® patio cover made of aluminum is a piece of cake. Four steps and you're done!
1.Add a dash of Renson ®'Clean' detergent to a bucket of lukewarm water.
2.Clean the profiles thoroughly with a soft sponge or microfibre cloth, and let them soak for a bit.
3.Rinse with cold water and dry with a lint-free cloth.
4.All dry? Treat the aluminium parts with Renson® 'Protect' to make them extra weatherproof.
In just a few minutes, your patio cover is all clean and ready to be used again!
3.Your aluminum patio cover, your style!
Aluminum is a material that allows for endless variations, both in terms of colour and design. Renson® even offers aluminum pergolas that look exactly like wood. Camargue® Wooddesign has that warm natural look yet is easy to maintain because it is made of aluminium. You can even have your pick from all standard RAL colors and match the color of your patio cover to the joinery! Browse our inspiration page to explore even more ideas.