Linarte® aluminium wall cladding from Renson® leaves all architectural options open
The limited façade width of this new-build home in the Belgian town of Ypres did not stop the client and architect from playing the 'openness' card with gusto. Together with the playful combination of vertical profiles in the black and white façade, this has resulted in a unique design in which the indoors and outdoors seamlessly blend into one another, right from the open front to the south-facing garden.
"For a young family like ours, our house is a real 'living home'. Inside and outside flow into each other via the patio through the interior floor covering and large glass sections that ensure an integrated feeling", explain Dieter and Anne-Sophie. And it's the same at the front of the house as well with the Renson Linarte vertical aluminium cladding system that runs seamlessly along 1 wall in the entrance hall on the other side of the glass next to the front door.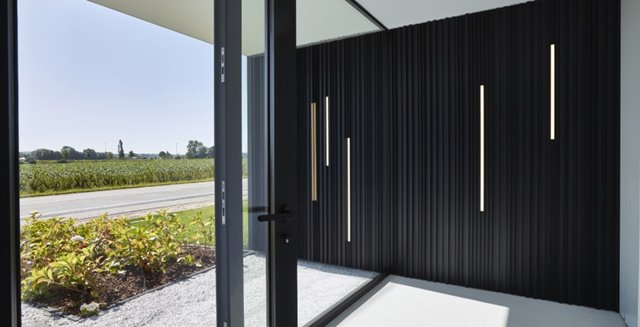 Maintenance-free and durable
"We are very satisfied with our choice for the Linarte aluminium wall cladding", says Dieter and Anne-Sophie. "By keeping the rest of the façade and the front garden fairly sober, it gets highlighted even more and becomes an eye-catcher for our home in its own right." But in addition to that aesthetic aspect, the durability and ease of maintenance of the aluminium wall cladding especially won them over.
Dress up your wall with Renson Linarte - YouTube