Garden elements
Complete your garden
Your home doesn't stop at the front door. You want to be able to enjoy yourself to the full and relax outdoors too — and the key to that is a garden in perfect harmony. Renson's garden elements are the perfect match for its Linarte cladding system. An aluminium bench, a freestanding wall alongside the drive or a planter with integrated LED lighting: you name it. Even a parcel box / letterbox in the same design is possible.
What are garden elements?
Garden elements are objects with a specific function in the garden.
The 'tasks' they perform vary greatly, from segregating a part of the garden to serving as storage space or creating a seating area.
Whatever it is you need, Renson has the answer.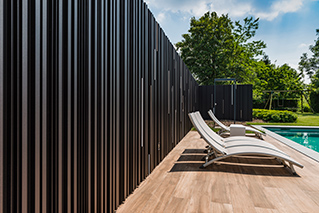 Garden wall
A freestanding wall with Linarte profiles that enables you to create a cosy corner or shield your front garden in style.
Lighting
Ambient lighting for your garden in a contemporary column, for sultry summer nights and crisp winter evenings.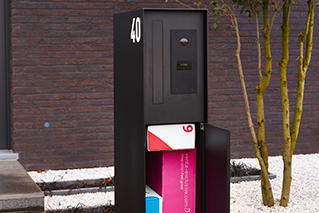 Parcel letterbox
Quick and safe parcel deliveries, even when you're not at home. Our eSafe parcel letterbox has been tested and approved by Bpost.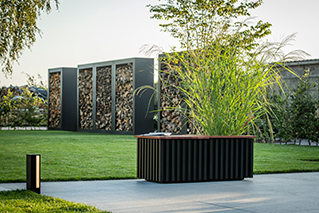 Garden module
A custom planter or bench that looks great with colourful flowers or greenery and that offers the perfect place to rest in your garden.
Durable quality
Our high-quality garden elements are made for long-term outdoor use.
Sleek design
The modern look of aluminium and the sleek lines of the Linarte range.
Your own touch
By playing around with profiles, colours and inserts, each garden element is unique to you.
Minimal maintenance
Cleaning your garden elements every now and then using lukewarm water is all it takes to keep them in top condition.
Made-to-measure garden elements by Renson®
Renson has more than 50 years of experience in aluminium cladding systems and pergolas, and more than a century of technical expertise.
That makes us your ideal partner for made-to-measure garden elements.
Your products are manufactured with great care at our modern production facility, so you get to enjoy high-quality and ready-to-use custom elements for your garden.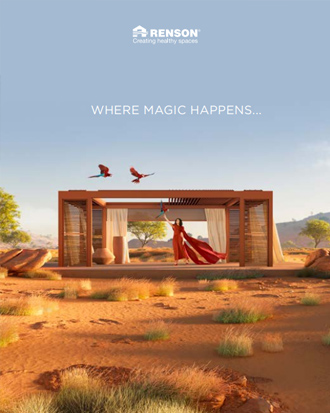 Request your brochure
Eager to find out how Renson garden elements can lift your outdoor environment to a higher level? Allow yourself to be inspired with some by the projects we've completed so far.
Download the digital brochure ›
FREQUENTLY ASKED QUESTIONS
Renson garden elements are available in all the RAL colours. This means you can choose any colour for your garden elements.
Renson garden elements can be used anywhere: in the garden, along paths, in the driveway, etc. Keep in mind that elements with integrated garden lighting require an available connection nearby.
Parcel boxes come in all dimensions: from 150x400x1240 mm to 360x400x1240 mm. Garden modules such as planters and benches are 554 mm or 974 mm long, but they can also be linked together. Illumination is available in "S" – small (325x120x82 mm) or "M" – medium (515x120x82 mm). A Linarte garden wall is always customised, whether it is an accent piece or a complete garden fence.
Renson offers garden elements to match its products. Garden walls are available, but also lighting, (eSafe) parcel boxes, planters and benches. High-quality aluminium is the main component. The benches have a hardwood seat (thermo-ash).