Stop going on dates with house dust mites!
Asthma, eczema and allergies – everything was better in the past
Allergies were quite uncommon until the 20th century. What has happened since then? Our homes are much better insulated now than they used to be. New build homes are like air-tight boxes, where contaminated air cannot get out and fresh air can barely come in. This makes for the ideal breeding ground for these tiny creatures. They thrive best when the temperature varies little between 16° and 25°C and when the air humidity is high (60% -80%). They also prefer to stay in the dark. Since house dust mites also find human skin tissue a delicacy, our mattresses provide the best living environment for them.
House dust mites – the cause of your allergy
House dust mites do not cause allergic reactions in themselves. The real culprit is their droppings. Dust mites produce no less than 200 times their own weight in droppings during their lifetime. These enter the air as dust particles which you inhale later at night-time. This is how they reach our lungs where they can cause allergic reactions. If you or your child suffers from asthma, there is a high chance that this is one of the major causes.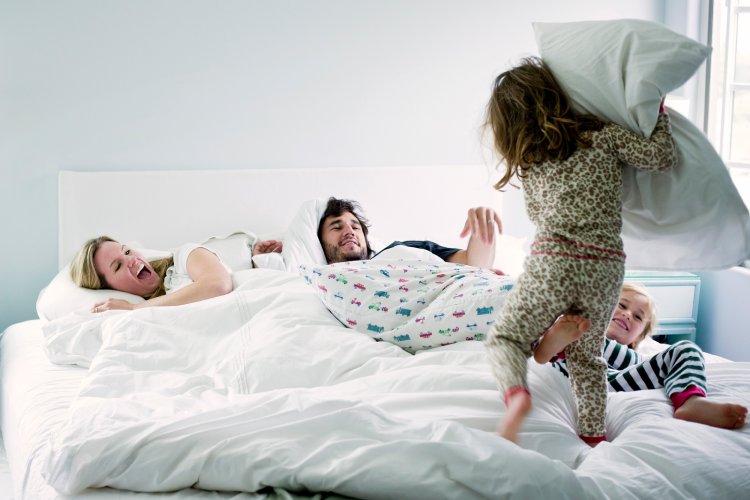 How can you combat house dust mites?
The good news is that you can easily solve this problem. House dust mites are extremely sensitive to changes in their living environment. For instance, it is recommended that you air your sheets in the morning, particularly if you or your child suffers from asthma or eczema. You should also open the blinds or raise the screens to let the sun shine into your bedroom. Furthermore, make sure that the room is well ventilated as this reduces the temperature and eliminates air humidity.
House dust mites disappear when you ventilate your bedroom
However, if you keep your window open for 15 minutes, this only produces a short-lasting effect. What you actually need is a room that is ventilated throughout the day. The Healthbox 3.0 by Renson provides many options for doing this. The sensors on the smart ventilation unit automatically detect humidity, CO2 and VOCs in the air and discharge these outside. The contaminated air, which also contains the droppings of house dust mites that cause allergies, is replaced by lovely fresh outdoor air. The ventilation system also eliminates humidity, which means that the ideal living environment for house dust mites disappears rapidly.

Do you suffer from asthma, eczema, allergies or other respiratory disorders? Be sure to try the tips above which can only benefit your health and the health of your children.

Looking for more healthy living tips? Read our other blog articles.