Are you going through an autumn dip? During the autumn, it's even more important to spend enough time outside to store some extra vitamin D. Breathe in the healthy autumn air in your own garden. Is it a little chilly? The high-quality aluminum pergolas from Renson are fitted with a heating element, so you can also enjoy the autumn sun or pleasant evenings in autumn and winter. A fireplace under the canopy ensures additional cosiness.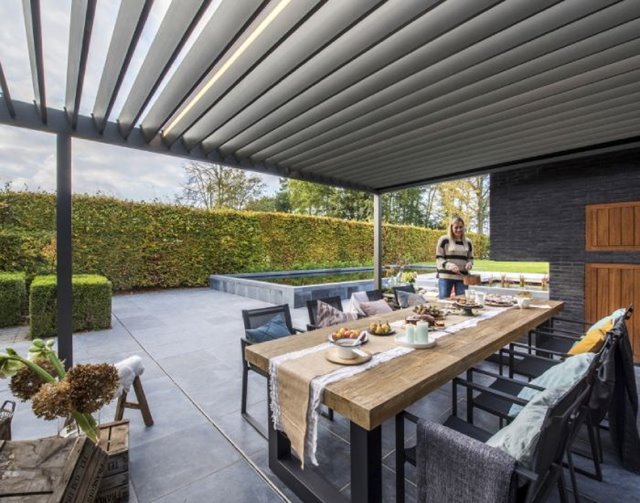 The following activities are perfect for doing outside.
Are you working from home for a day? No doubt, you're even more creative outside. And it can be quite cosy too. Why not invite your colleagues for a meeting outside, or work together with other 'home workers' in your created home office? These breaks can only be a bonus.
New season, new decoration
Do you also feel an urge to change your interior? Tackle both the interior and the exterior. You'll find plenty of decoration in nature: take a walk through your own garden - those fallen leaves, chestnuts and pumpkins are the perfect basis for your decoration. Cushions and blankets in autumn colours also create the right atmosphere, and, with aromatic oils, you can create the right scent to suit your activity. A hint of rose oil during your romantic evening takes you straight to a higher realm.
Dancing your worries away
Wonderful music, a great dance teacher and the right moves. Finding and meeting each other through music - that's the perfect way to connect with your partner. And it's more than just romantic. Because you are moving, endorphins or happiness hormones are released in your body. So you simply dance the stress away.
Crispy rolls straight from the oven, a homemade granola and a delicious egg. Ready to enjoy a tasty autumn brunch with your family. You're not early birds? A tasty glass of wine and an unctuous piece of cheese are a perfect match for a pleasant autumn day. Or why not go for the latest food trend: wine and… chocolate. The sweet and bitter flavours of the chocolate and the right wine are a match made in heaven. Invite your friends and family, select the best wines, and ask a good chocolatier for advice. Tip: with the wine wall or wine fridge in your garden room, you'll always have the right wine at hand at the perfect temperature.
Would you like to escape the hectic around you for a while? Make yourself a cup of tea, settle down with a good book and enjoy some well-deserved me-time (link to blog article). Be amazed by the beauty of your own garden: the bright autumn colours and scents are all for free.
Exercising is the ultimate remedy for an autumn dip. But why would you exercise inside, if you can do it just as well outside? Work up a sweat while enjoying a breath-taking view.
A canopy creates the perfect place for installing a jacuzzi. You're nice and dry, and the hot water and the heating element in the roof canopy do the rest.
Invite your friends to a successful autumn barbecue. Together around the grill, with roasted chestnuts and a glass of mulled wine, seasonal vegetables or some game on the grill … Then enjoy the time around the fire basket with a blanket across your shoulders. Perfect ingredients to completely forget about this autumn dip. Let the autumn come.