Pergolas are one of the hottest additions to a property, providing an inviting space to enjoy outdoor living at its fullest. However, no pergola is complete without an attractive and durable roof. There are plenty of elegant pergola roof ideas that look great on the structure of your choosing.

Installing a roof is a wise investment because it creates an extra layer of shade and protection from inclement weather and adds to a pergola's charm. Read on to learn about different roof ideas.
What are the Benefits of a (waterproof) Pergola Roof?
If you want a comfortable pergola that accommodates year-round use, install a waterproof pergola roof. With a waterproof roof, you can relax and enjoy the sound of falling rain or snow while engaged in an exercise session, work in your outdoor office, or dine alfresco.

Choose a waterproof roof that is static, retractable, or lightweight for a chic outdoor structure that keeps you warmer and drier. If needed, integrate a gutter system with a pergola roof, in addition to using a pitched roof design to control the runoff of any precipitation.
Create the pergola of your dreams with a range of versatile pergola roof ideas. Choose a retractable roof pergola or a louvered roof pergola to promote air circulation while still offering protection from the elements. A desirable roof should increase privacy and comfort, cooling shade, and style points.
Static roof
If you don't feel it will be necessary to occasionally adjust your roof, opt for a fixed or static cover for your outdoor structure. Choose a sustainable material like bamboo for an attractive bamboo pergola roof. Or, consider installing a sturdy waterproof canvas roof or even a static roof that is metal, plastic, or glass. Another visually exciting option that is airy and stylish is a pergola lattice roof.
Louvered roof
Keep your outdoor living low-maintenance and carefree with a louvered pergola roof. A louvered roof is a popular option because this style of roof uses a waterproof design, allowing precipitation to run off. This innovative cover is best when you need to adjust your roof to open or close to the sunlight, heat, or rain.

One of the most versatile options is a pergola with a louvered roof with rotating blades for full control of sun and shade. Whenever the mood strikes, you can easily adjust the roof to increase light, enjoy a view of the sky above, or reduce exposure to the elements.
Retractable roof
If you are looking for pergola ideas beyond adding an awning, screen, or pergola roof panels, consider a retractable roof pergola. Choose from a retractable roof that adds a layer of protection against the sun, UV rays, heavy winds, and rain. Delight guests with a remote controlled retractable roof to change the lighting, increase cooling shade, or create a more open space.

Invite in the sun, cooling breezes, gentle rain, and reduce shade with a retractable roof for your pergola. Choose from stylish retractable pergola roofs made from fabric, metal, or other materials.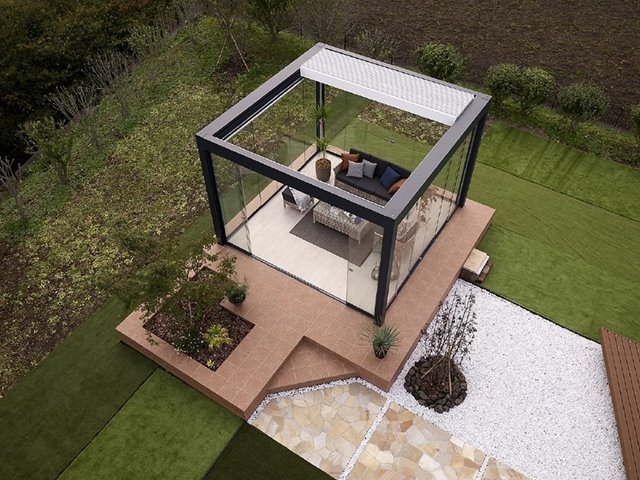 Climbing Plants & Vines
If you are a stickler for natural accessories and elements for your pergola, consider using climbing plants and vines to create a living roof. Keep in mind, there may be some open areas of your roof where rain and snow might seep through.

However, during the warmer spring and summer seasons, a beautiful roof created from flowering climbing plants and vines is picturesque and calming. Choose from plants like wisteria, clematis, climbing roses, honeysuckle, trumpet vines, or even grapevines.
Canvas/Fabric
Move over traditional awnings and embrace a pergola with a canvas or fabric roof instead. If you live in a temperate zone where heavy snow or rain is unlikely, a light to middleweight fabric roof is perfect for a pergola. Create an airy, free-spirited ambiance with a sturdy but flexible canvas or fabric rooftop.
Green Plant Roof
Surround yourself with the beauty of nature from all sides, including the top of your pergola. A living roof made from a collection of striking green plants provides visual interest, shade, and improves air quality. Check out different plants that would work best to cover the top of your pergola and fit your aesthetic sensibilities.
Solar Panels
Show your support for eco-friendly design and even manage to produce your own electricity at home. Modern solar panels are easy to install as a roof for a pergola, capturing the sun above while keeping you cool and shaded below. Choose solar panels that are lightweight, durable, easy to install, and do not reduce the attractiveness of your pergola.
Hut Style
Make a tropical getaway in your backyard or build a solemn place for reflection using a hut-style roof for your pergola. Pay homage to primitive dwellings and discover the simple beauty and functionality that only a hut-style pergola offers. If you observe holidays like Sukkot, a pergola topped with natural or artificial thatch or palms sets the right tone for the occasion.
Materials for Pergola Roofs
The material used for a roof is critical because it impacts lighting and shade levels, air circulation and may vary in how well it staves the wind, rain, and snow. Check out the following common materials for covering a pergola.
Polycarbonate
If you love the look of a clear pergola roof but aren't comfortable with installing glass panels, a pergola with polycarbonate roof may suit your fancy. Polycarbonate is a lightweight, affordable material that can handle low and high temperatures and lasts an average of 10 to 20 years. Roofs made from polycarbonate are designed to resist impact, protect structures against storms, hail, and are much stronger than glass.
Metal and aluminum
Aluminum and steel are suitable roof options. If you want a lightweight roof that is resistant to rusting, an aluminum pergola is a better option. However, if you don't mind a heavier cover, a steel roof is ideal for resisting strong winds, heavy rain, and locations that have harsher weather.

Be prepared; compared to aluminum, a steel roof will require frequent maintenance to prevent rust. If you opt for a pergola with metal roof, be mindful of the thickness, if it is corrugated, and how much weight it adds to your structure.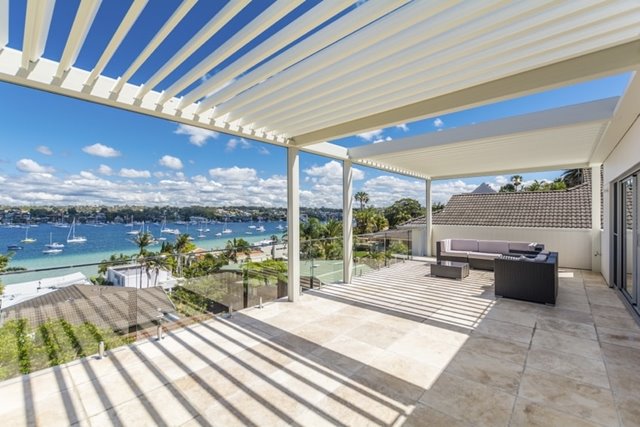 Glass
Transform your outdoor space and install glass pergola roof panels. Glass is a desirable material for roofs because it allows sunlight to pass but retains heat and provides insulation. However, be prepared to pay a bit more for a glass roof than one made from polycarbonate, plastic, or metal. Indulge your senses with a pergola glass roof that is static or retractable to protect against the rain, sunlight, and wind.
Plastic
Plastic is a versatile material used for pergola roof options beyond corrugated or flat polycarbonate. Fiberglass, a combination of glass fibers reinforced with plastic, and PVC are ideal for roof panels.

If you want a clear pergola roof without dealing with the weight and cost of glass, plastic roofs are an affordable, lightweight option. An expertly installed plastic roof is often durable enough to last 30 years before replacing it.
Conclusion
A modern pergola provides the opportunity to spend more time outdoors and enjoy the health benefits of being in nature. Depending on your lifestyle, you can enjoy outdoor living no matter the season, with a roof that is waterproof, louvered, or retractable.

When you are in the market for a beautiful pergola and complementing outdoor elements, put your trust in a company with over a century of experience. Visit Renson Outdoor to shop their selection of outdoor elements and accessories for the discerning consumer.

Interested in more pergola inspiration? Discover our article about brilliant pergola lighting ideas and our article about pergola privacy wall ideas.