Centralised ventilation system
Fresh air throughout your entire home
Want to breathe healthy air in every room? A centralised ventilation system improves the indoor air quality throughout your entire home. In this type of system, a central unit controls the fans in all crucial living spaces. With the addition of constant air quality monitoring and demand-driven controls, providing exactly the right level of ventilation is a breeze.
Centralised ventilation system for different applications
Every project where people live or work stands to benefit from a centralised, demand-driven ventilation system.
A selection of our projects is shown below.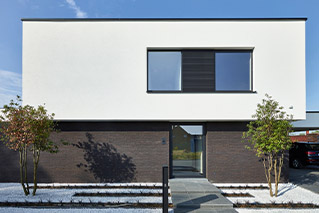 Homes
From the kitchen to the bedroom and from the living room to the bathroom: your centralised ventilation unit supplies every room with fresh outdoor air.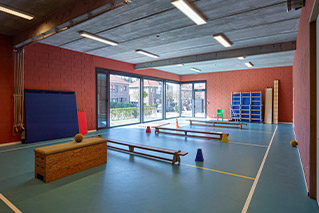 Schools
Guaranteed fresh air in the classroom for toddlers, primary school pupils or secondary school students: with a centralised ventilation system, there's nothing to worry about.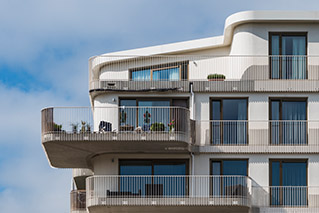 Apartment blocks
In smaller developments or large tower blocks, one or more central units keep the indoor air in every apartment under control.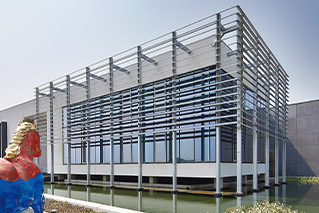 Office buildings
Fresh air keeps employees alert, healthy and happy. A centralised ventilation system takes care of this for you, from the smallest meeting room to the largest open-space office.

Superior quality
Design, durability and quality go hand in hand at Renson.
High-quality materials and durable technology for long-term user comfort.
The best quality in every aspect. That's how we guarantee durability.

Minimalist design extraction louvres
Visual simplicity adorns and retains the focus on the architectural features of your home. Perfect integration and subtle design of your ventilation system.
From window louvres to fans: sophisticated design for optimal integration.

Demand-driven and fully automated
Automated control of ventilation airflow for clean indoor air.
Ventilation to suit the current air quality.
Breathe easy at all times thanks to demand-driven operation.

Ease of use and maintenance
Carefree living with minimal maintenance and maximal ease of use.
Breathe freely and easily, without major maintenance tasks or complex controls.
Minimal maintenance and optimal ease of use for your everyday comfort.
Why a ventilation system matters
On average, we spend 90% of our time indoors, and the air quality inside is often poorer than it is outside. Counterintuitive as that sounds, this problem is quick to solve using an effective and reliable mechanical ventilation system. Your ventilation system extracts polluted, humid air and replaces it with fresh outdoor air to guarantee a healthy indoor climate, all year round.
The many benefits of a centralised ventilation system
Whether you are building a new home or renovating: Renson has an effective, powerful and energy-efficient ventilation solution for every project. If you're going for a complete overhaul, a centralised solution is your best option, as it offers a whole host of attractive advantages.
Multiple rooms in your home can be served using a single system. If you opt for a decentralised ventilation system, you'll need to install multiple devices to ventilate each room.

Demand-driven operation ensures your home is always ventilated just enough — and never too much. That way, you avoid wasting energy, while healthy indoor air remains guaranteed at all times.

The indoor air is constantly monitored based on various factors, including humidity. The ventilation system effectively extracts humid air and prevents damp issues around the home.
Different types of centralised ventilation system
There are two options for your centralised ventilation system: an exhaust ventilation system or a balanced ventilation system. Which one is most suitable for you depends on your project.
Generally speaking, a balanced ventilation system is less suitable for renovation projects and is mainly aimed at the newbuild market. That said, the exception proves the rule, as is so often the case. We're happy to help you get some way towards making a decision by offering a comparison between both of our centralised ventilation systems.
For (complete) renovation or newbuild projects
Specific rooms
Natural supply, mechanical extraction
Maintenance: ventilation openings to be vacuum cleaned regularly, ducts to be cleaned every five years
Mainly for newbuild projects
Entire home
Mechanical supply and extraction
Maintenance: ventilation louvres to be vacuum cleaned, ducts to be cleaned every five years, filters to be cleaned twice a year
Centralised or decentralised ventilation?
If you're only tackling a single room, but you still want to enjoy the benefits of demand-driven ventilation, our decentralised Waves system also ventilates on the basis of the humidity level, CO2 and unpleasant odours — just like our centralised ventilation systems.
For various reasons, a decentralised solution might be the better option for you.
Centralised system
One ventilation unit for multiple rooms
For (complete) renovation or newbuild projects
More energy-efficient operation
Decentralised system
One ventilation unit for every room
For both newbuild and renovation projects.
Less noise
Does a centralised ventilation system need to be cleaned?
Dirt accumulating in the air ducts or dirty filters (if you've got a balanced system) can seriously disrupt the proper functioning of your centralised ventilation system.
For the indoor air quality to remain healthy over the long term, regular maintenance for your centralised ventilation is recommended. This includes cleaning the vents, louvres, air ducts and any filters.
How much does a centralised ventilation system cost?
The cost of a central ventilation system depends on a whole range of factors. How many rooms are you looking to ventilate? What is the layout of your home? Where do the air ducts go? An individual quote is the only way to get a clear overview of the cost of your centralised ventilation system. Contact a Renson distributor near you, without obligation.
Renson®: more than 50 years of experience in ventilation
Good ventilation has become an increasingly hot topic over the past few years — and that's also reflected in the specific regulations and obligations when you build or renovate a home. Renson has been putting its insights and dedicated knowhow in to practice for decades. For over 50 years, our team has been committed to healthy indoor air in your home. Breathe freely and without a care with a Renson ventilation solution.
Any questions?
There's a lot to talk about when it comes to ventilation, and you may be left with certain questions.
We've put together a list of the most frequently asked questions for you, but if there's anything else you'd like to know, feel free to contact us.