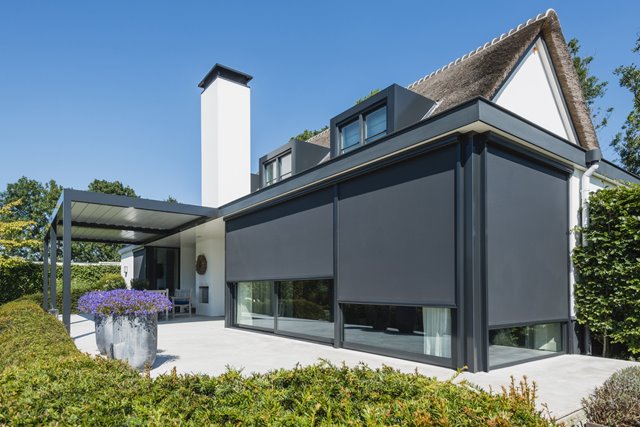 Sun protection prices
When you're buying something, the price you're about to pay plays a major role, of course. The same applies to sun protection. As such, it will come as no surprise that "What's the price of sun protection?" and "How much does sun protection cost?" are some of the most common questions we get asked. The answer to those questions is not as straightforward as you might think, as many of sun protection products require customisation. On top of that, the price of sun protection strongly depends on a range of factors. On this page, we'll tell you more about all the things that need to be considered when we set our prices.
Which choices have an impact on the price of sun protection?
The price of sun protection is strongly dependent on a whole range of factors. Here, we'll tell you more about all the things that need to be considered when we set our prices.
Sun protection type
There are two types of sun protection: indoor sun protection and outdoor sun protection. Renson focuses on outdoor sun protection, as this offers the most efficient solution to overheating indoors. This is because outdoor sun protection stops the sunrays before they reach the window and cause the temperature to rise.
Renson's outdoor sun protection solutions consist out of screens (sun protection fabric) and structural sun protection. Structural sun protection is available as both sliding panels with blades, and as an awning above the window.
Sun protection installation
Whether you're looking for a solution for windows, (patio) covers, skylights, balconies or curtain walls, Renson outdoor sun protection offers a ready-made solution to every application. And that's not only the case for newbuild projects either: there are plenty of options for renovation projects too. With our wide range of possible screens, sliding panels and awnings, we always have a suitable sun protection solution available.
Dimensions
Large or small surface areas, unusually wide or unusually tall screens: Renson has a sun protection solution for every application and in every format.
Type of material
Renson structural sun protection consists out of awnings with aluminium blades, and sliding panels than may consist out of either aluminium or wooden blades. Aluminium is a material that is easy to maintain, wear-resistant, weather-resistant and lightweight. On top of that, it is possible to powder coat your aluminium to a colour of your choice.
Renson sun protection fabric contains three main elements:
aluminium for the fabric head box, guiding channels and frame
various types of fabric (textile)
controls (motors)
Controls
Structural sun protection is either fixed or controllable, either manually or in a motorised way.
Sun protection fabric is always motorised, and the type of control has an impact on the price.
radio controlled (solar powered if possible) with remote control
mechanical with a fixed switch, integrated into a home automation system as an option
app controlled
Extra options
If you prefer, you can choose to control the screens as a group. Otherwise, they can be controlled individually.
Optional sensors (wind watcher, sun sensor etc.) can be added to the screen controls, but will also have an impact on the price, of course.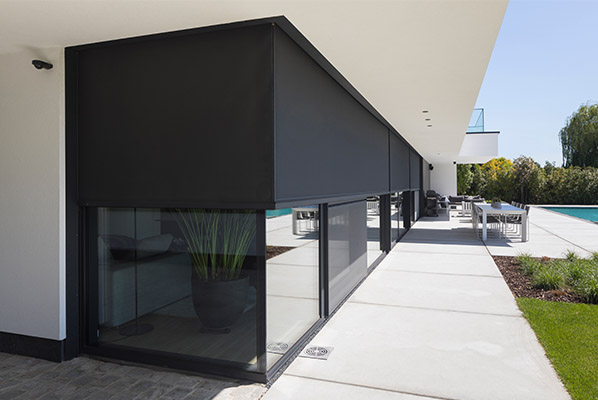 How much does it cost to install a sun protection system?
Aside from the price of your sun protection itself, the cost of its installation also needs to be considered, of course. To install its products, Renson works with a global network of over 1,800 distributors and (Premium) Ambassadors, who do not charge fixed prices. In other words, the cost of installation can vary from project to project and from distributor to distributor.
Why choose Renson sun protection?
Renson screens combine proven systems with innovative techniques and an eye for detail. When you opt for Renson, proven wind resistance up to 130 km/h and a sleek design for an aesthetic finish come combined with a wide range of colours, fabrics and systems to ensure there is a sun protection solution for every window.
Find a dealer near you
Looking to add efficient sun protection to your project? Find a Renson distributor local to you.