Renson® Connect
Smart outdoor blind control app
Take control of the indoor climate in your home or under your pergola or garden room with smart control of your Renson outdoor blinds. Wherever you are, whenever you like. You can easily check the position of your solar shading and control the outdoor blinds from your smartphone. In addition, you get tips and tricks, and an overview of your products with all the associated details.
Smart control
Adjust your outdoor blinds remotely? Do you want to be able to check the current position of the solar shading? Create smart groups to control certain outdoor blinds together? The Renson Connect app enables a personalised outdoor blind experience.
Product details
What are the exact dimensions of your outdoor blinds and which fabric types did you choose? The Renson Connect app collects the relevant product details from your outdoor blinds. This means you can easily find everything for follow-up later.
Multiple locations
Would you like to be able to check the status of outdoor blinds at other locations? The Renson Connect app collects all locations with connected Renson sun protection fabric or
pergolas
or garden rooms.
Configuration easy as 1-2-3
Getting started with the Renson Connect is quick and easy. Intuitive configuration makes installing and personalising your Renson Connect app as easy as 1-2-3: Register and log in, enter Somfy verification details, and personalise your home.
Tips & tricks
How can I maintain my sun protection fabric after a heavy rain shower? What is the best way to control the outdoor blinds? The Renson Connect app gives you the answer to these and other questions in the form of periodic tips and tricks. In addition to a
healthy indoor climate
, Renson also wants to support the optimal lifespan and proper functioning of your outdoor blinds.
Voice control
"Hey Google, close all outdoor blinds in the living room." The integration of Renson Connect with Somfy TaHoma allows you to control
solar shading
with your speech. This applies to Google, Apple and Amazon.
Get started with Renson Connect
The Renson Connect app is easy to configure and operate. Your set-up follows a few fixed steps:
1. Set-up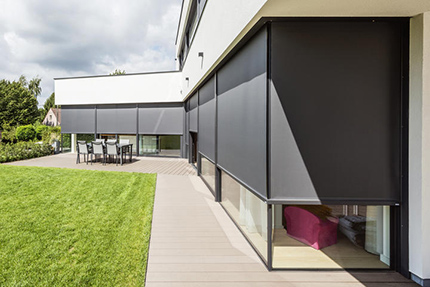 Your Renson dealer will install your sun protection fabric. You also install the Somfy TaHoma Switch, which is Somfy's smart home hub. Your installation technician can help you with this.
2. Configuration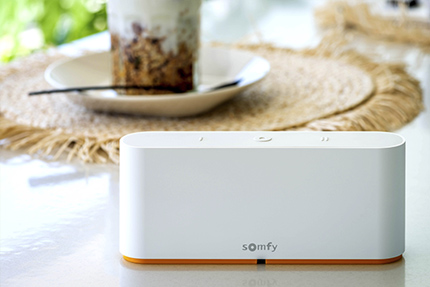 Download and configure the Somfy TaHoma app. This data will later also be used by Renson Connect. Then connect to the Renson Connect app. Register and log in with your Somfy login details.
3. Use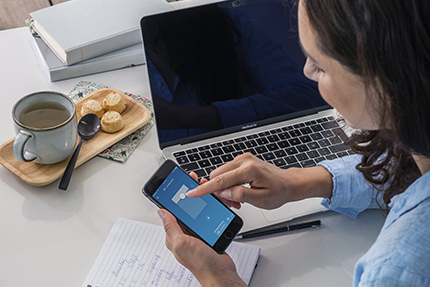 Your Renson outdoor blinds are automatically added into the Renson Connect app. You can then get started right away. For an optimal experience, link the product details via the QR code on the outdoor blinds.
Frequently Asked Questions (F.A.Q.)
General
Renson Connect is a smartphone app, created by Renson, which allows the user to control Renson screens or components (lights, screens, roofs, heating elements) of a patio cover and to check, personalise or group their position.
The Renson Connect app is free to download for everyone. To use the Renson Connect app the screens or patio cover(s) must be Somfy radio-controlled (io or RTS).
The Renson Connect app is available for installations in Europe. However, the Renson Connect app can be controlled remotely from anywhere, provided that an internet connection is available.
The Renson Connect app is free to use.
You can use the Renson Connect app to control the following components:
screens (io/RTS)
led lights (io/RTS)
heaters (io/RTS)
coverings (io/RTS or Skye 1 or 2)
Yes, the Renson Connect app works independently of the Tahoma app. Therefore using the Renson Connect app will not disable any existing configurations.
The Renson Connect app can be removed from your smartphone. Not all data will be deleted if you delete the app. This means that all information will be made available again when you download the app again and log in.
The Renson Connect app relies on integration with Somfy TaHoma or Connexoon. To use the Renson Connect app, Tahoma or Connexoon must be connected to the internet (via ethernet cable or Wi-Fi) and Somfy login data must be available.
The Somfy TaHoma app focuses on overall control and operation of smart components in a home, while the Renson Connect app focuses on optimal climate control and on providing an integrated, easily accessible Renson user experience.
The Renson Connect app can be controlled remotely from anywhere, provided that an internet connection is available.
The app will provide details on the available dimensions, fabric type, fabric colour and paint colour.

The user must scan the QR code on the screens or the Quick Start Guide.
Somfy TaHoma has a five-year guarantee.
To control screens via the Renson Connect app you will need the following items:
motorised screens with an option for transmitting a radio signal. You can recognise radio-controlled motors by the fact that they are controlled by a separate transmitter or a switch on the wall.
a Tahoma Smart Home Hub.
a stable internet connection in your home.
No problem. All you need to do is to connect an additional radio connector (Type: IzymoTM Receiver io) to your motor, switch or in your fuse box. You can do this yourself or have it done by a professional.
Installation & Configuration
The Renson Connect app has been designed so that anyone can install and configure it.
For more information on the installation of the Renson Connect app, please visit the Renson website (
www.renson.net
) or read the documentation Renson included along with Somfy TaHoma.
That is certainly possible.
Firstly, this can be done in the configuration process, where you are asked to assign a name and a space for your screen. You can also change this name later via Settings > General > Components.
Renson considers a unique address as a Healthy Space (a residence). This can be either a house or an apartment.
Traditionally, one Smart Home Device is linked to that residence. This is the device.
Within it, different rooms are possible, in which different components can be added.
A component is a product that can be controlled with a smartphone within a Smart Home environment. Typically these are screens, but may also include smart lighting, heaters or roof sections if you have an outdoor patio cover.
Yes, the Renson Connect app allows you to add different locations to your account. This means that you can manage several locations with just one account.
You can add a location and the screens linked to it using the standard configuration flow (Settings > Devices > Add device).
Once added, you will be able to switch between the different locations in the dashboard.
Yes.
It is perfectly possible to group components (e.g. screens, lights, heating elements) no matter what the room they are in.
This can be done in the configuration flow or afterwards via Settings > General > Rooms.
Yes, it is possible to add a screen to different groups. This can be useful in larger spaces where several screens are installed.
Renson gauges the orientation of screens in order to further improve your experience when using them. In this way, we will be able to give users even better service in the future in line with our motto "Creating Healthy Spaces".
The Renson Connect app does not currently have a timer or calendar functionality. You can create specific scenarios in the TaHoma environment or in 3rd party integrations (e.g. Google Home).
The app can be used by several people at the same time.
Another user can either use the same user name and password;
Or
A new user can go through the configuration flow with their own user name and password and add the components to the Renson Connect app using Somfy login data.
You can add these products:
Outdoor patio covers: lighting, screens, heating elements, roof sections
For other Renson products please use the app directly linked to the product:
Renson Sense
Renson Waves
Renson Healthbox
You can control your screens via Amazon Alexa, Apple HomeKit & Google Assistant.
To control your screens with your voice, you must download the app from Amazon, Apple or Google and a product (e.g. a smart speaker) with an integrated voice assistant.
Enter the details of the connected Somfy TaHoma account in the Google, Apple or Amazon app. You can find this account on your warranty form.
Absolutely! You can find the list of compatible smart home products on the packaging of your Tahoma smart home or at
www.somfy.be
. Please note that these products will not be shown in the Renson Connect app. You can control these products via the Somfy Tahoma app.
No, it is not possible to control Renson products without an internet connection.
Please note that preset commands (e.g. screens that roll out in combination with a sun sensor) will continue to function even without an internet connection.
Depending on the nature of the problem, you can contact:
Problems with the installation of your Renson products can be reported to the installer.
Problems related to the configuration of components in the Somfy TaHoma app can be reported to Somfy at www.somfy.be
Problems with the Renson Connect app can be reported at connect@renson.be
General questions or comments can be sent to info@renson.be
User data can be used in research in order to improve the user experience for Renson customers. These data are always processed anonymously and in compliance with applicable regulations.
Renson has taken all necessary measures to protect your data and safeguard your privacy in line with the applicable regulations on personal data privacy.
If you have any questions about this, please see the contact details in our privacy notice.
About this app

This app was developed by Renson. Questions or comments about the Renson Connect app: info@renson.be