Sliding panels
Comfort for every season
The sliding panels can be slid in front of the window in warm weather, automatically or manually. Or you can opt for sliding panels with tilting blades. These can be closed partially or completely to keep the sun out. The custom sliding panels give you freedom to let the sun in or keep it out. And you get extra privacy as well.
Where can you fit sliding panels?
The architectural and functional added value of sliding panels is reflected in various projects. Find out more about the applications.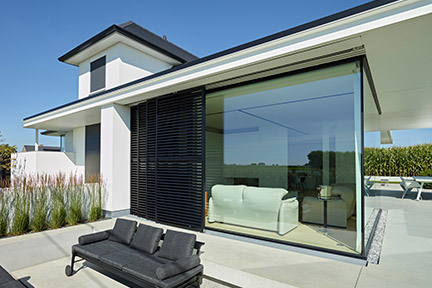 Windows
Sliding panels on windows keep the heat out of your home, office or school building.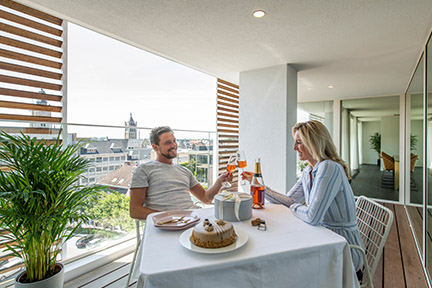 Balcony
Shade on your balcony with sliding panels provides optimal enjoyment of your private patio.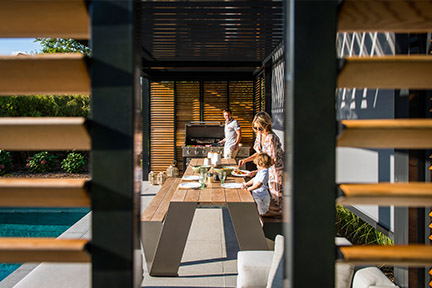 Pergola or garden room
Do you want to shield the open walls of your pergola or garden room from the sun? You can use sliding panels for this.

The highest standard of quality
Renson develops sustainable solutions with premium materials and innovative technology.

Architectural added value
Sliding panels give your façade more character and lift your architecture to a higher level.

Solution for every project
Aluminium in a colour of your choice, or a wood look, slim or prominent: there is a perfect match for every application.

The best of both worlds
You can enjoy the low winter sun to the maximum, yet the high summer sun is blocked. The best for every season.
What are the benefits of sliding panels?
Sliding panels not only add effective solar shading, but also aesthetic added value to your building. Other benefits include:
Your sliding panels require little maintenance, and therefore remain in top condition without any effort.
Manual operation or a motorised control? In any case, you enjoy ease of use.
It will not get too hot in the house, while you can draw in the sun's heat as much as possible during the winter.
Loggia® sliding panels: a real eye-catcher
There is a Renson Loggia for everyone. Whatever style you prefer, Loggia has a look-and-feel that perfectly matches your building. The result is that, in addition to efficient solar shading of course, you add a real eye-catcher to your façade.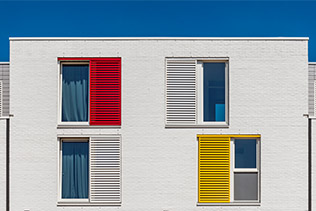 Loggialu
Fixed horizontal blades in a form-retaining aluminium frame. Discover the elegant appearance of Loggialu.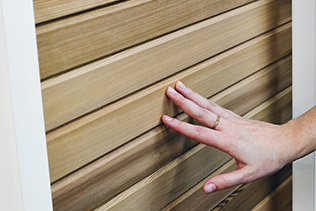 Loggialu Privacy
Aluminium sliding panels with adjustable blades. Moving them creates the necessary privacy at any time.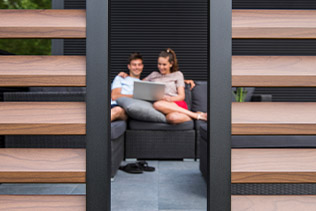 Loggialu Wood design
Do you prefer the durability of aluminium or the warm look of wood? Loggialu Wood design combines them with ease.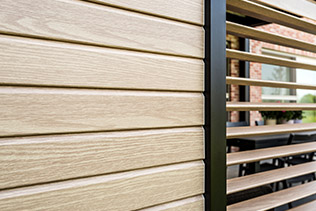 Loggialu Privacy Wood design
Tilting blades to prevent people looking in, and the appearance of wood, with aluminium as a guarantee for durable quality.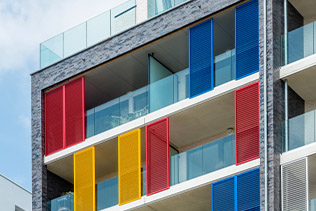 Loggialu Plano
Loggialu Plano is the ideal solar shading for south-facing façades; it has a sleek design and the fixations are invisible.
Loggiawood
An aluminium frame with cedar blades: Loggiawood combines the strengths of aluminium with the strength of real wood.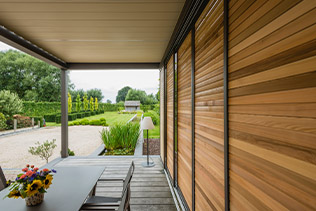 Loggiawood Privacy
The combination of an aluminium frame with tilting cedar blades to reduce visibility.
Loggiascreen
A sun-resistant fabric stretched on an aluminium frame resulting in a sleek, sliding solar shading.
Extra privacy with sliding panels
If you opt for sliding panels with tilting blades, you immediately have control over your privacy. Closing the blades prevents people looking in from the outside, and with the blades open, you maintain your view to the outside. As such, you can combine discretion with a feeling of freedom.
sliding panels with easy control
Pushing the panels open or closed is child's play. With a single press of a button the sliding panels can be moved as required. Advanced Renson technology, an engine with obstacle detection and extensive testing guarantee you a smooth, trouble-free operation.
Buy custom sliding panels at Renson®
Sleek in aluminium, warm and cosy with wooden or aluminium blades, or with a sun-protection fibreglass fabric: Loggia sliding panels are a high-quality solution for solar shading. You can decide what your sliding panels look like.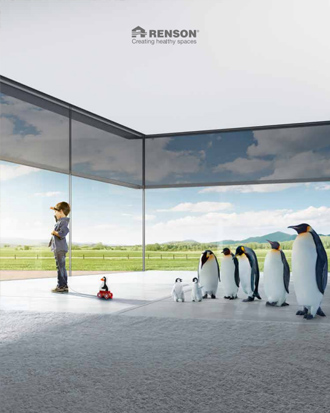 Request your brochure
Would you like to know more about our sliding panels? Would you like to find out more about the many style options incorporated in our completed projects?
Download the digital brochure ›