Patio dining: let's organise a garden get-together!
If you're a mum or dad, you have a lot on your mind. Obviously, you want to raise your child as well as you possibly can, which implies taking an interest in their hobbies, friends and, of course, setting certain boundaries. For instance, when are tablets and smartphones off-limits? How you answer that question affects the amount of quality time you get to spend with your child, which, in its turn, is another duty to add to your parenting list. Do you feel you're not spending enough time with your family? Spring, summer and autumn are perfect seasons for organising a family get-together in the garden and enjoying a lovely meal on the patio.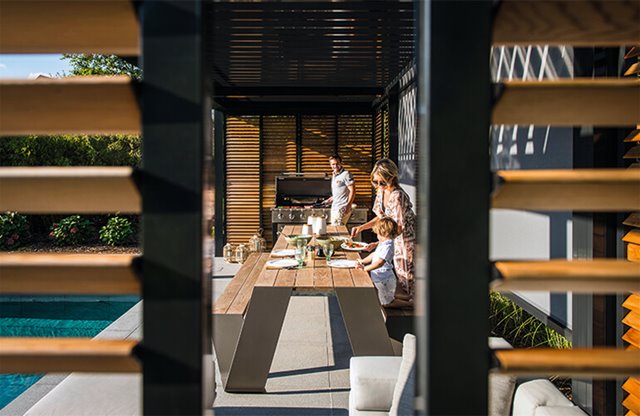 Children love eating outdoors, so surprise yours by setting the table on the patio and serving their lunch – and yours – there. A colourful table cloth is the perfect finishing touch. Having lunch on the patio is no trouble at all, yet guarantees loads of fun and a healthy dose of vitamin D to boot!
Tip: a made-to-measure patio cover or modern pergola enables you to have lunch on the patio whenever you feel like it!
2. A picnic in your own garden
Devoted mums and dads know that Saturdays and Sundays are the ideal time to catch up with their children, talking about fun stuff, sharing new experiences, playing in the garden, ... Want to enjoy your weekend together to the max? Have a child-friendly picnic in your own garden or within walking distance from home (at the local park, for example). Prepare some sandwiches, veggies for nibbling, tasty fruit, fresh iced tea, … to take with you. Want to bet that your children will ask you for another picnic next weekend?
Nothing beats a good old summer barbecue when it comes to family time. How to organise one that is safe – and healthy – for your children? Some tried-and-tested tips:
Draw a wide circle around the barbecue, and be clear to your children that that area is off-limits.
Make your own skewers with meat, fish and vegetables that have been cut and prepped ahead.
A barbecue is only healthy if you serve plenty of fibre and slow carbs besides protein (meat, fish, legumes, ...). Potatoes are always a good choice, but whole-grain pasta is even better for children who still have a lot of growing to do.
A dessert is the cherry on the cake to your family barbecue. Opt for marshmallows – roasted to chewy goodness by mum or dad – or go full healthy and make fruit packages to grill – delicious served with a scoop of ice cream!