What are your healthy resolutions?
A new year means new opportunities! Tell us, what are your good resolutions for 2022? Are you going to do more sports? Say bye-bye takeaway and eat healthier? Are you finally going to get your wild garden under control? Or will that long-running renovation finally be finished?

Because of the COVID-19 pandemic, many people discovered the value of good health. Healthy living is not always easy, but it is definitely worth it. If, in 2022, you want to take another (i.e. healthy) course in your life, we can help you with our ventilation, sun protection, and outdoor solutions!
Ventilation in homes: often forgotten, but essential!
Who hasn't gone out in the evening to relax and enjoy the fresh air during the lockdowns? As soon as that delicious, oxygen-rich air fills your lungs, you feel like you're coming back to life. Actually, it's a shame that you only get that satisfying shot of O2 at the end of the day, isn't it? What would you think if you could enjoy that healthy air all day long? Wouldn't that make your life much better? Wouldn't that make you feel much more alive?

Our smart ventilation solutions ensure that your home is supplied with oxygen-rich air all day long. A ventilation system such as the Renson Healthbox 3.0 (suitable for new homes) or the Renson Waves (suitable for renovation projects) monitors your home for polluted air. The system will automatically extract this polluted air. The polluted air is then naturally replaced by new, fresh air from outside.
Don't let heatwaves steamroll you anymore thanks to our sun protection solutions
Last couple of years we were confronted with multiple heatwaves. During these periods, the interior temperatures easily exceeded 30°C. It goes without saying that this is uncomfortable, and anything but healthy.

Are you planning to build this year? Then make sure you don't lose sight of the overheating aspect either. With Renson's sun protection fabric, you can keep it as much as 10°C cooler inside than out. The outdoor blinds stop the sun before it can reach the window, so it doesn't heat up inside. It's definitely worth it when it's 34°C outside! We also recommend using intensive (night) ventilation at all times. By opening all the night cooling louvres in your home at night, you make sure that all the heat that has accumulated in the home during the day is removed. That way, you can always have breakfast the next morning in a lovely, refreshing house!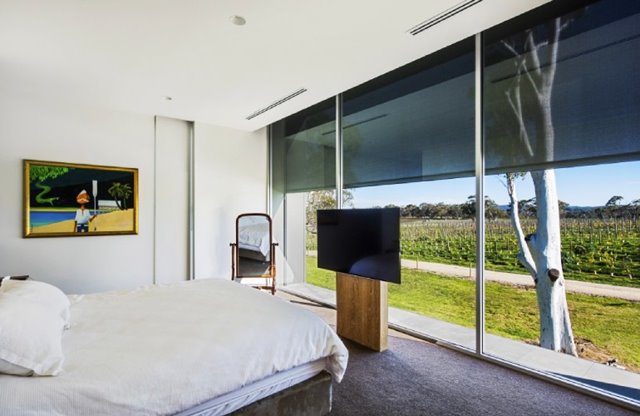 Is your home already totally on-point? Then we understand that you won't want to damage your façade to install screens… Because we also have a solution for this: the Renson Fixscreen Solar. This screen is easy to install, without drilling or channelling. The screen is fully solar-powered. So, there's no drilling holes in the wall to connect the screen to the mains!
A shady, green place to relax? A patio cover is the perfect solution!
Is it high time to tame your garden this year? That's a great idea because we're sure you'll agree: our gardens have made being stuck at home this year a lot more bearable. It's probably even a good idea to invest in a Renson pergola… This way, you create a shady place where you can enjoy your beautiful garden.
However, a patio cover is more than just a nice place to relax. We actually prefer to call it a 'garden room'. It is really an extra outdoor space, a place where you can cook, dine, host parties, play sports… It is a place where you live. A Renson patio cover offers the best of both worlds: all the comfort, luxury, and possibilities of being inside your home with all the pleasure of being outside.