Aero® Skye®
Fits perfectly with any existing or new architecture
The roof blades are retractable for maximum brightness and an unobstructed view
Roof and options are app-controlled
Double-walled blade to withstand the weight of snow better and for better acoustic and warmth insulation
Durable, safe rotating and retracting technology thanks to the patented S-Drive Technology
Integrated louvred roof with sliding blades
Do you wish to seamlessly integrate a louvred roof into an existing roof structure above a patio or terrace, in perfect harmony with your home? Then the Aero Skye is what you are looking for.
The tiltable blades allow you to spend time outside in the best possible conditions all year round. And there is more: the blades of the Aero Skye also slide fully open so that you can enjoy an enchanting starry sky on a beautiful summer's evening. To complete the picture, there are numerous accessories and options. Choose Wooddesign blades to evoke the warm atmosphere of wood for example. Or make it cosy late at night with heating and/or mood lighting.
Indoors and outdoors never flowed into each other as smoothly as under an Aero Skye.
Technical specifications
Roof dimensions:
Width
Depth


4,5 m maximum
6,2 m maximum
Expandable
two or three parts

Rotation of slats
Maximum 135°
Wind guarantee with closed roof

up to 120 km/h
Water drainage

150 l/m2 u
Load-bearing capacity
100 kg/m2


BE INSPIRED
Numerous realisations with Renson pergolas have bubbled up from the fount of inspiration. Be inspired by the gems on the opposite page.
Extra accessories for your outdoor experience
Pleasant temperatures, your favourite music in the background and LED lighting to set just the right mood. These are just a few of the possibilities for your freestanding pergola. Simply add the right accessories to help realise your plans for your new outdoor space. The vast range of available options includes: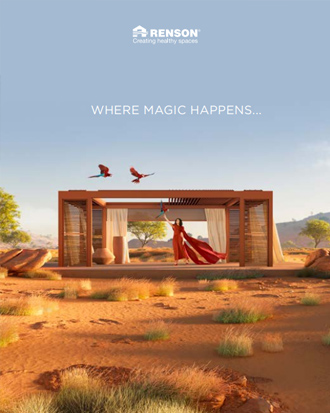 Request your inspiration brochure
Allow yourself to be inspired by the projects we have completed and explore the different models and all their possibilities.
Download your brochure ›
How to maintain your pergola
Wind and weather will undoubtedly put your pergola to the test. Proper maintenance is essential to keep enjoying your outdoor space for years to come. Effortlessly clean your pergola and screen fabrics clean using the Renson Maintenance Set. What's more, if you perform maintenance every year, we will offer you an extended warranty on the coating.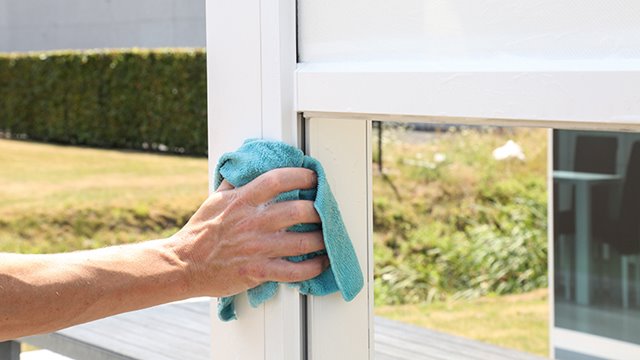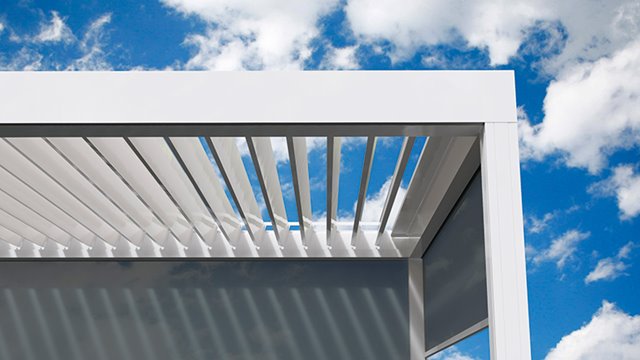 Extended warranty up to 15 years
Register your aluminium pergola to enjoy our extended warranty. The only thing you need to do is demonstrate that you clean and protect it every year using the Renson Maintenance Set. If you do, we will give you a 15-year coating guarantee on the colour and shine of your pergola. More about the extended coating warranty.