Sun protection provides shade and savings
21 March is the first 'Global Shading Day', an initiative of ES-SO (the umbrella organisation of the European sun protection industry). Now that climate change is irrevocably accelerating, outdoor sun protection plays an increasingly important role in enabling you to live, work, attend school and so on; in short, to live comfortably, even on hot days.
On 21 March, we will not only celebrate the beginning of spring, but also the first 'Global Shading Day'. After all, the first rays of spring sunshine also mean the danger of indoor overheating is just around the corner. Fortunately, you can anticipate this perfectly with outdoor sun protection, to ensure it remains comfortable inside even on hot days. Prevention is always better than cure, particularly in the fight against global warming. This could mean keeping the sun at bay in a sustainable manner and not having to switch on the air conditioning to maintain a comfortable indoor temperature. Because that could leave you with a very high energy bill and also increases CO2 emissions.


Saving money and the environment
Scientific research by the internationally renowned consultancy Guidehouse reveals that with dynamic or smart sun protection, up to 100 million tonnes of CO2 emissions could be avoided and 285 billion euros saved. That's a potential energy saving of up to 60% for building cooling by 2050. And that's certainly worth noting when you realise that buildings are still the biggest energy guzzlers in Europe today, responsible for 40% of energy consumption and 36% of greenhouse gas emissions. If we do nothing, climate change and the rising number of hot days and heatwaves will increase the number of buildings needing air conditioning by an estimated 60%. This is because once heat gets inside, it cannot escape from well-insulated and airtight buildings.


Smart management of sunshine and daylight
As 'passive cooling', outdoor sun protection combined with night cooling can manage heat and daylight sustainably and intelligently - integrated in a building management system. And that is not to be underestimated, considering that on average we spend 90% of our time indoors. Because daylight makes us happy, helps us concentrate and function, but overly bright sunlight can be a nuisance and even dangerous for the elderly, due to the risk of overheating. You can keep the sun's rays at bay with the screens down or an awning or sliding panels as a buffer. This allows you to benefit from daylight inside and also enjoy the view outside. What's more, you can still take advantage of free solar heat in winter and the in-between seasons (and thus save substantially on heating costs). Renson Screens are windproof too, and can be installed with any type of window, even unobtrusively integrated in your façade in a new build or when replacing your old windows.


Consult a specialist
Convinced of the usefulness of outdoor sun protection for your existing home, new construction or extension? Visit a distributor.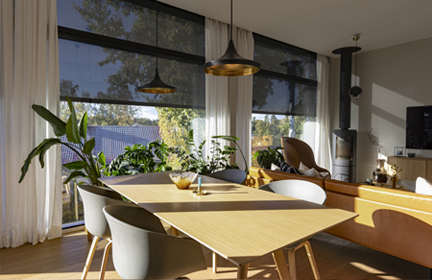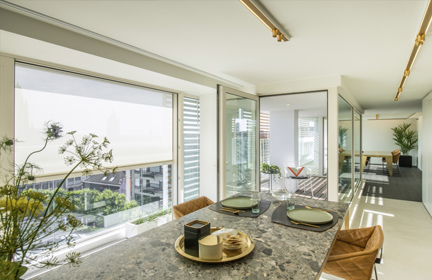 About ES-SO
ES-SO is the European umbrella organisation for professional sun protection organisations. Europe's sun protection industry employs more than 450,000 people across the 27 Member States and generates annual sales of over 22 billion euros. ES-SO is also a contributor to and advisor on a number of European projects.
About Renson
'Creating Healthy Spaces' is Renson's tagline and mission. As a trendsetter in ventilation, sun protection, and 'outdoor living', this dynamic and fast-growing family business swears by natural elements such as light and air which, when used cleverly, provide the foundations for a healthy living and working environment for everyone.