Combination of Linarte® profiles brings life to the façade
Villa Velsen was built in 1953. Its owner, Kees vander Vlugt, therefore decided that it was time for a thorough renovation. Completely stripping and insulating was a logical choice in terms of energy efficiency, but the Linarte vertical aluminium cladding system from Renson gave the villa a huge aesthetic upgrade in 2021.
"We stripped the existing home until only the architectural frame remained," says Kees looking back on the total renovation of his home. "We then completely wrapped it up with insulation from top to bottom so we could get it up-to-date in terms of energy efficiency. On the ground floor façade, the insulation was placed on the outside of the existing walls. Renson's Linarte vertical aluminium cladding system turned out to be the right choice for beautifully finishing those insulated façades. Especially considering it unified the conversion, making the original house indistinguishable from the new extensions. When you look at our home now, you can see a building in balance; and you would hardly believe it is a renovation."
In that sense, Vander Vlugt sees a bright future for Linarte now that more and more buildings are being given a second life in the context of circularity. "The possibility of easily combining this type of aluminium wall cladding with retro-fitted insulation is very interesting in that regard."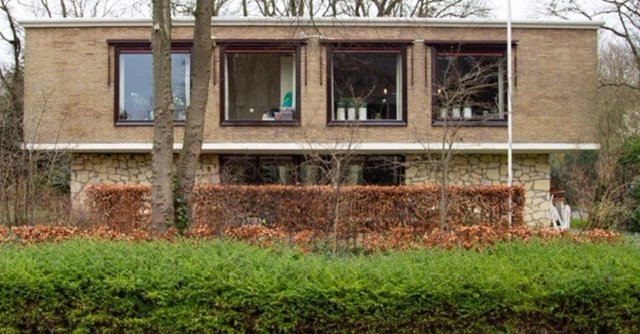 Trade show and company visit decisive
Kees vander Vlugt: "After visiting the "Gevel" trade fair with our architect, my interest in Renson's Linarte vertical cladding system was already aroused, although I saw all possible aluminium wall claddings on display, from brick strips to cladding. After visiting the manufacturer in Belgium, I was completely sold. Especially after I had seen what a great result they had achieved in their demo home. This was also where I got the inspiration to combine the 3 available Linarte profiles (Block 30, Block 16 and Even 25), I wanted to see this kind of façade in my own home as well."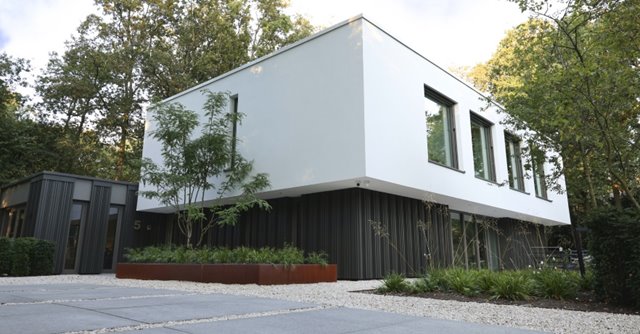 Removable profiles prove their usefulness
And this is how Villa Velsen was given a Linarte jacket. It looked just as good as Kees had in mind, but another big advantage according to him was that the pipes, rainwater drainage and wiring of cameras and alarm systems could be hidden behind the Linarte profiles so that nothing can be seen. "But there is yet another advantage," he explained, "because if anything goes wrong in a pipe or cable, you can simply click the aluminium profiles off and back on again. Repair or adjust cables, click the profiles back in and you're done."
Playing with colour and form
The colour chosen for the Linarte profiles was black-grey. For the residents, this combined perfectly with the (off-) white plaster on the upper floor and the quartz-coloured – and therefore slightly lighter – window frames. They chose not to let the Linarte profiles continue above the window frames. The flat panels showcase their height. The pattern is repeated with the repetitive pattern of the Block profiles (in 2 depths) and the Even profiles of Linarte. The resulting wave pattern gives this renovated home a unique appearance.
Preparation is everything
What Linarte taught the residents is that everything must be well prepared beforehand because the installation involves quite a bit of work. So there was a lot to find out in advance, but the technical support and drawing work from Storax contributed to this impressive result. They supplied an installation plan based on the working drawings with dimensions so that everything could be affixed in great detail, from fixation structure over installation clips to profiles, etc. and even integrated outdoor lighting.