It's possible with Renson® Fixscreen® and Panovista® Max sun protection fabric
"Plenty of natural daylight in the house" was at the top of the priority list for the owners of this modern new-build home. The result is a south-facing façade with lots of glass. The Renson sun protection fabric keeps the indoor temperatures bearable all year round.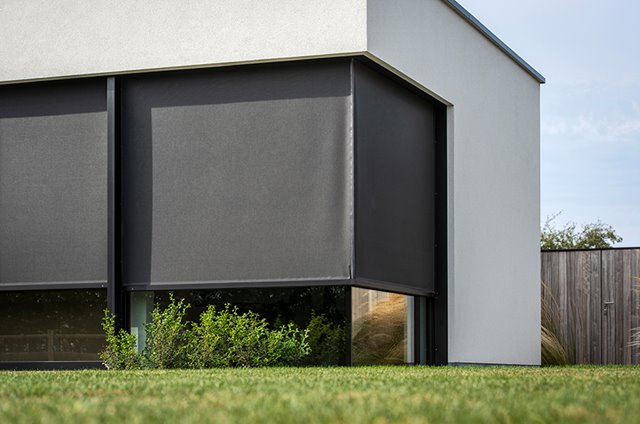 The large windows of this sleek villa open out onto the garden and allow the kitchen and living space to be bathed in daylight. Of course, the downside to this is that the temperatures threaten to become unbearably hot indoors when the sun is at its height. This is especially true in a well-insulated new-build home like this, in which it is difficult for the interior heat to get outside. "So it was obvious we would need come solar shading anyway", realised the owners quickly. "Solar glazing was our first option, but we gave up on that for fear of discolouration and because we would have to lose daylight. The choice for the Renson Fixscreen outdoor sun protection fabric turned out to be the right one. We always lower it in the morning on sunny days before leaving for work. This prevents the indoor temperatures getting too hot. If we don't do it, the mercury quickly rises to 27°, even in winter with the low sun full on the glass."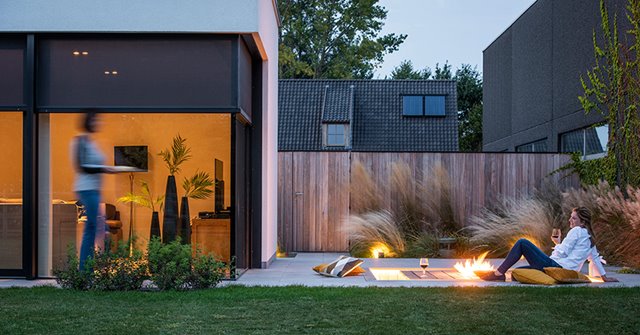 A view outside, even on the corner
The outdoor blinds are therefore a hit, especially because you retain the view to the outside, even with the sun protection fabric down. This transparency was certainly very important for the kitchen and living room residents, while a less transparent fabric type was chosen for the bedrooms. And the brand new Panovista Max gave the owners the perfect solution for the glass-on-glass corner window in the living room. This system ensures the sun protection fabric simply continues over the corner of the glass section without guiding channels or cables obstructing the panoramic view. The 2 fabrics of the corner outdoor blind zip up at the corner when you lower them, which means the sun protection fabric is also resistant to the wind at that location.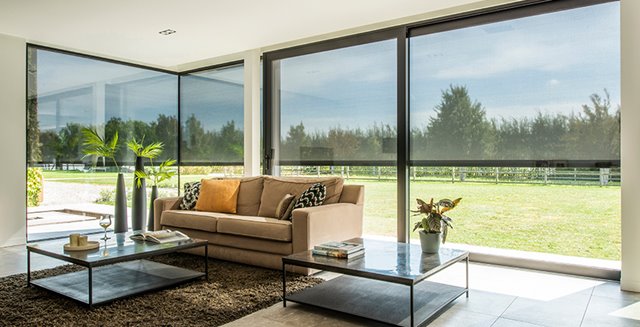 Tight fitting outdoor blinds
'The entire house was designed for the incoming daylight, so it was clear from the start that we had to take solar shading into account", the architect looks back at the end result. This means it was possible to subtly conceal the Renson outdoor blinds into the façade. The fabric box and guiding channels – both in the same colour as the aluminium exterior joinery – are barely noticeable and do not detract from the sleek style of the house when lowered.