Original ideas for turning your back garden into a paradise
Are you a real outdoor person who can't bear to be away from nature? Or perhaps you're more of a cocooner, preferring to watch the birds and the wind playing with the leaves from the comfort of your cosy sofa? Whichever your personality, your back garden is the ultimate place to kick back and relax. So why not turn it into your own little paradise? We've got ideas aplenty!
Your back garden divided into different areas
Even if you're not a neat freak in the garden, dividing your back garden into different areas is always a great idea. Consider creating:
A patio with a cosy seating area
A play area you can easily keep an eye on from your patio or kitchen
A wild garden area in the back
A vegetable patch at the side or near the kitchen
A wild back garden where all creatures feel right at home
A wild garden displays natural nonchalance at its best. It is always wonderful to watch, even if you can't seem to find the time to maintain it. Do you want to turn your back garden into a real play paradise for your children? Be sure to create a barefoot area and don't forget to hang a swing from one of the trees. A wild garden, by the way, is not only delightful for children: it's a haven for butterflies, bees, songbirds and all sorts of little critters looking for a comfy home. By installing a bee hotel or a dead hedge and by planting cleverly chosen flowers, you'll soon find your wild garden literally buzzing with life!
Adding a garden room or covered patio
Does the mere thought of a boring lawn surrounded by grey garden screens give you the shivers? Do you dream of owning a wild garden which can easily serve as an additional living space for relaxing in the summer? Installing a pergola with retractable roof is the key to success. Make sure you can (partially) close it off to stay sheltered and warm at all times. A (covered) patio in the back of the garden may not be the first thing to spring to mind, but it certainly is worth considering. You get to enjoy all the comfort of an indoor space, disconnecting from the daily hustle and bustle or having friends over for drinks, all the while admiring a great view of your garden and home. You can even turn it into a real garden room with all the works. Looking to for more inspiration? Start dreaming away and discover all our aluminum pergolas.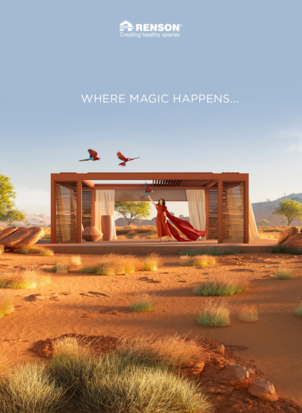 Request your inspiration brochure
Be inspired by our numerous successful projects and discover the various models and all the options. Download the digital brochure here!
request brochure