Lessons for hedonists: this is how you can bring that happy holiday atmosphere to your back garden
Going on holiday is really enjoyable, but coming home is just as nice. Why not bring the holiday atmosphere to your back garden all year round? The best of both worlds. We'll give you some tips on bringing the wide world under your patio canopy.
Give souvenirs a place of honour
Something you picked up at a market in Montenegro, or in your favourite design store in Helsinki? Don't let your souvenirs gather dust in some cupboard, but exhibit them. Choose to display the items in groups, where you can play with highs and lows. Or choose one key item and place it under a glass bell jar. Inge Moerenhout: 'When I'm on holiday, I'm always on the lookout for souvenirs that I can use every day. One of my favourite objects is a wooden bowl from Gambia: it serves as a fruit bowl or eye-catcher, both outside and inside. And on my last trip in Prague, I found exactly the same wine glasses as the set that I received from my mother-in-law 25 years ago. One of the specimens bit the dust recently. So you can imagine how great my joy was when I found those exact same glasses. These kinds of souvenirs give my interior an extra value, and let me travel a little every day.'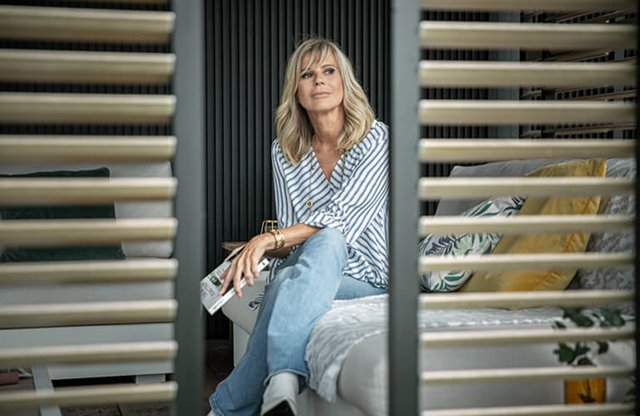 One of the obligatory statements about holidays: 'Doing nothing is so good, we should do it more often at home.' Are you bringing any souvenirs from your trip to Italy? Then put some dolce far niente in your suitcase, the Italian expression for 'deliciously doing nothing'. Embrace the pace of the South, and block off a few hours a week in your diary to enjoy the outdoors. Put your smartphone away. Flop down in the outdoor salon under your louvered roof pergola and take some time for yourself.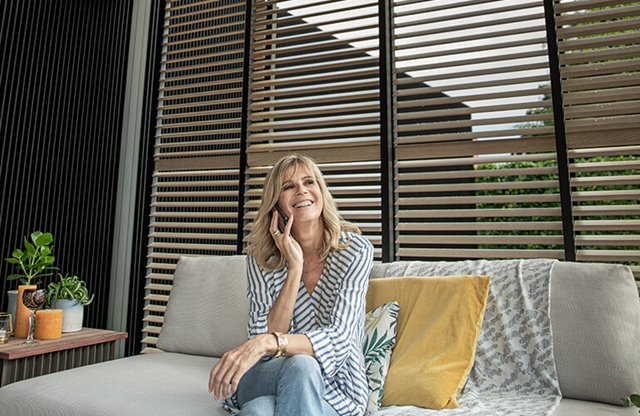 That delicious paella with squid from Valencia, the piles of pancakes with fresh blueberries that you ate in Sweden, or that aperitif you ordered every night in Ibiza ... Scientific research shows that smells and tastes are inextricably linked to memories. Invite your friends and family to a relaxing outdoor dinner in a holiday atmosphere, and let them enjoy it with you. Some more ideas? a Swedish summer brunch on Sunday morning, an apero o'clock on Friday with antipasti and spumante, or an American barbecue. Plenty of choice.
Discover the video with the holiday memories of Inge Moerenhout here.