A custom patio cover thanks to a modular system
All Renson patio covers or aluminium pergolas are modular. That means that you can easily extend the patio you like, turning it into an extra-large cover for your patio or swimming pool. The benefits are manifold!
1. A patio cover that suits your style perfectly
Are you all for cosy, rural outdoor spaces or do you prefer to impress your guests with a minimalist design? No matter your taste, Renson offers exactly what you're looking for. The different styles and various colours of our patio covers enable you to effortlessly create the beautiful patio you've always dreamed of. Beautiful, and practical to boot. You can have our modular patio covers and canopies equipped with a louvered roof, a roof screen, a retractable roof, … Just tell us which type of cover you prefer, and we make it happen.
2. Integrated, detached or mounted against the façade
There are several ways to install a patio cover. Many people opt to have it mounted against the façade of their home, but a detached patio or a patio that is integrated into an existing structure can be just as beautiful. Renson has a solution for every type of building! Discover our freestanding pergolas and our lean in pergolas here.
3. Make your patio cover as large as you like
Have you been looking for that perfect cover for a while now, only to conclude nothing is ever large enough for your patio? That's where our modular patio covers come in. As they can easily be connected to each other to become longer or wider, you can make them as big as you want.
4. A custom patio cover with all the finishing touches you want
Finally, a modular patio cover means you get to add all the finishing touches you want. Complete your patio cover with screens or glass sliding panels to get shelter from the wind, or translucent blades or outdoor curtains to keep the sun out. And why not add integrated heating, lighting and audio while you're at it? The possibilities are endless.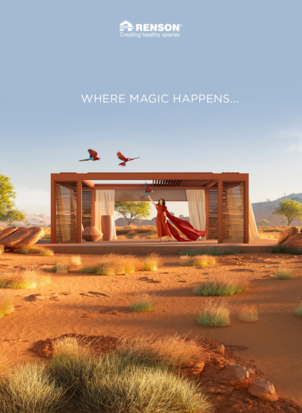 Request your inspiration brochure
Be inspired by our numerous successful projects and discover the various models and all the options. Download the digital brochure here!
request brochure