The pergola is a fantastic, traditional outdoor structure for residential and commercial properties. It sets the mood, creating privacy and shade, designates dining areas, and looks picturesque in gardens. As spending time outdoors in lavish settings continues its upward trend, a pergola is fitting. Install a custom, durable modern pergola to define your landscape, add a touch of luxury, or as a natural extension of your home. Check out our suggestions of how this inviting structure is a perfect backyard idea that heightens enjoyment of outdoor living.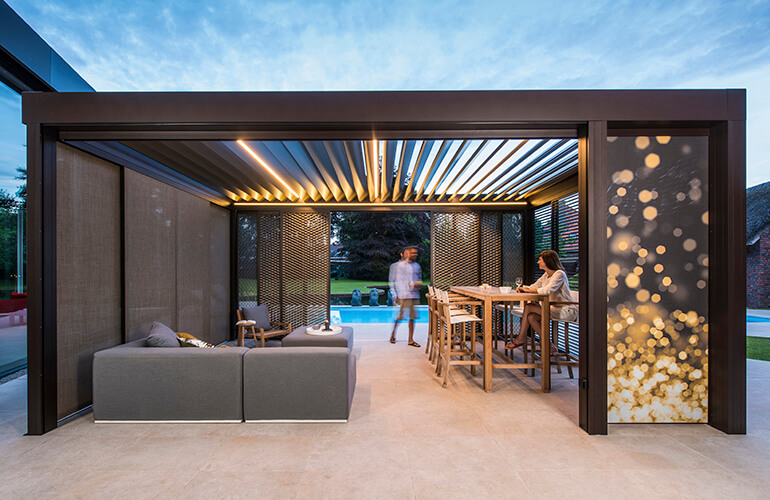 In a previous article we discussed the purpose of a pergola, now we share 6 benefits of having a pergola in your garden.
1. Outdoor Dining And Entertaining
Think beyond inviting guests over for a backyard barbeque or dip in the pool with only open, unsheltered spaces to dine or relax. A custom pergola design offers a respite from the sun, a defined area to eat, talk and relax.

Do you love showing off improvements to your yard, home, and surrounding property? A new pergola with roof is a great conversation starter and provides a welcoming space to point out the beauty of your outdoor living space. Make bringing guests together under one open roof a frequent affair.

In addition to outdoor dining and entertainment, a pergola is also extremely suitable as an outdoor office.
Deck chairs and umbrellas at the sides of a pool create a visually pleasing space to enjoy drinks, sunbathe, and keep an eye on swimmers. But, a pergola on deck is an excellent upgrade that shields anyone poolside from sun, wind, and rain.

Carve out a designated space for a bar, couches, and tables under a pergola patio without retreating to the pool house. Set the mood and hang curtains, string lighting, lanterns, or hanging plants to create a delightful outdoor oasis near the water. If you have an outdoor hot tub, an intimate diy pergola creates a romantic space to hide from prying eyes and relax.
Pergolas and gardens have an intertwined history, as evidenced via historical accounts and romantic paintings. Keep the tradition alive and create a beautiful outdoor space. Install a small to large wooden pergola or aluminium pergola to extend over winding walkways. Tuck away gardening tools in a storage bench, or keep a work table for pots and seedlings under the pergola for a rustic look.

Provide plenty of space for climbing vines, roses, and other beautiful plants to cover the sides and tops of a pergola canopy, adding shade and privacy. Hang potted plants and decorative lighting along the edges of a pergola for a magical garden at dusk. Carve out a retreat outdoors for sitting, reading, gazing, and enjoying nature.
4. Extension To The Outdoors
Modern, open-style homes that readily allow you to move indoors to outdoors are trending and refreshing. Continue the natural flow of your home's layout by adding a pergola adjacent to an exterior side of your home that leads out to the backyard. Living well doesn't solely exist inside structures, as the natural world outside your home beckons you to revel in its beauty and mystery.

Place a pergola with roof over a flat, uncovered patio space or walkway for a visually-pleasing patio cover. Spend time with loved ones and friends under a pergola canopy while admiring manicured landscapes, shady trees nearby, and regional songbirds. Embrace pergola ideas that complement any furniture placed underneath and establishes the ambiance. You can choose the style and color of your pergola covers so it aligns with the look and feel of your home effortlessly.
If you have a deck, you may not want to fully cover it, reducing any visual breathing room to view the sky unobstructed. A solution that fits most budgets and deck designs is to add a pergola. Install a custom pergola on deck that is lightweight, strong and covers specific areas of the deck for designated uses.

Opt for a pergola with a retractable roof in a prominent corner space or odd section and place seating underneath. Create a place for a swing, the barbeque grill, or a lounge area under a grand pergola. Having a deck that is only partially covered with a pergola in certain areas creates visual drama and a space to retreat from rain and sun.
Enjoying the health benefits of spending time outdoors without having to leave far from home. When a need for privacy and a serene space to commune with nature arises, welcome a smaller pergola onto your property. You can achieve a peaceful, relaxing space to lounge, enjoy the rain, read, or have a drink under a pergola canopy as small as 6-feet wide.

Don't forget to add lights, hanging plants, and curtains for an extra layer of privacy and adjust for personal comfort. Use this solution in an area of your property that is oddly shaped, has nearby shady trees, or is along a walkway or wall. Easily create a romantic space for two or a private escape for one whenever needed under a small pergola.
Adding a pergola to your property helps create defined areas for relaxing, entertaining, and gatherings. You can choose pergola kits to install along a walkway, in a garden, or over a porch, and the structure should fit your budget and lifestyle. Discover beautiful pergolas that are lightweight, strong, and customizable to fit your aesthetics and vision. Choose Renson Outdoor for your pergola ideas, as they have been creating innovative, durable outdoor elements since 1909.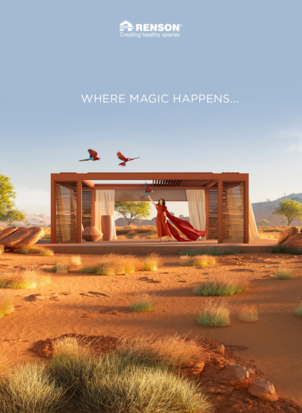 Request your inspiration brochure
Be inspired by our numerous successful projects and discover the various models and all the options. Download the digital brochure here!
request brochure