Vertical cladding systems
For façades with character
Your interior is an expression of who you are — and your façade can tell your story too. Renson's Linarte vertical cladding system gives you all the creative freedom you could wish for to create a unique look for your façade. Durable quality and a sleek, minimalist look are guaranteed for both newbuild and renovation projects.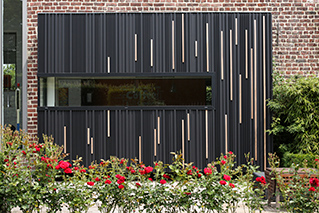 Newbuild and renovation
Retrofit insulation or brand-new brickwork? Linarte adds a stylish finish to both.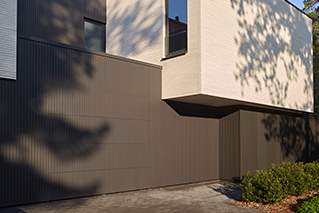 Doors and ports
Integrate your external doors into your façade by extending your Linarte profiles across them.
Tilting and sectional doors
Linarte's total concept can also be extended across tilting and sectional doors.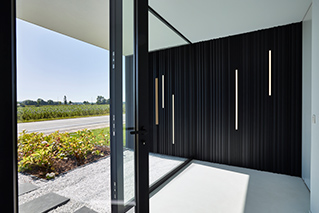 Interior walls
Use Linarte on an accent wall in your interior to emphasise the connection between the inside and outside.
Durable quality
From the choice of aluminium to the invisible fixation elements and integrated accessories, you can always count on the best quality.
Functional design
As a semi-open cladding system in front of your windows, Linarte keeps out the heat from the sun while safeguarding your privacy inside.
Endlessly customisable
Curved walls or a mix of profiles in a colour of your choice? Integrated LEDs, wooden inserts or even a house number? The possibilities are endless.
Total concept
Linarte enables you to apply the perfect finish, from the tiniest corner to the least obvious detail on your door.
The benefits of a vertical cladding system
Renson's vertical cladding system gives you all the creative freedom you could wish for to create a unique look for your façade. On top of that, our aluminium Linarte profiles are light as a feather and extremely strong, and that has its advantages too:
Your home's showpiece stays clean and radiant with minimal effort. All you need to do is clean the powder coated profiles every now and then.
The aluminium profiles and invisible fixation elements combine to add a sleek, contemporary and timeless design to your façade.
Combining various profiles enables you to create a façade with a unique interplay of shadows. The wooden inserts, LEDs and integrated accessories complete your personal design.
How to maintain your vertical cladding
One of the best things about aluminium cladding is just how little maintenance it needs.
That applies just as much to our vertical Linarte louvres. Simply clean your façade using lukewarm every now and then.
That's all you need to do to keep your façade in top condition!
Renson®: A BROAD experience in cladding systems
Renson has been designing durable façade solutions for many years.
Our cladding systems combine contemporary design and functional added value in their high-quality cladding.
That much is guaranteed thanks to our decades of experience and keen market awareness.
Our Linius horizontal cladding system and Linarte vertical cladding system are the result of this process.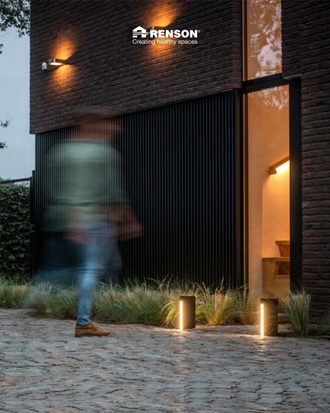 Request your information brochure
Interested in Linarte as a way to add aesthetic value to your façade? Allow yourself to be inspired by the projects we've completed so far and find out more.
Download the digital brochure ›