Testimonial: Fixscreen® Minimal: Solar screens for minimalistic windows
At first sight, this recent, ultramodern, newly built villa in the leafy land­scape between Mechelen and Leuven with sleek white walls and huge windows seemed to offer everything needed for a carefree and comfortable life. That's exactly what the owners thought when they moved in seven years ago. Unfortunately, they soon realised they would have to find the right solution to keep the interior cool on hot days: those large windows might let in an abundance of daylight, but they also expose the southfacing side to the full heat of the sun.
Too hot in the house
"On the top floor especially, it got too hot as soon as the sun made an appearance. I've got a room up there that I use for my fitness classes, and the large windows always made it tricky to keep the sun out," one of the residents explains. The problem was just as bad in spring as it would be in summer. "The only difference was that you could open a window at that time of year to let some cool air in."
Screens or sunprotection glass?
Faced with these issues, the owners set out to find a suitable solution to keep indoor temperatures down. They had already considered sunprotection screens when they built the house, but they eventually moved away from the idea as they feared such large surfaces would not be able to handle much wind. They were told the sunprotection glass would be enough to keep the sun out, but this soon turned out not to be the case, so they had to find another solution. They explored various alternatives, but they failed to be genuinely persuaded by any of the options. "Eventually, we settled on our original solution: sunprotection screens," the owners explain.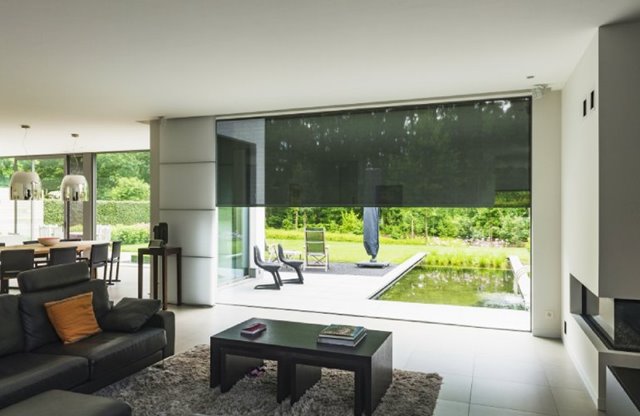 Fixscreen® Minimal: Sun protection for minimalISTIC windows
Installer Luc Boonen of Boonen Zonwering recalls the day the owners came to him with their request: "The only problem was the narrow window profiles of the minimalistic windows that help define the sleek look and feel of this house. With most existing sunprotection screens on the market, the side channels would protrude in front of the glass, which would be a real shame with this property. ­Luckily, Renson had just introduced its latest generation of windtight sunprotection screens: Fixscreen Minimal, with slimmer side channels and subtler screen boxes for windows just like these. It was as if fate was on our side."
A wonderfully cool house, without altering its architectural character
"The fact that the side channels of the screens could be the exact same width as the window profiles was one of the factors that swayed us," the residents recall when talking about this successful solution. "On top of that, the transition between both large windows on the ground floor and the first floor was beautifully finished with an aluminium panel in the exact same colour and plane as the lower screen box. The result is that the screen box is barely even noticeable."

After their first spring with the new system, the owners have noticed a real difference in their home: so far, they have been able to keep the top floor perfectly cool. "As soon as the sun comes through those windows, I lower the sunprotection screens. They really help to keep the interior temperature just right, even on hot summer days," the owners explain. "And that's before we mention the other big advantage: the screens are transparent, so our view through the windows is never interrupted."