Inside a villa filled with glass in the south of France, the blazing sun soon causes the thermometer to skyrocket. The sun quickly becomes too scorching on the south-facing patio too. At Domaine Du Prieuré, a solution was found with the help of Renson. The corner windows and large, flat windows were fitted with Panovista Max and Fixscreen sun protection, and an Aero bladed roof was integrated on the patio. The screens block the sunrays from reaching the large windows. The roof with moving blades makes it possible to control the light and airflow on the patio and to keep it dry when the rain comes.
Domaine Du Prieuré
Ten remarkable villas are located on an exceptional estate in southern France. Not far from the Côte d'Azur, Domaine Du Prieuré is dotted with 100-year-old olive trees and a panorama stretching from the hinterland of Cannes to the mountain villages of Grasse, with the red hills of the Esterel Massif in the background.
Topography dictates architecture
Each of the villas on their 2,500m² plot is unique but has an interior that opens up to the garden and landscape. Architect Didier Frega was inspired by the site's topography when designing the sober volumes, composition and spatial layout. "With the villas at Domaine Du Prieuré, I tried to create architecture that can break out of its frame and context – 'outside the box' as they say. Architecture is personal; it either appeals to you or it doesn't. In any case, we wanted to create something exceptional. Each villa boasts a unique design yet fits the entire estate. Each plot includes a villa that best suits that location and orientation. With particular attention to finishing touches to the smallest details, the villas are equipped with the best materials."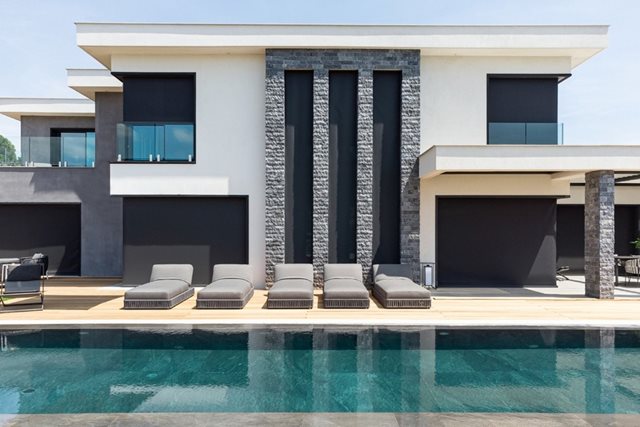 Screens and bladed roof
One of the villas uses Renson screens to shield itself from the southern sunrays. In addition to Fixscreens on the tall windows, Panovista Max is also fitted on the corner windows. The latter is also the reason the owner and architect approached Renson.
"We were looking for a solution to screen off the large glass-on-glass and sliding door corner windows without impeding the panoramic view", recalls the owner. "Such solutions – and their providers – are not abundant. The search led us to Renson's Panovista Max, which is windproof thanks to a zip system, without annoying side guiding channels. We also ordered Renson Fixscreens for the flat, high windows."
"This home faces southwest, so after midday, the sun beats down on the patio and the house with its large windows", says Didier Frega. "Even with thermally perfected glazing, sun protection is crucial to optimise comfort inside. For our patio we also found what we were looking for with their range of patio covers. We were immediately sold on the Aero bladed roof. We integrate it as part of the roof (without the 4 pillars) in the construction that partly blends into the building and partly rests on stone pillars. The movable blades that allow you to control the light and airflow were an interesting feature."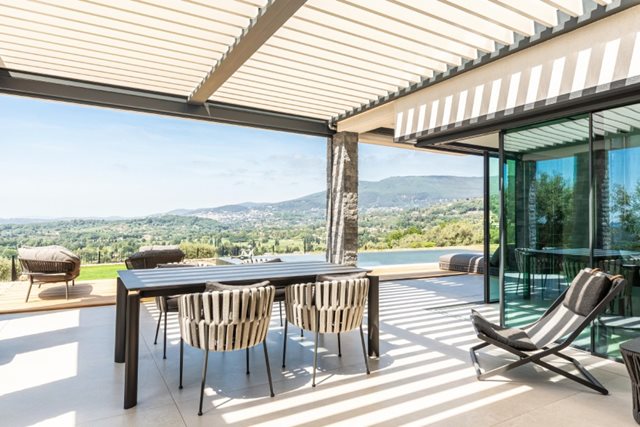 Outdoor room, all year round
The integrated Aero bladed roof, which covers a good part of the patio, attracts attention, to say the least. "The Aero bladed roof has turned the patio into an outdoor room", says the owner. Especially since I also finished the patio with free-standing, windproof sun protection to protect against the sun and wind from the side too. The patio cover not only extends the outdoor season but also allows it to start earlier. We use it practically all year round, in all seasons. That patio is practically my living room. If I'm at home, I sit there in the morning and spend most of the day out there. The patio doesn't get excessively hot because closed blades shield against the sun, and tilting the blades creates natural ventilation, which immediately feels pleasant."
Functionality and aesthetics
"We are very satisfied with the installed Renson products", says the owner. "Apart from being functional, I also really like the aesthetics of the screens and bladed roof and the fact that they are extremely easy to operate. We use them every day and I cannot imagine life without them."
The architect and carpenter were also very happy with the installation. "It was very easy to integrate the bladed roof. We wanted to install an overhang there, and the Aero, with its moving blades, was the perfect solution. Renson customised the Aero for us and provided all the necessary information to fit it into the design and install it effortlessly. The installation was flawless because Renson took the trouble of giving our regular carpenter a brief training session beforehand, both for the screens and the bladed roof."
Discover this project in the video