Time to relax is pure luxury. Yet most successful people have an acute lack of it: they have what is known as "time poverty" or "time famine". It is therefore important to spend the scarce leisure time very carefully.
Quality time with your children or family thereby comes first. Secondly, we naturally also need some high-quality social interaction with friends and acquaintances. But how can you ensure that those moments are of sufficient quality? That the people remember them? Receive your guests outdoors in style on beautiful evenings, with the allure of a star establishment, and make it an incredible party thanks to a real outdoor party room, such as a modern garden room. A few tips for a successful evening!
1. Sitting at the table or lounging:
If your covered patio or louvered pergola normally has a long dining table with chairs, move a few club seats outdoors if the weather is great. You can create a nice sitting area for an aperitif with a sofa and a low table. If snacks are being eaten throughout the evening, a large table is not even required. An improvised bar is also an atmosphere maker, and can easily be rented from a specialised catering store.
Organise additional lighting for special evenings. Festive garlands of lamps and light cords are easy to attach around trees, branches, poles or façades. A rainfall of light cords is imposing and enchanting.
Rechargeable design table lights also provide a lot of atmosphere. Let the guests take a table light home as a keepsake. And, of course, the integrated light elements from Renson will also provide a breath-taking experience in the garden itself at dusk.
Mediterranean patios and covered outdoor areas give a very festive feeling. If you set up your outdoor area in a white Ibiza style, it's almost as if you're taking your guests on holiday. Cocktails, colourful chairs and a Acapulco vibe are also a fantastic summer theme. If you prefer to keep it more sober, you should above all ensure culinary perfection. Travelling on the plate is also always memorable.
It's better to provide an extra source of warmth on fresh evenings. If you do not have a canopy with a built-in heating element, you can install additional gas-fired patio heating or even a mobile gas fireplace. If you have an outdoor fireplace, then that's 'the best of both worlds'. In the summer, on the other hand, a heat wave can generate too much heat. You should then ensure that the patio offers sufficient shade, for example by using ventilation under the canopy.
5. Music and that outdoor feeling:
If your patio canopy is fitted with built-in speakers, you can have the luxury of immediately creating an ambiance via a beautiful play list: from quiet cocktail music to music in the theme of the evening ... An added 'southern' atmosphere is always very pleasant in your own outdoor paradise.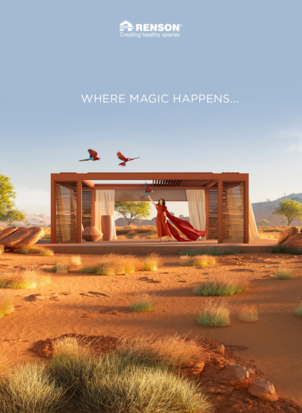 Request your inspiration brochure
Be inspired by our numerous successful projects and discover the various models and all the options. Download the digital brochure here!
request brochure