The Difference Between a Pergola and a Gazebo
Pergolas and gazebos are both outdoor structures that can offer shade and shelter from sunshine and rain in your backyard. Which one is right for you?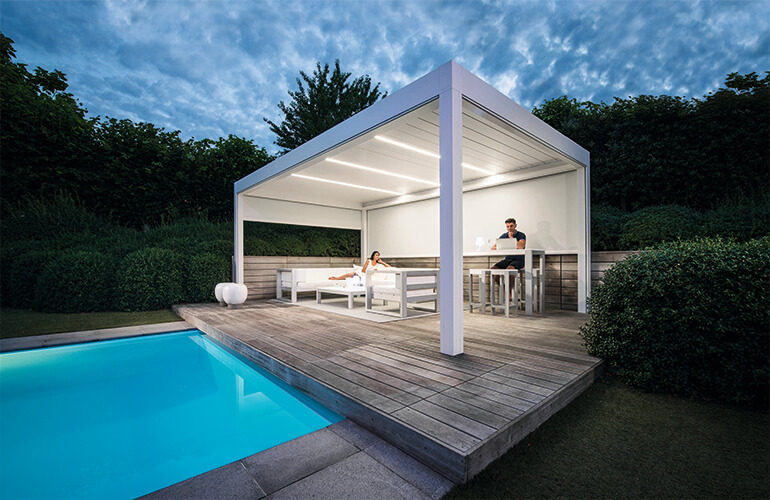 When it comes to outdoor structures to enhance your backyard, you have a plethora of options that come with unique benefits as well as distinct ambiances. Because our physical surroundings have a major impact on our mental and emotional wellbeing, it is important that you consider not only the practicality of your backyard space, but also consider the aesthetic appeal of the backyard addition you plan to build.

If you are looking for a little shade and protection from inclement weather to increase your ability to enjoy your backyard under any conditions, a quick search online might lead you to the suggestion of either a pergola or a gazebo, but it is important to know that these terms are not interchangeable. Before you run off searching for directions on building a gazebo, you will want to understand the difference between these two structures—particularly because it may be a pergola (and not a gazebo) that you actually want!
Historically, gazebos have been around for much longer in comparison to aluminum pergolas. Found in garden plans in Egypt dating back to 1400 BC, the gazebo has long been a luxurious place to lounge while looking out at an incredible view.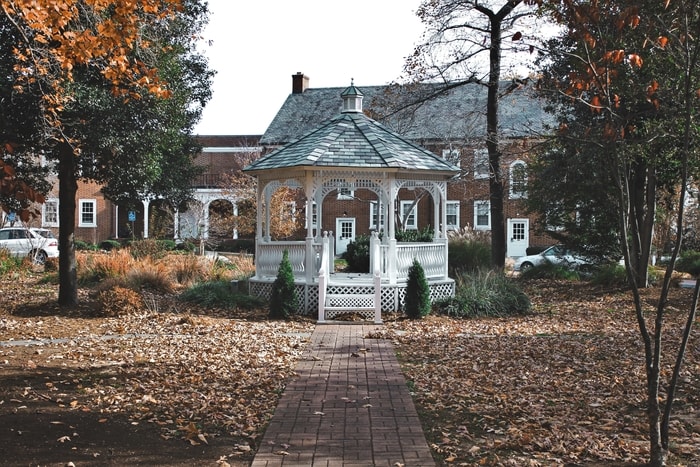 Structurally, gazebos often come in the shape of a polygon with six or eight sides. These sides may be completely open to the air, include a half wall or railing, or have full walls all around with large windows to take in the view. These structures will have a roof similar to that of a house (just on a smaller scale) and are often built with a style that mimics or compliments the house they accompany. Depending on the foundation, they also often have a floor that is raised above the ground level to offer a better vantage point and to ensure that the surface remains dry even during heavy or extended rainfall.
The overall feeling of a gazebo aligns with the setting of a Victorian garden, ornate and burdened with layers—similar to that of the dress of the time.
As previously mentioned, a pergola is a much more modern term in comparison with a gazebo. First used late in the medieval period in the 1640s, the Latin root of the word is "pergula" which means "projecting eave."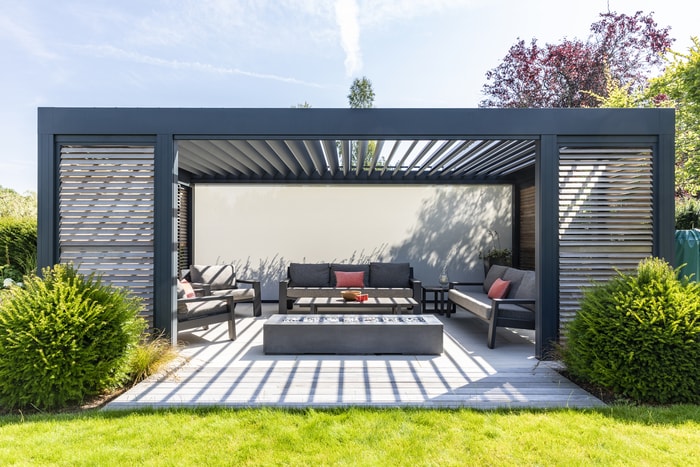 Structurally, pergolas are much less cluttered and much more elegant in comparison to gazebos. They may have a full or retractable roof if the purpose of a pergola is primarily for shade, but many pergolas offer only partial shade with intermittent beams laid spaciously across the top. For roofless pergolas, plants or vines growing on or hanging from the beams may enhance the cover offered, if the target ambiance embraces natural aesthetics. As the Latin root implies, not all pergolas are freestanding structures but can be attached to the house or integrated with and supported by the main structure of the home.
You might
build a pergola on your existing deck
or patio surface, with the pergola's posts settling directly on the ground or on concrete. If walls are added, they are minimalist. Similar to the options for roofs, the walls may also be retractable zipshades or rotatable blades to allow more or less light as desired.
In these modern times, the look and feel of a pergola is sleek and sensible with an ambiance that complements modern architecture. Appealing to those with minimalist tastes and appreciation for the beauty of simplicity, the pergola fits the style of a contemporary backyard. Placed poolside or along the garden or flowerbed, a pergola can be your backyard oasis.
Pergolas are manufactured in different materials (
vinyl vs wood vs aluminum pergolas
). When making the decision for what kind of material you want your pergola to be made out of, it is best to do your thinking outside in your current outdoor space.
So, which do you want in your own backyard—a pergola or gazebo?

Ultimately, the distinction between the pergola and a gazebo a personal choice. Both offer shade and shelter for you to maximize your time spent in your backyard, and both could potentially meet your practical requirements for your new backyard space. When considering the aesthetics and energy that you want to bring into your backyard with this home makeover, it may help to take the time to make the choice in the midst of the environment it will directly affect.

If possible, spend some time sitting in your yard imagining how it will look when this project is complete. Consider the heat of the sun you may need shade from or the persistence of the rain you may need cover from. In your setting, what will your practical priorities be?

Consider if you want to admire the ornate details and layers of your backyard sanctuary, or if you would prefer a structure that almost melts into the background. Where can you imagine yourself relaxing and letting go of stress?

Whichever you choose, gazebo vs pergola, make sure to create the backyard that meets both your practical and aesthetic needs.

A few weeks ago, we've discussed the difference between a pergola and a veranda.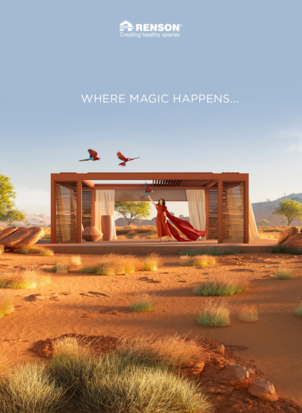 Request your inspiration brochure
Be inspired by our numerous successful projects and discover the various models and all the options. Download the digital brochure here!
request brochure