You know the feeling, don't you? That eternal winter that just goes on and on? When the beautiful spring weather arrives, that trip you booked is finally within reach. But, unfortunately, all good things must come to an end because before you know it, your holiday is over. But… you don't necessarily have to go abroad to experience that wonderful holiday feeling. We can also bring this holiday feeling to you, so that it is (literally!) within reach. Moreover, our solution lasts much longer. We can extend your holiday for at least six months…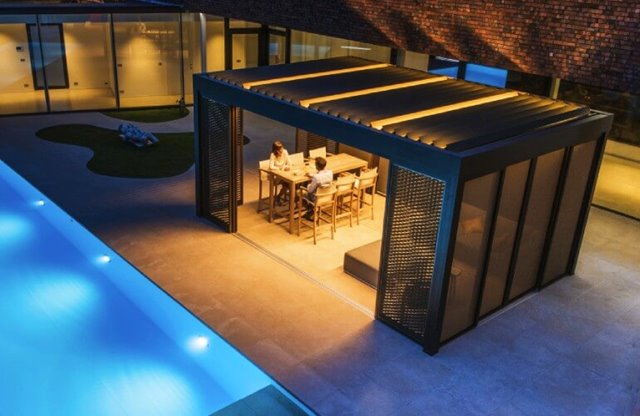 What kind of holiday person are you?
Before we give you the solution, let's take a look at what you mean by 'holiday feeling', because that differs from person to person, naturally. Are you someone who likes to dream away by the pool under the radiant sun with an exciting book? Or do you prefer to transform into a real foodie during your travels? Or maybe you're more the active type who gets a real kick out of outdoor sports?
A Renson® Camargue® patio cover is the best of both worlds
Whatever type of person you are, how would you feel if you could experience that wonderful holiday feeling at home? And not just for two weeks, but for six months! Wouldn't that be fantastic?

A Renson Camargue pergola with louvered roof or Renson Camargue Skye pergola with retractable roof combines the best of both worlds. On the one hand, you can bring that fantastic holiday feeling into your own garden and, on the other hand, you can enjoy the sort of comfort you can only find at home. Allow us to excite you with some fun and utterly summery ideas…
Relax by the pool under your aluminum pergola
Do you have a pool you unfortunately can't enjoy all day because it gets too hot in the afternoon? That's a thing of the past thanks to the flexibility of a Renson aluminum pergola. Rotate the blades so they are closed or half-closed and you can continue to enjoy that delicious cocktail in the shade! No mucking about with a parasol. Plus, the fabulous breeze that glides through the blades is pleasantly cool!
Outdoor cooking in your covered outdoor kitchen
What do you think of this? Instead of going to a restaurant full of tourists, go home and break out your Green Egg and throw a delicious steak on the grill. Show your family members or guests why you and only you have a 'licence to grill'. Still looking for inspiration? Don't spill the beans, but we have a real taste explosion created by chef and foodie Gilles Draps for you here.

Is fickle weather threatening to spoil the food? Just place your barbecue appliance under your cover. Is it starting to sprinkle? Take the opportunity to amaze your guests. Use the app on your smartphone to close the blades of your patio cover.* That's certain to make you the talk of the town.
Launch a new trend: outdoor fitness under your patio cover
Are you a real sports fanatic? Got half a marathon under your feet at dawn already? Why not put your fitness equipment under your patio cover? You can enjoy the outdoor air there and it's nice and fresh, while always keeping you dry and sheltered from the wind. Every comfort is literally within reach. Moreover, you will enjoy the beautiful view of your garden. If you're a diehard yogi, roll out your yoga mat under your patio cover. Doing your yoga poses in the middle of nature… doesn't get any better, does it?
Stop wondering: "Should I stay or should I go?" Forget that compulsion that you can only find that wonderful travel feeling at some rivièra or costa. Go on a staycation this summer. With a Renson patio cover, you can transform your garden into a true holiday paradise. A patio cover is much more than just a 'pergola'. It is a true outdoor space, a garden room where you can enjoy the same possibilities you have inside. A Renson patio cover gives you the best of both worlds.