New building plans? Or are your windows in need of replacement, but you're hesitate to optionally go for traditional roller shutters or screens in the process? We'll make a comparison together with you.
WHAT ARE ROLLER SHUTTERS?
A roller shutter consists of horizontal blades connected to form a retractable unit. They darken the room, provide privacy, keep out solar heat, deter burglars, and dampen outside noise. Opening and closing can be done manually, at the touch of a button, or even controlled from your home automation system. Front roller shutters fit on existing windows, but of course, you can also have roller shutters built into the façade with new windows, even when doing a total renovation.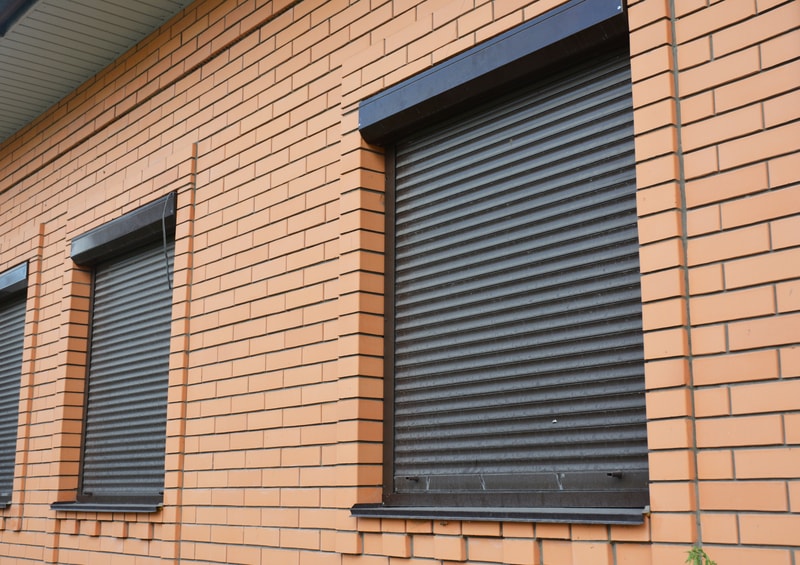 A screen or outdoor blinds is sun protection fabric on the outside of your window. Screens are made of a fabric that is stored in a fabric box and can be rolled up and down (motorised or controlled from your home automation system), and which zips into side guiding channels on the side. Screens exist both to be built onto existing windows and to be built into the façade together with new windows. Different textiles, fastening mechanisms, and finishes make screens multifunctional and applicable in any project.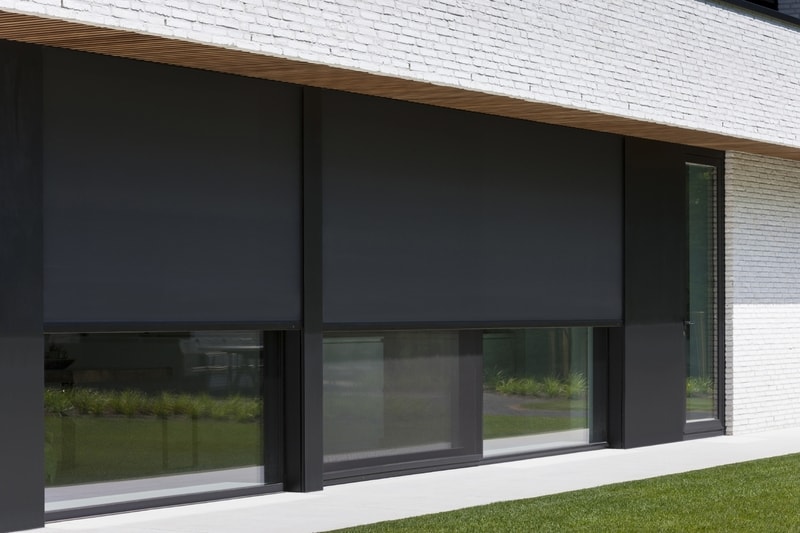 ROLLER SHUTTERS VERSUS SCREENS
Roller shutters are a traditional choice that still has its place in the market. However, screens are definitely worth considering as an alternative. The factors you consider most important will underpin your final product choice. We zoom in on:
the sun protection effect, visibility through the screen, and light penetration
blackout system for the bedroom
the insect-proof character
the robustness and durability
the aesthetic
the multifunctional use
Maintenance
Energy consumption
Sun protection character of screens or roller shutters
Summers are getting hotter and heat waves more numerous. Heat can be trapped inside and linger, especially in well-insulated and airtight houses and during prolonged heat waves, making it too hot to live comfortably in the house. This results in sleepless nights, sweating, and a host of other discomforts. Prevention is better than cure, so it's best to just keep the sun out before it can even reach the glass of your windows. Because that's where overheating starts.

How? By leaving roller shutters or screens down in the morning. Roller shutters may block solar heat, but they also instantly block out all the light as well as the view. So keeping the roller shutters down on hot days keeps it cool indoors, but also makes it practically pitch-dark. If you use roller shutters mainly to keep out the sun, it is better to choose screens. These do block out the sun, but still allow plenty of daylight through. This way, you won't be sitting in the dark even with the screens down on hot days.

Moreover, an optional sun sensor automatically lowers your screens when needed. This way, you come home to a pleasantly fresh house after your working day. Or you can stay home, nice and cool and with plenty of natural light. The fact that the harmful UV radiation does not affect your interiors (and cause discolouration of furniture or accessories) is a nice bonus.
Do you want to keep the heat of the full sun out but still let in the daylight? That makes sense. Unfortunately, this doesn't work with roller shutters. Roller shutters down means artificial light on. But screens down means no more sitting in the dark; you can enjoy that incidence of natural light. Moreover, it maintains views of your garden and outdoor surroundings, ideal for keeping an eye on playing children, for example.
So with the screens down, you can still see from the inside to the outside during the day, but not vice versa. The higher the degree of transparency, the greater the view from the inside to the outside during the day; plus, the easier it is for passers-by to look inside from the outside if you have the lights on. So in terms of privacy, roller shutters score better in the evening.
Screens are a good choice for the living room, for example, because you keep the sun out during the day but still let daylight in. On the other hand, you may prefer total darkness in your bedroom since it's one of the main ingredients for a good night's sleep. And then you might be thinking more along the lines of roller shutters for that room? Makes sense, but know that there is an efficient alternative in terms of fabric sun protection for blackout screens, too. The street light still can't disturb you because the fabric of the blackout screen is zipped into the side guiding channels, covering your windows completely. Plus, there's an added bonus: the outsides of those blackout screens perfectly match the non-blackout screens on the rest of the windows of your home.
When the worst heat of the day is over, you probably like to open the windows wide to welcome fresher air. Wonderful! But flies and – even worse – mosquitoes getting inside: that's less wonderful. Your fully lowered screens or roller shutters screen off these openings and thus keep the flying critters out. Although, screens give you the added advantage of not sitting in the pitch black inside during the day and, at the same time, the fabric's fine perforations still allow a light breeze in when it cools down in the evening. So that allows you to enjoy the welcome coolness just that little bit more: the best of both worlds.
Robustness and durability
It is a persistent fable that roller shutters defy stormy weather better than screens. At Renson®, we test our screens extensively, with wind tests as high as 200 km/h. We can thus guarantee a wind resistance of up to 130 km/h (depending on the size of the screen). Totally tailored to the inclement, Belgian weather. Thanks to the inner rails, screens are certainly no longer inferior to roller shutters in this respect.
In post-installation situation, you'd probably prefer to avoid inelegant, gaudy roller shutter boxes. Renson®'s Fixscreen® Minimal combines a small fabric box with narrow side guiding channels, all which perfectly match the colour of the window, so they're barely noticeable. The head box and side guiding channels for both roller shutters and screens are fully integrated into the façade in a thorough renovation or new-build project. This way, you hardly notice either one, whichever you choose. Okay, even an integrated roller shutter box and side guiding channels don't attract attention, but the white blades are visually and architecturally inferior to a tightly stretched screen fabric in the desired colour. With screens, you completely determine the colour for the screen fabric, the side guiding channels, and the fabric box yourself. By choosing a colour that's in line with the architecture, the screen blends into the façade, so to speak. It means a world of difference in terms of appearance when the roller shutters or screens are lowered. Another nice bonus for those who care is that – besides the visual aspect – screens make less noise than roller shutters when raising and lowering them.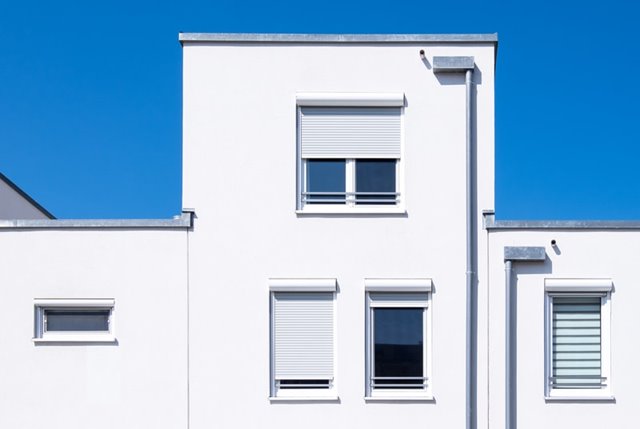 But what about with large windows? Know that roller shutters will limit you to a maximum width of 4 m, while with screens can be installed on windows up to 6 m wide. Moreover, a roller shutter box takes up much more space on large windows than a fabric box for screens of the same size.
A true outdoor experience is created in harmony with your home. Screens are the ideal way to do this. Did you know that screens exist for different applications? Besides screens for windows, you can also start using screens as veranda sun protection, pergola sun protection, or as sun protection for your balcony. You're much more limited in terms of options with roller shutters. In other words, you can easily make screens the common – fabric – thread throughout your entire outdoor environment.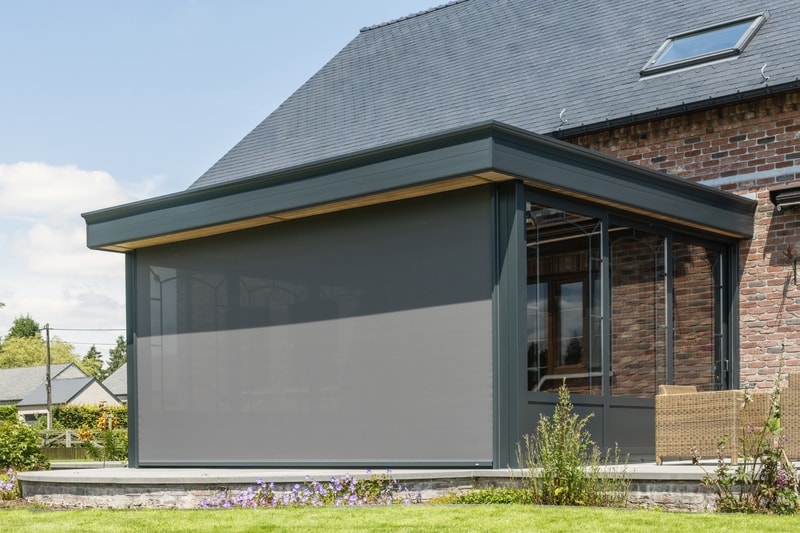 People who renovate their houses are usually not just going for a refresh of their home's appearance, but also for increased living comfort. Efficient solar shading is a must in this case. The Renson® Fixscreen® is the ideal solution for your remodelling projects. Are you in need of a comprehensive renovation that includes replacing the windows? Then screens can be built into the façade along with the window. There's no trace of fabric boxes or side guiding channels to be seen in this case.


Is replacing your windows out of the question? Even then, you can install sun protection fabric on your existing windows. While the Fixscreen® Minimal perfectly matches the slimmest window profiles, the Fixscreen® Solar excels thanks to its solar-powered operation. So you don't need to provide an electrical connection, which means your installer doesn't have to cut or drill anything to connect the screen to an (as yet to be installed) socket. Your installer doesn't even have to come into your house to install these solar-powered screens.
Regular maintenance for a long service life
Cleaning your screens or roller shutters on a regular basis (at least twice a year) is the best guarantee that you'll be able to enjoy them for a long time. However, cleaning the screen fabric is a lot easier than cleaning a roller shutter, where dirt likes to settle on the edges of and in the crevices between the blades. You simply brush the loose dirt off of the screen fabric. Clean your screens using a mild cleaning product and rinse away the dirt. It's also important to rinse them off well. Minimal maintenance for maximum screen enjoyment.
And what about rain or frost? If the screen fabric gets wet during an unexpected shower, you can roll it up and then, in better weather, roll it down again to let it dry. However, to prevent the formation of mould and stains, make sure you never keep the soaked fabric rolled up for more than three days. Fabrics with Crystal window (see-through window built into your Renson® screen) are best rolled up only when dry.
Screens are perfectly moisture-resistant. However, it is best not to operate your outdoor sun protection when frosted over, or during heavy rain, snow, or hail. When unrolling the sun protection, make sure there are no obstacles obstructing the fabric, such as flower boxes or toys. This definitely adds to the durability of your screens, although the Renson® Detecto motor also helps in this regard by detecting those obstacles and thus preventing the screen from damaging itself.
An electrical screen and a motorised roller shutter have similar low consumption rates, and only consume energy when operated. If you have a solar-powered screen installed, this consumption will even become completely negligible. Immediate energy savings with every use. Additional advantage of screens: even when they are down, they still let in daylight. So you rely less on artificial light and you save energy that way, too.

We already told you that screens and roller shutters prevent your home from overheating. But it's also perfectly possible to cool the house without air conditioning. And we all know that's a major energy guzzler. Less air conditioning equals a big windfall for your energy bill. Because prevention is better than cure. Did you know that outdoor sun protection like this can lower your indoor temperature by up to 10°C compared to outside? 35°C or 25°C indoors during a heat wave? That's a world of difference, and with no extra costs on your energy bill.
HOW MUCH DO SCREENS COST?
Putting a price on screens is difficult. Especially if you know that there is a suitable screen for every type of window: from traditional to minimalist windows, from sliding windows to glass-on-glass corner windows to horizontal, vertical, oblique… So, it's best to simply contact a Renson® dealer near you to get a quote for your specific project. Indeed, the price tag depends on a lot of factors. Here are just a few of them:
the dimensions of your window (the Fixscreen® Minimal can even handle surfaces up to as large as 27.8 m², much larger than a roller shutter and with a much smaller head box, both for recessed or surface-mounting)
the type of screen
the choice of fabric type, e.g. blackout or standard
the control system (solar cell, app, remote control, existing home automation, etc.)
the colours and finishes
And much more…
To give you at least an idea, let's zoom in on the guide price for a Fixscreen® 100 surface-mounted screen (the Renson® basic model) for a window that is 1 m wide and 2.20 m high. Excluding 6% or 21% VAT, you can count on a basic price of 1,142.68 euros, excluding installation.
Ready for a pleasant indoor climate, at any time of year, with added benefits?